Epeolatry Book Review: Below by Kev Harrison


Disclosure:
Our reviews may contain affiliate links. If you purchase something through the links in this article we may receive a small commission or referral fee. This happens without any additional cost to you.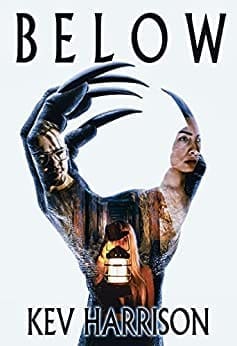 Title: Below
Author: Kev Harrison
Genre: Horror
Publisher: Silver Shamrock Publishing
Release Date: 17th August, 2021
Synopsis: Nick has revered his grandfather his entire life. The absent hero, his namesake, buried alive in his final act of courage an ocean and thousands of miles away. Jess has outgrown her status as an all-action social media celebrity and the endless demands that come with it.
Adventure Travel TV has thrown this unlikely duo together, promising Jess the launchpad she craves and Nick the chance to tell his grandfather's story first-hand, in the newly uncovered mine that still holds his remains from the twilight days of the gold rush. Is it a dream come true or a nightmare as someone or something stirs…BELOW.
I absolutely love caves and old mines. Over the years I've visited four or five different caves across New Mexico, Oklahoma, and Arkansas. These touristy locations provide tons of man-made lighting and safety ropes to keep visitors from falling into dark pits or from wandering off into un-manicured sections, and they give me a thrill. Part of that thrill comes from being beneath tons upon tons of stone and dirt with safety only maintained by a few utility lines and fresh air. My favorite cave is Carlsbad Caverns down south of Roswell, New Mexico. In the case of Carlsbad, if the elevator goes out, there's a staircase which winds a thousand or so feet up to a natural entrance used daily by millions of bats. But what if that passage also collapses? How long could I hold myself together in pitch black with only the light of a dying cell phone and possibly a few flashlights held by tour guides? What do I do when those lights go out? How long will the snacks, originally brought for small children, last among a crowd of thirty to forty people? Caves are freaking terrifying, and I love them for it.
Movies like The Descent perfectly capture the special sort of horror known as spelunker dread.
So, when Below by Kev Harrison came across my inbox, I was all over it. I'm constantly on the lookout for something that plays in the same sandbox as Ted the Caver (Google this one if you've never experienced it—a true piece of internet history) and As Above, So Below; and this one came incredibly close to the mark.
Kev has delivered a well written, suspenseful tale that drove me onward until the last horrifying page. The pacing is rocket speed and rarely relents. The core draw is the horrors awaiting our intrepid heroes inside remote and abandoned mines.
But a few things didn't appeal to me. There isn't much character development from start to end—though, with a story like this and this short in length, I don't consider it a deal breaker. Also, the starting image of every chapter became a bit redundant—it wouldn't have been an issue if the image were something small and decorative or if various images were used.
All that said, I would still recommend giving Below a go. It's a quick read and you will be entertained. I know I plan to check out Kev Harrison's other work.

out of 5 ravens.
About the Author
Latest Posts
Joe lives with his wife and son in the Pacific Northwest where the Cascade Mountains meet the Salish Sea. He enjoys writing in the weird, horror, and fantasy genres.
Growing up he enjoyed R. L. Stine's Goosebumps books as well as classics like Dune, and Lord of the Rings. In college he discovered Stephen King, and later Mark Danielewski's House of Leaves and authors like Clive Barker and Laird Barron.
Joe's short story, 'Gustav Floats', was published in Dim Shores Presents Volume 2. In the spring of 2021 his story, 'The Pigeon Lied' comes out in Howls From Hell.
You can follow Joe on the following social media sites:
Twitter, Good Reads, Facebook, and Instagram!