WiHM 12: Quick Six Questions With Emerian Rich

Welcome to The Horror Tree, and thank you for participating in Women In Horror Month. First, tell us a bit about yourself and your interest in horror.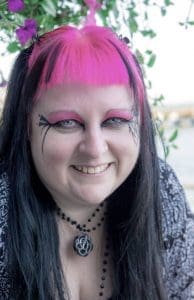 I'm Emerian Rich, the Horror Host for HorrorAddicts.net and a writer, artist, and fan of all things horror! As a child, I loved reading all those spooky novels where a woman falls in love with the ghost in the lighthouse or meets a mummy guy when exploring a pyramid. When I got older I discovered vampires and my fate was sealed.
Why is Women In Horror Month important, and what do you say to someone who says 'Oh, I don't care if it's by a man, a woman, etc., as long as it's a good story'?"
In some ways it's true. The story is the most important part, but for so many years it was said that women couldn't write horror. I don't understand this. Shelley, Radcliffe, Bronte, they all wrote horrific fiction, and yet still here in 2021, there are those who think good horror can only come from men. WiHM is about giving readers a chance to hear about these great women horror writers who haven't been seen or heard because the noise of male horror writers drowns us out. Give us women the chance to change your minds!

Who are some Women In Horror (or other women) who have influenced your work, and why?
Anne Rice definitely. She was the first woman horror author I read and she remains a favorite. I'm also influenced by my peers who push me to be the best I can be.
2020 will probably be remembered as a TERRIBLE year for many of us; tell me something GOOD that happened in the past 12 months.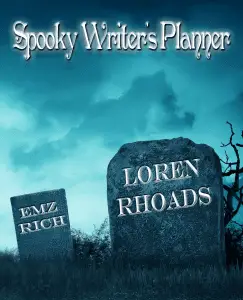 My friend, Loren Rhoads, and I released our Spooky Writer's Planner. We were so excited to get this out to help organize and inspire creativity in our peers. The best part of making the perfect Spooky Writer's Planner is that we can order it ourselves to use! Ha!
You can check it out On Amazon!
What have you got planned for Women in Horror Month, and the coming months of 2021?
We have a whole month of WiHM happening over at HorrorAddicts.net. I have a few interviews coming out on various sites and… I'm on The Horror Tree. 🙂 Thanks for having me.
Is there anything else you'd like to tell our readers?
Just know that if you are a woman horror writer, there is a place for you. Let your voice be heard! We can't wait for you to scare the bejeezus out of us!
Thanks for participating in Women in Horror Month!
To find out more about Emerian, go to: emzbox.com
Facebook: https://www.facebook.com/emzbox
Twitter: https://twitter.com/emzbox
Insta: https://www.instagram.com/emerianrich/
About the Author
Latest Posts
Selene MacLeod is a night operator and sometime writing hobbyist. She holds a BA in Communications from Wilfrid Laurier University and resides in Kitchener, Ontario. Her work has appeared in several horror and crime fiction anthologies, most recently Shotgun Honey, Drag Noir (Fox Spirit Books); and the upcoming Freakshow: Freakishly Fascinating Tales of Mystery and Suspense (Copper Pen Press), and Tragedy Queens (Clash Media).She's most excited about editing a charity anthology for Nocturnicorn Books called Anthem: A Tribute to Leonard Cohen, due out late 2017.