Trembling With Fear 06/23/2019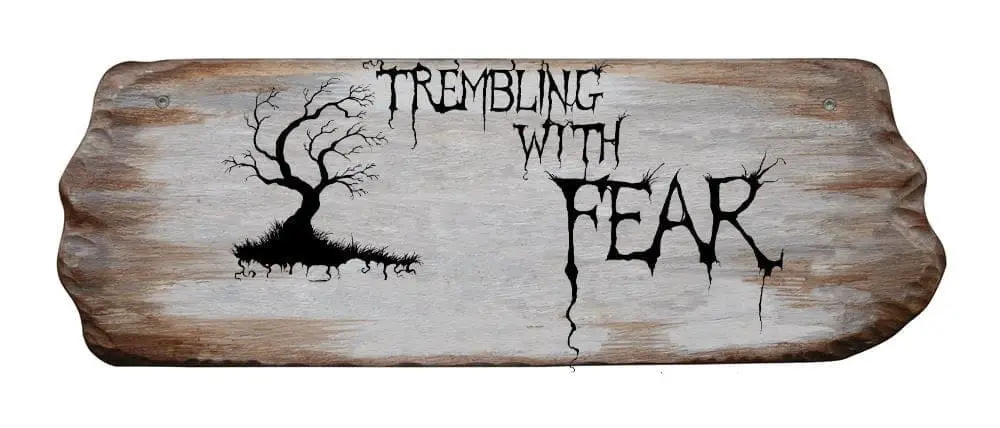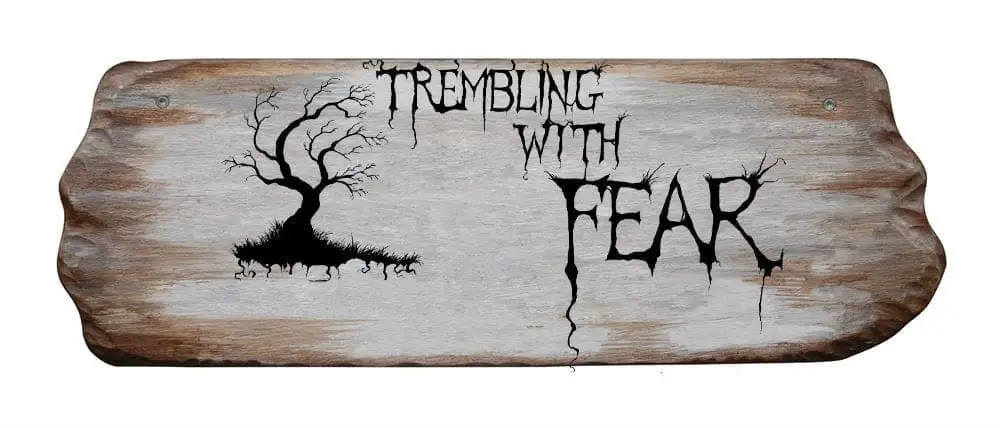 Mixed fortunes for me on the writing front this week, a novella has just been rejected (but was praised as well-written) whilst I have had something else accepted – which cannot be announced yet; not a novel, but a piece of work in a field I really want to develop. So, as always, swings and roundabouts. And to boost my fragile ego, I will be having at least one piece of work published each month over the next few months. One of these is a story which will have taken a few years to see the light, not because of rejection but indie press difficulties. This is our life as writers.
Remember to drop me a line if you've got anything you want to share with people, upcoming publications or posts. We're always ready to include your links here … unless you want to contact Stuart and offer up a full-blown guest post.
Trembling with Fear this week leads with 12-point Buck by M. Brandon Robbins and is a tale of a prize denied. How often do you wait patiently for something you know is yours? All that effort, all that time and then somebody else steps in and takes what you should have won. Reading this story, you can really feel the anger, the resentment bubbling up, taking over. What would you do in these circumstances? I enjoyed the slow build to this tale, the description of how the buck had developed over time, how the hunter had come back and checked on him and gone away again; the building up of the story reflecting the hunter's own period of waiting.
A Terrible Omen by Kyle Bolan turns something generally regarded as being good for the human race, ie efficacious fertility symbols, are actually the opposite. Turning perceived wisdom on its head is always a clever ruse.
Afternoon Tea by Jennifer Canaveral delivers an olive branch with a very sharp blade. Great little revenge tale in such a genteel situation. Never underestimate a grandma.
The Mayor by David Thurlow is a wonderful slice of darkness. When the person supposed to protect the town watches over them, all are safe, aren't they? Lovely creepiness.
Attention: If all goes well, we should have the next installments of 'Trembling With Fear' available for order by this time next week! Pre-order at the very least. We've made a TON of progress on getting things in place and if it weren't for Amazon's servers taking forever to render changes between uploads we'd probably have been done a week ago. 
(I'm not really complaining, their technology is amazing.)
We've had an influx of Unholy Trinities as of late and we're greatly thankful for that! The more, the merrier! We're also good for taking on more drabble. We are scheduled a few months out but if we can add in more it wouldn't be something that we'd complain about. 
Now would also be a great time to pick up 'Trembling With Fear: Year 1' which may have also gone down in price in anticipation of the upcoming release!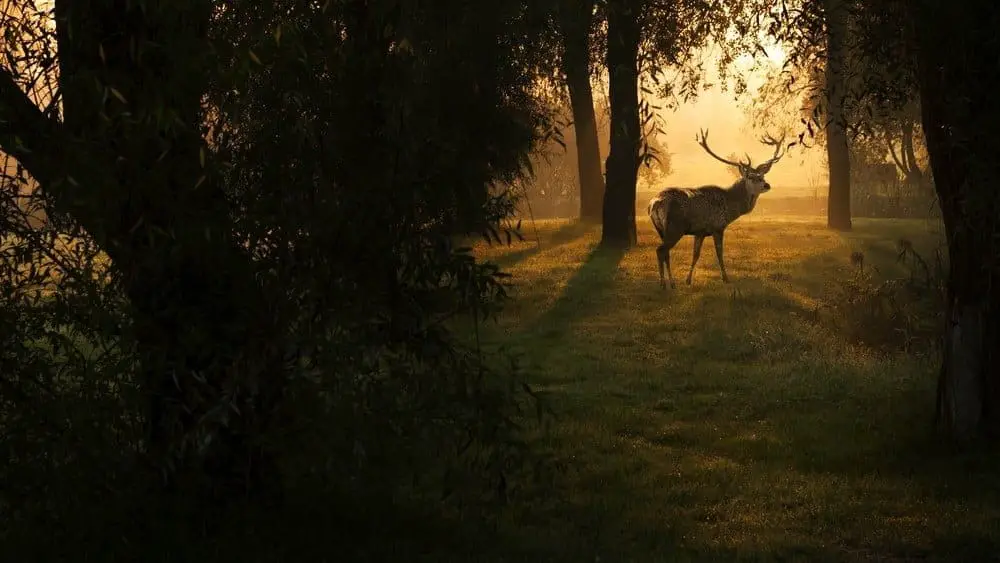 12-Point Buck
It was cold out, but it was nothing David wasn't used to. The seat of his deer stand was just wide enough to be comfortable and he was bundled up under several layers of warm clothes. He had been staring through the scope of his rifle for nearly ten minutes now. The 12-point buck he had been watching grow for the past three deer seasons was plodding along the edge of the tree line, and he was finally ready to take the prize he had been wanting for years.
David knew the first time that he had seen the deer that he would be a handsome trophy. The buck was still young when he first encountered him, so David let him be for the time being. Now, the deer was an even more impressive sight than it had been at first: a muscled body, wide and tall antlers, and a beautiful coat that seemed to glow in the faint autumn sun. As usual, David would use every part of the animal; he knew the meat—sweetened by the apples the deer had fed on from a nearby orchard—would taste incredible. The hide would make for some fine leather, and the head would look kingly on the wall of his man cave. He only had to wait for the deer to step into the clearing; from his position, David could take a prime shot, but he didn't want the deer to make a break for the woods. If he could just hold out until the deer came into the middle of the clearing, there would be nowhere for the animal to hide if he made a run for it. Even if the deer made it back to the trees, he wouldn't get far; it would be easy to track should David's shot not drop it immediately.
The deer plodded forward. David moved his pointer finger from the trigger guard to the trigger itself as he gripped the stock of his rifle ever tighter. He took slow, measured breaths and leaned forward to take some of the pressure off of his back.
"That's right," he said, his voice barely loud enough to be a whisper. "A little bit more out in the clear, and then you're mine."
David tracked the deer's movement, keeping the crosshairs of his scope over where the animal's heart would be. There was no wind or rain, and from his perch he had a perfect angle to send a bullet right into the deer's vital organs. It would be one of the best shots of his hunting life, and he had been hunting since he was a boy.
A shot rang out, and the deer fell sideways to land flat on its side. It twitched a few times, then lay still.
David snatched his head up as he lowered his rifle and grabbed his binoculars. He scanned the area and saw another hunter, his blaze-orange vest peeking through the bare trees to his left. The hunter was crouched down with his rifle steadied against a fallen limb. He lowered his gun and observed his successful kill. David could just make out a grin on the hunter's face and he clenched his binoculars so tight he felt them shake.
The hunter stood and crept forward, his gun in a relaxed grip but held at the ready, should the deer get up and bolt immediately. He broke the tree line and headed toward the deer, taking slow and measured steps. This was an experienced hunter; he knew that an animal could look dead and still be alive, and if an animal was spooked then he might fight back.
The deer was not spooked as the hunter approached, for it was dead. David's long-awaited prize had been claimed by another man. The hunter set his rifle on the ground and, with his back to David, placed his hands on his hips. He raised his head up to the sky and laughed. David knew the feeling. It was one of pure euphoria; the adrenaline from taking the shot was still in your system, and the release from the anxiety of not knowing how successful you had been was gone. This hunter was reveling in his celebratory moment—a moment that had almost belonged to David.
A moment that should have belonged to David.
He felt the white-hot anger rise from somewhere deep within himself, at first resisting the urge to unleash it. Hunting was all about luck, after all, and today his luck just didn't hold up. This other hunter had luck on his side.
But David refused to listen to reason, even if it was from arguments he was making himself. All of those years of waiting, all of that patience, all of those missed opportunities, were for nothing. But he would be going home empty-handed.
That deer was his by all rights. It had been stolen from him, and it was only fair he got to protect what was his.
David picked up his rifle and stared through the scope. He placed his crosshairs in the middle of the hunter's back, took a long and slow breath, and pulled the trigger.
M. Brandon Robbins
M. Brandon Robbins is a school librarian with aspirations of writing full time. His flash fiction piece, "Fool's Errand," previously appeared in Trembling With Fear and his flash fiction, "Lost Phone," was in the debut issue of Shotgun Horror Clips. He blogs at http://mbrandonrobbins.com and live in Goldsboro, NC with his wife and their ten pets.


A Terrible Omen
On a small island, a goat gave birth to what looked like a goat/human hybrid with its hairless pink body and goat face. The swollen body was like a balloon animal. Both died soon after the birth which was seen as a terrible omen, but instead, was a great blessing. The offspring was a fertility idol, and all the village women were soon pregnant. The village soon became far too overpopulated. Resources were spread so thin, there wasn't enough to sustain a single person. Everyone fell victim to famine, erasing the civilization. Fertility idols were always a terrible omen.
Kyle Bolan
Kyle Bolan is a speculative fiction writer who has had stories published in Enchanted Conversation Magazine, The Evening Theatre, Speculative 66, and Jersey Pines Ink's forthcoming anthology, Crypt Gnats: Horror You've Been Itching to Read, out in April 2019.
Afternoon Tea
            The 3-tier stand was adorned with finger sandwiches, scones, and macaroons. A porcelain teapot filled with steaming Darjeeling sat next to a plate of deviled eggs. With the table set, Myra stared out her dining room window, waiting for her guests to arrive.
            A week had passed since Myra's friends voted for her removal as the Grandmothers Club treasurer, after she was caught stealing funds. The get-together was her attempt to extend an olive branch over the incident. An opportunity to bury the hatchet…into each and every one of their miserable skulls.
            "Ah," Myra whispered with a cackle. "They're here."
Jennifer Canaveral
Jennifer Canaveral is a librarian and writer from San Francisco, CA. After serving nine years in the Coast Guard and a little soul-searching, she decided to pursue her passion of writing. Her biggest influences are Angela Carter, Clive Barker, and Stephen King. Jennifer holds a BA in English with a Concentration on Writing and is finishing up her MA in Humanities through American Military University. Her work has previously been published in Sanitarium magazine, Canadian journal Blood & Bourbon, Trembling with Fear, and Siren's Call Publications. For the last ten years, Jennifer has lived in Kodiak, AK with her husband and three children.
The Mayor
The Mayor's Mansion was placed to overlook the city, and overlooking the city was best done on clear, frigid nights in deep winter.  The leafless trees allowed a panoramic view of the homes below, letting the Mayor observe the habits of his constituents with the gaze indoor cats reserved for birdfeeders.
 He enjoyed exceptional eyesight.
The night's find was exquisite. Little Martha Shepard was tucked into bed; lamp out for the night, awake with eyes wide and window cracked. Considering meat pies, the Mayor unpinned his shadow from his feet and sent it silently down the hillside to collect her.
David K. Thurlow
I live with my wife, son, and an assortment of animals in upstate New York. I've been a painter for most of my creative career; holding an MFA, with work shown on three continents. In recent years, writing has become my creative focus. My first novel, "Piggyback to the End of the World", was second runner up for the Del Sol Press Prize for First Novel and is available on Amazon. A second novel is in the works.
https://www.facebook.com/davidkthurlow
amazon.com/author/davidkthurlow
A Delegation Of Dinosaurs
June 23rd had started just like any other day.
Jonah had done his morning chores.
Exercise, shower, breakfast, coffee.
It wasn't until he went to walk Arfy it happened.
They came.
Saucer-shaped ships appearing in the sky across the globe.
A day went by without contact.
A Week.
The world was in chaos.
Alien existed!
Finally, one of the ships broke out of its pattern and landed.
In the park where Jonah was once again walking Arfy.
Doors opened and out came what looked to be a delegation of dinosaurs.
"Where are our people?" the Troodon asked in perfect English.
About the Author
Latest Posts
Stuart Conover is a father, husband, published author, blogger, geek, entrepreneur, horror fanatic, and runs a few websites including Horror Tree!