Tordotcom's New Releases May 2022
Tordotcom has released their upcoming Sci-fi and Fantasy 2022 Sampler. With debut works from Joma West, Hiron Ennes, Scotto Moore, Malcolm Devlin and Aimee Pokwatka, as well as books from Rachel Swirsky and Marion Deeds, there are many excellent novels here just waiting to fill up your to-be-read pile–if it isn't already overflowing like mine is. Face and January Fifteenth explore class and race in future societies. The horror novels, Leech and And Then I Woke Up, use the threat of dark, apocalyptic worlds to scare and fascinate readers. A Portrait with Nothing, asks penetrating questions about family and parallel universes. Rounding out the list are two urban fantasies, Battle of Linguist Mages and Comeuppance Served Cold.
See below for a sneak peek of these upcoming releases and introduction to the authors who wrote them.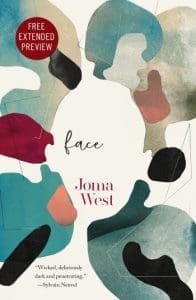 Joma West – Face
Synopsis: How much is your Face worth?
Schuyler and Madeleine Burroughs have the perfect Face—rich and powerful enough to assure their dominance in society.
But in Schuyler and Maddie's household, cracks are beginning to appear. Schuyler is bored and taking risks. Maddie is becoming brittle, her happiness ever more fleeting. And their menial is fighting the most bizarre compulsions.
In Face, skin color is an aesthetic choice designed by professionals, consent is a pre-checked box on the path to social acceptance, and your online profile isn't just the most important thing—it's the only thing.
Release Date: August 2, 2022
Sneak peek: https://publishing.tor.com/facesneakpeek-jomawest/9781250886422/
About the Author: Joma West (she/they) is a third culture writer who grew up moving from country to country. She writes both sci-fi and fantasy, and Face is her debut novel. She previously won the 2016 MMU novella award for Wild, and has published several short stories. 
Author Bio: https://publishing.tor.com/author/jomawest/ 
Social Media: https://twitter.com/jomawest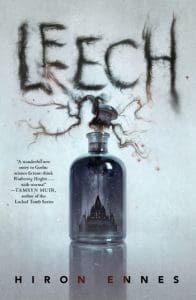 Hiron Ennes – Leech
Synopsis: In an isolated chateau, as far north as north goes, the baron's doctor has died. The doctor's replacement has a mystery to solve: discovering how the Institute lost track of one of its many bodies.
For hundreds of years the Interprovincial Medical Institute has grown by taking root in young minds and shaping them into doctors, replacing every human practitioner of medicine. The Institute is here to help humanity, to cure and to cut, to cradle and protect the species from the apocalyptic horrors their ancestors unleashed.
In the frozen north, the Institute's body will discover a competitor for its rung at the top of the evolutionary ladder. A parasite is spreading through the baron's castle, already a dark pit of secrets, lies, violence, and fear. The two will make war on the battlefield of the body. Whichever wins, humanity will lose again.
Release Date: September 27, 2022
Sneak Peek: https://www.tor.com/2022/03/11/excerpts-leech-by-hiron-ennes/ 
About the Author: Hiron Ennes (they/them) is not just a writer, but also a musician and a medical student based in the Pacific Northwest. Their areas of interest include infectious disease, pathology, and petting your dog.
Website: https://www.hironennes.com/ 
Social Media: https://twitter.com/HironEnnes 
Scotto Moore – Battle of the Linguist Mages
Synopsis: Isobel is the Queen of the medieval rave-themed VR game Sparkle Dungeon. Her prowess in the game makes her an ideal candidate to learn the secrets of "power morphemes"—unnaturally dense units of meaning that warp perception when skilfully pronounced.
But Isobel's reputation makes her the target of a strange resistance movement led by spellcasting anarchists, who may be the only thing stopping the cabal from toppling California over the edge of a terrible transformation, with forty million lives at stake.
Time is short for Isobel to level up and choose a side—because the cabal has attracted much bigger and weirder enemies than the anarchist resistance, emerging from dark and vicious dimensions of reality and heading straight for planet Earth!
Release Date: January 11, 2022
Sneak Peek: https://thenerddaily.com/battle-of-the-linguist-mages-by-scotto-moore-excerpt/ 
About the Author: Scotto Moore (he/him) spent fourteen years as an active playwright in Seattle. He also wrote the book, lyrics and music for the a cappella sci-fi musical, Silhouette. As well, he wrote, directed and produced three seasons of The Coffee Table, a sci-fi/comedy webs series. Battle of Linguist Mages is his debut novel. He has previously published a sci-fi/horror novella Your Favorite Band Cannot Save You with Tordotcom.
Website: https://scotto.org/ 
Social Media: https://twitter.com/scottomoore 
Marion Deeds – Comeuppance Served Cold
Synopsis: Seattle, 1929—a bitterly divided city overflowing with wealth, violence, and magic.
A respected magus and city leader intent on criminalizing Seattle's most vulnerable magickers hires a young woman as a lady's companion to curb his rebellious daughter's outrageous behavior.
The widowed owner of a speakeasy encounters an opportunity to make her husband's murderer pay while she tries to keep her shapeshifter brother safe.
A notorious thief slips into the city to complete a delicate and dangerous job that will leave chaos in its wake.
One thing is for certain—comeuppance, eventually, waits for everyone.
Release Date: March 22, 2022
About the Author: Marion Deeds (she/her) was born in Santa Barbara, California and moved to northern California when she was five. She's retired from 35 years in county government, and spends some of her free time volunteering at a second-hand bookstore in her hometown. She loves the redwoods, the ocean, dogs and crows. Deeds has published Aluminum Leaves and Copper Road from Falstaff Books, with short works in several anthologies. She reviews fiction and writes a column for the review site Fantasy Literature.
Website: http://deedsandwords.com/ 
Social Media: https://twitter.com/mariond_d 
https://www.facebook.com/marion.deeds 
Malcolm Devlin – And Then I Woke Up
Synopsis: In a world reeling from an unusual plague, monsters lurk in the streets while terrified survivors arm themselves and roam the countryside in packs. Or perhaps something very different is happening. When a disease affects how reality is perceived, it's hard to be certain of anything…
Spence is one of the "cured" living at the Ironside rehabilitation facility. Haunted by guilt, he refuses to face the changed world until a new inmate challenges him to help her find her old crew. But if he can't tell the truth from the lies, how will he know if he has earned the redemption he dreams of? How will he know he hasn't just made things worse?
Release Date: April 12, 2022
About the Author: And Then I Woke Up is the first novel by Malcolm Devlin (he/him). He has previously published the novella, Engines Beneath Us with TTA Press and has two short story collections. His first one, You Will Grow Into Them, was shortlisted for the British Fantasy and Saboteur Awards. He currently lives in Brisbane.
Website: http://www.malcolmdevlin.com/ 
Social Media: https://twitter.com/barquing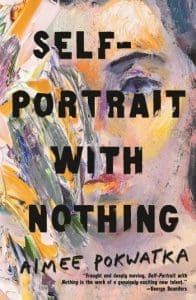 Aimee Pokwatka – Self-Portrait with Nothing
Synopsis: Abandoned as an infant on the local veterinarian's front porch, Pepper Rafferty was raised by two loving mothers, and now at thirty-six is married to the stable, supportive Ike. She's never told anyone that at fifteen she discovered the identity of her biological mother.
That's because her birth mother is Ula Frost, a reclusive painter famous for the outrageous claims that her portraits summon their subjects' doppelgangers from parallel universes.
Researching the rumors, Pepper couldn't help but wonder:
~ Was there a parallel universe in which she was more confident, more accomplished, better able to accept love?
~ A universe in which Ula decided she was worth keeping?
~ A universe in which Ula's rejection didn't still hurt too much to share?
Sometimes living our best life means embracing the imperfect one we already have…
Release Date: October 18, 2022
About the Author: Aimee Pokwatka (she/her) grew up in Wheeling, West Virginia. Self-Portrait with Nothing is her debut novel. Pokwatka once worked at a Blockbuster Video and as a veterinary technician. She attended the University of North Carolina at Greensboro, where she studied Anthropology, and received her MFA in creative writing from Syracuse University. Her work has been published in places such as Fairy Tale Review, Outlook Springs, Hunger Mountain.
Website: http://www.aimeepokwatka.com/ 
Social Media: https://twitter.com/AimeePokwatka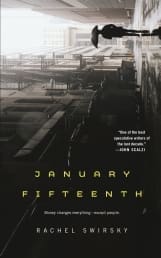 Rachel Swirsky – January Fifteenth
Synopsis: January Fifteenth―the day all Americans receive their annual Universal Basic Income payment.
For Hannah, a middle-aged mother, today is the anniversary of the day she took her two children and fled her abusive ex-wife.
For Janelle, a young, broke journalist, today is another mind-numbing day interviewing passersby about the very policy she once opposed.
For Olivia, a wealthy college freshman, today is "Waste Day", when rich kids across the country compete to see who can most obscenely squander the government's money.
For Sarah, a pregnant teen, today is the day she'll journey alongside her sister-wives to pick up the payment­­s that undergird their community―and perhaps embark on a new journey altogether.
In this near-future science fiction novella by Nebula Award-winning author Rachel Swirsky, the fifteenth of January is another day of the status quo, and another chance at making lasting change.
Release Date: June 14, 2022
About the Author: Rachel Swirsky (she/her) lives in Portland, Oregon and holds an MFA from the Iowa Writers Workshop. Her fiction has appeared in venues including Tor.com, Asimov's, and The Best American Non-Required Reading and has been nominated for the Hugo Award, the World Fantasy Award, and the Locus Award, and twice won the Nebula Award. She was the founding editor of the PodCastle podcast and served as editor from 2008 to 2010. In 2013, she served as vice president of the Science Fiction and Fantasy Writers of America.
Website: http://rachelswirsky.com/
Wikipedia Page: https://en.wikipedia.org/wiki/Rachel_Swirsky 
Social Media: https://twitter.com/rachelswirsky 
About the Author
Latest Posts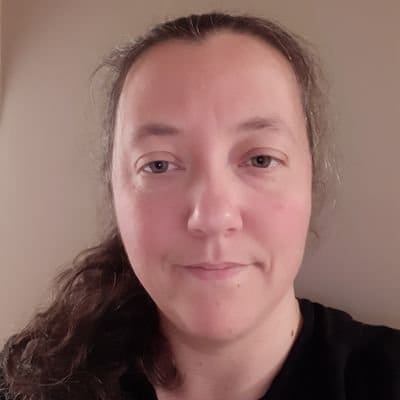 Melody lives in Ontario, Canada and writes short, dark fiction. She has been published in several anthologies and online publications. In university, she studied Ancient Greek and Roman Studies and often infuses her work with elements of Greek mythology. She also loves reading, embroidery, and martial arts. You can follow her homepage at: https://www.blog.melodyemcintyre.com/
Homepage: https://www.blog.melodyemcintyre.com/MelodyEMcintyre.com
Twitter: @evamarie41.