'The Mesmerized' Blog Tour – An Interview With Rhiannon Frater


Horror Tree (HT): First up, what is 'The Mesmerized' about and how did you give a different take on the antagonists of the novel?
Rhiannon Frater (RF): The Mesmerized is about a massive supernatural event that slowly engulfs the world and only Minji Nordim, our heroine, is immune. It's up to her to save her small family and the human race from an unknown power.
As for antagonists, I can't really discuss what is behind the event. That would be a major spoiler! Let's just say that what is causing the mesmerized is not pleasant.
HT: What kind of research did you have to do while writing the novel?
RF: Well, I was inspired to write the book while vacationing in Las Vegas, so I was able to do some on the spot research. Later, I used Google maps and images of Las Vegas to help me create the path of the mesmerized. The event itself and the power behind it are purely from my imagination.
HT: What are your views on self-publishing, small press publishing, and traditional publishing?
RF: Well, they all have their pros and cons. I've had experience with all three. There is something very rewarding and affirming about having my books on the shelves of the local bookstore, but traditional publishing can also be very demoralizing and overwhelming. The original cover for my upcoming book from Tor, Dead Spots, reduced me to tears. It was so off the mark that I was stunned. I nicknamed it "drunk girl on the beach." Happily, Tor is working on a new cover. My editor really believes in the book, so that's very encouraging as I prepare for its release in February 2015.
Small presses don't have the power of the Big 5, and don't always survive. I was with a very small press a few years back that just fell apart. It was very sad to see. I've seen my friends be burned (and badly) by small presses going under.
I'm published by one of the bigger independent presses, Permuted Press through their Permuted Platinum line. With Permuted Platinum, my books are on the shelves of bookstores, so that's pretty awesome. I absolutely love the covers and the interior design of the books so far.
Self-publishing is where I make a lot of my income and is very rewarding emotionally. I love being in full control of the way the book looks. But the out of pocket expenses can delay a book if I don't have the funds. It's also a bit disheartening to know there is a group of book readers missing out on some of my releases because my indie books don't always end up on the shelves of bookstores.
HT: What is your ideal writing environment?
RF: My office is my ideal. I like familiarity. Having my husband across from me working on his gaming stuff while the cat prowls around and the dog lingers in the doorway is really nice.
HT: What advice would you have for new and upcoming authors?
RF: Read a lot. Write a lot. Keep writing. Don't give up.
HT: What are your ambitions for your writing career? What do you have planned for the future?
RF: Well, at this time I'm a full-time writer, so my primary goal is it to stay that way. But, of course, I'd love to make the bestseller lists at some point in my career. That would be lovely. But the stars really have to align for that to happen. We'll see.
HT: If you've ever had writer's block what have you done to overcome it?
RF: I read over what I've written so far. I usually discover I dropped a vital thread in the narrative. Once that's fixed, I can move on. Usually writer's block means I've missed something.
HT: Do you prefer to outline your work or just let it flow as you put pen to paper?
RF: I take the seed of the story, plant it in my fertile imagination, and watch it grow. Then I transcribe what I see on the screen in the movie theater in my mind.
HT: When naming your characters, do you have a set system you use or what helps you come up with their names?
RF: Well, they usually tell me their names. "Hi, I'm Katie!"
If they don't do that, I will look at lists of names until I hear them say, "That one."
Amaliya from Pretty When She Dies was a pain in the ass. It took forever to find her name. I was at my old day job when the phone rang, I picked it up, and heard a woman, "I'm Amaliya. I'm calling about…" DING DING DING! We have a winner! What's funny is that she had dialed the wrong extension and actually wanted my boss! But it worked out. She talked to my boss and I stole her name for my character.
HT: Speaking of your characters, do you have a process for developing them as they start talking to you or do they go their own route?
RF: They usually show up and say, "So, this is what happened…" My job is to shut up and let them talk. Occasionally, they go silent. That usually means that I tried to force the story in a direction it wasn't meant to go. I'll back up and they'll start talking again.
Yes, I hear voices.
Yes, it can be distracting.
Happily, they go away once the novel is done.
HT: Have your friends and family been supportive of your writing career? If so how?
RF: The minute I announced "My goal is to be a full-time writer within a few years," the dynamics with family and friends definitely changed.
My mom is my biggest fan. My husband is a close second. They have both unreservedly supported me throughout the insanity of creating this career. It's been rough on them to see the lows, but they celebrate with me during the highs.
Other members of my family were very cautious about the whole idea. I don't think they really understood why I wanted to direct my energies into writing horror. My aunts still don't understand why I don't write about "nice stuff" and haven't read my novels. My brothers did finally read my books after they were published and are proud of me. They were very nervous about the whole thing at first.
Friends are a little different. Some were cheerleaders, others warned me not to get my hopes up, but a lot were silent. Later, I found out they were afraid to say anything.
Interestingly enough, a lot of my family and friends also put off reading my writing for fear of it sucking.
HT: How important do you feel it is for an author to have an active social media presence and website, why?
RF: There's a lot of debate among authors on this subject, but I personally believe it's a very important part of my career. It allows my fans to interact with me and find out more about my writing. It's a lot of fun to chat with them about common interests and get their feedback on my latest releases. An author platform is also important if you want to get a traditional book deal. Publishers do look at your online presence.
HT: Finally do you have anything that you would like to share with our readers?
RF: I hope you'll read The Mesmerized and enjoy it!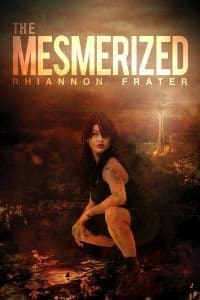 Synopsis:
It is silence, not screams of terror, which proclaims the end of the world… 
Minji Nordim is vacationing in Las Vegas with her small family when she witnesses the beginning of a terrifying apocalypse. When humanity is transformed into mindless drones by a terrifying supernatural event only Minji appears to be immune.
Thousands die instantly, but the other affected people are drawn to the Nevada desert. Nothing stands in the way of the mesmerized. Not fire, not heights, not rubble. As the bodies pile in the streets and the relentless wave of the mesmerized plods into the deadly desert, Minji is trapped in a burning city attempting to rescue her family.
When Minji encounters other unaffected survivors, they band together to survive in a city that is crumbling all around them. With no hope of rescue and the event slowly spreading across the world, Minji and the others must decide who to save among the mesmerized and where to go before the city is in ashes.
Even more unsettling is that Minji senses that the force behind the event is observing them…
Can one woman save her family and the world?
Listing on Publisher Website: http://permutedpress.com/books/the-mesmerized.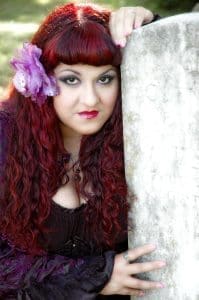 Rhiannon Frater is the award-winning author of over a dozen books, including the As the World Dies zombie trilogy (Tor), as well as independent works such as The Last Bastion of the Living (declared the #1 Zombie Release of 2012 by Explorations Fantasy Blog and the #1 Zombie Novel of the Decade by B&N Book Blog), and other horror novels. She was born and raised a Texan and presently lives in Austin, Texas with her husband and furry children (a.k.a pets).  She loves scary movies, sci-fi and horror shows, playing video games, cooking, dyeing her hair weird colors, and shopping for Betsey Johnson purses and shoes.
You can find her online at:
Website: rhiannonfrater.com
Facebook: http://www.facebook.com/rhiannon.frater
Twitter:  twitter.com/rhiannonfrater
LinkedIn: https://www.linkedin.com/profile/view?id=340109912&trk=spm_pic
Google+: https://plus.google.com/113336058823746385572/posts
Amazon Author Page: http://www.amazon.com/Rhiannon-Frater/e/B0027DLFL6/ref=ntt_athr_dp_pel_1
Goodreads: https://www.goodreads.com/author/show/2310121.Rhiannon_Frater
Pinterest: http://pinterest.com/rhiannonfrater/
Email: rhiannonfrater at gmail.com
Giveaway
The grand prize is an autographed hardcover of 'The Mesmerized'.
About the Author
Latest Posts
Stuart Conover is a father, husband, published author, blogger, geek, entrepreneur, horror fanatic, and runs a few websites including Horror Tree!