Six Hundred Sixty Six Bottles of Blood on the Wall: Meeting Joe Hill

Thank you all for the excellent response that my three part "things I've learned" series received. I got a couple emails, it got retweeted and few new people joined the ranks over at New World Horror – Kerry G.S. Lipp on Facebook. I hope I entertained and informed you all and thank you. I appreciate it. I know they ran a little long, much longer than my usual nonsense, but thanks for sticking it out, and I'll keep it short this week.
Two pretty cool things happened to me in the last week, but to keep it short I'll tell you about one this week and unless something bonkers happens in the next week, I'll give you the second story then. They both involve meeting, and in the case of the second story, spending an evening with a few fellow writers.
So first story, here we go.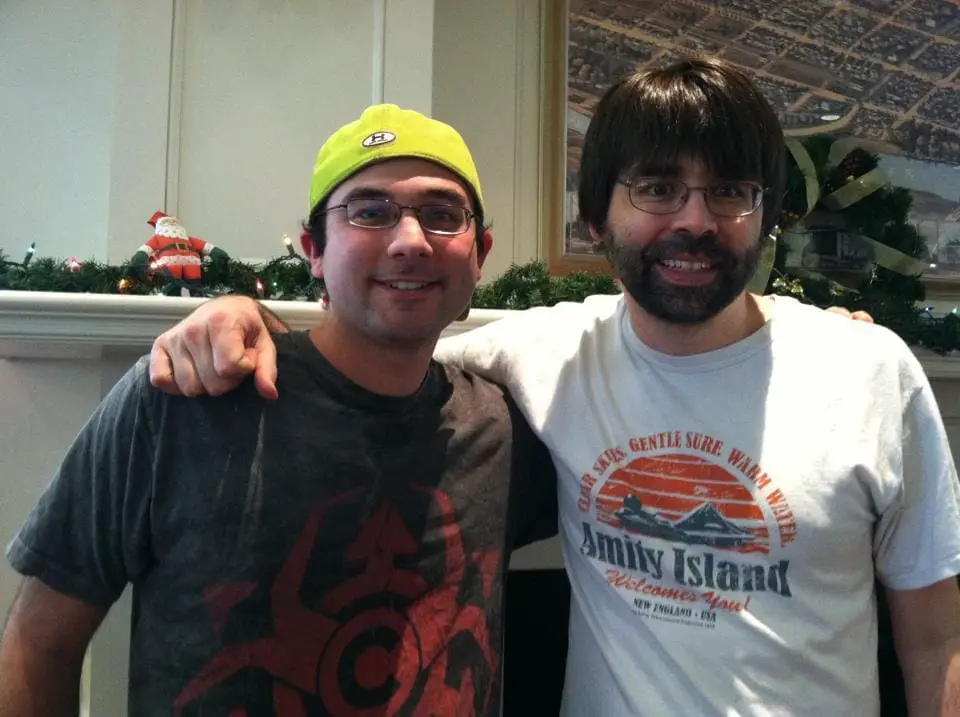 I met Joe Hill last Sunday. Joe was on a book tour supporting his newest effort NOS4A2. It's good sized novel. I'm about 150 pages in and I'm loving it so far. I have no idea how Joe Hill wound up reading and signing at the Books and Co. at the outdoor mall called The Greene in Dayton, Ohio, but I'm sure glad he did.
If you don't know Joe you should. He's got two other novels out "Heart Shaped Box" and "Horns." He's also got one of the better short story collections I've read called "20th Century Ghosts." And he and Gabriel Rodriguez are the masterminds behind the comic series Locke and Key. That's the series that got me into graphic novels. It's pretty damn good. I hesitate to mention this, because his writing more than speaks for itself, but it will come out sooner or later, and most people already know anyway, Joe is the son of the legendary Stephen King.
I went to that con about a month ago, but this was my first time at an actual book signing. It's a completely different format. Joe was scheduled to go on at 2pm. Books and Co. suggested getting there at 1pm. I did. I didn't know what kind of turnout he would draw and I wanted to make sure I at least got to hear him talk. I wanted to meet him and get him to sign my book, but I'd gladly trade that just to hear him speak.
Luckily, I got everything I wanted that day.
I'd say somewhere around 200 or so people showed up including Tim Waggoner. So Joe showed up right on time and takes the podium. He cracked a few jokes and then read the prologue of NOS4A2. He probably read for 15 or so minutes and then just went straight into the Q and A. He took questions about everything and encouraged questions about anything. It was pretty informal, but very informative and a lot of fun. Someone even asked him his he preferred hard or soft shell tacos. I don't remember his answer.
Here's what I learned about Joe. This guy is a gigantic goofball. He's a grown up little kid with an endless imagination and the skills to entertain the masses by sharing that imagination. HE LOVES WHAT HE DOES. I MEAN LOVES IT. You can just tell. I've seen a few people with similar passion, but no one greater. He was cheesing for the camera in a bunch of pictures with fans, fake getting strangled or fake biting necks. Taking pictures of the crowd and putting them on twitter in the middle of the Q and A. That might sound rude, but it wasn't, he was never distracted and he did it seamlessly. He gave funny answers to questions and even got into a tangential dialogue about the show Dr. Who with several audience members.
I'd love to relay several of his answers, but I'm only going to give you the most important one that I took from the session. Someone asked him what advice he would give to people wanting to be writers. His answer was not one that I'd ever heard before.
He said something like, paraphrasing here: Don't get caught up writing a novel or a short story. Don't focus on word count. All of that can be overwhelming to a veteran and even more so to someone new. Instead go at it like this. Write one good scene every day. It doesn't matter if they link or not or if it's the same characters. Then he said once the scenes start piling up, you'll have your novel or your stories or whatever you want to do with them.
I may not have that exactly right, I wasn't taking notes, but it's close, and I think there is a lot of value in that advice. Writing those scenes will give you a sense of accomplishment and even if they don't come anywhere close to linking at the time; that can always come later. Good advice and different advice from Mr. Joe Hill.
He's a funny guy too. He knows who is father is and that will always be something he has to deal with. Imagine dealing with that? And Joe shouldn't have to because his writing is so effing good, read him, but read him because he's a great writer not because he's SK's son.
He handles it VERY well. He puts a funny spin on it. Someone asked something about his dad and Joe's answer was something like "Well, yeah it kind of runs in my family. My dad's been taking writing serious lately and he's showing some promise. We think if he keeps at it, he might see some success in the future."
The crowd loved him. He put on a great show for us in Dayton, Ohio.
When he started running low on time, he started the lightning round of Q and A. It was hilarious. Someone asks "What was it like writing Throttle with your dad." Joe's deadpan answer, "Fun." And then he takes the next question. Laugh out loud funny the entire time.
I asked him if the rumors about Locke and Key heading to the big screen were true. His answer was "Truish." Man, I hope so, I'd love to see that series get some great treatment either on the big screen or as an HBO series or something.
After all that was over, he played auction barker, which was pretty funny too. He auctioned off a signed poster for NOS4A2 and it went for like $375. All that money went to a charity to help trouble kids learn to read. That, folks, is what it's all about. Big thanks to Joe and whoever bought that poster. Very cool.
When that was over he sat down and started signing books. The crowd was patient and so was Joe. He took the time to chat for a minute with each person and did pictures with anyone who wanted one, always a big grin on his face hamming it up. Watching this truly sold me on Joe Hill. Made me realize that I would love to be in his position someday. Doing what I love and being so goddamned happy about it. It was like a revelation.
I went through the line and got picture, a handshake and an autograph. I've posted the picture on Facebook and everyone says we look like brothers. Hell, even my own mother said that. I shaved that morning, now I wish I hadn't. The resemblance would be even stronger. Hopefully my work in fiction will draw more comparisons than our physical appearances. Jesus, I've got a long way to go…
I'll end this post the way I said goodbye to Joe Hill. I thanked him for coming to Dayton. Of all the places he could've landed, he came to our city. So to anyone reading this that might've happened to be involved: Thank you. Thank you Joe, Books and Co., The Greene, all the fans that turned out, thank you guy who bought that poster for a good cause.
I'm not positive, but I think Dayton was just the first leg of Joe's tour, so go look it up, if he's coming near you, I strongly urge you to go and experience the man first hand. You'll have a great time, might even learn something.
Keep reading, keep writing, and keep it real,
KGSL
About the Author
Latest Posts
Kerry G.S. Lipp is a wannabe writer working hard to drop the wanna be part. He teaches English at a community college by evening and works as a civilian on a military base by night, and usually sleeps during the day. He's not a big fan of the sun. His stories are currently available in the anthologies Lucha Gore and Under The Knife and several more will follow in 2013. His parents have started reading his stories and it appears that he is now out of the will. Follow him on Twitter @kerrylipp. You can read his short 'Smoke' at SNM Magazine.