I was so excited to do this reading! I mean, February, am-I-right-or-am-I-right? Paranormal romance, supernatural romance, historical romance, space opera, you name it! The romance-theme possibilities are endless!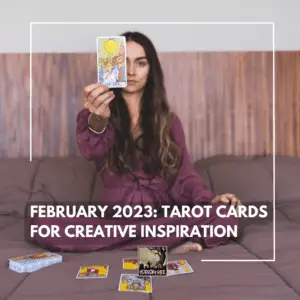 Well, until the fates intervened by way of the cards, and no matter how much I glared at them, they weren't giving up their creatively inspiring secrets. Instead, the message was all about inner reflection—essentially, "Creative, love thyself."
Pooh. I mean, if we wanted to spend time with ourselves, would we really choose to engage in activities that kept us in our heads (or creative ether realms) most of the time? Realms where we hang out with the exciting array of the characters we've created? Especially when reality is probably even more discouragingly real right about now.
Again, sigh.
Still, this reading came out they way it did for a reason, so, take what resonates with you on this 2023 journey, and perhaps we'll learn to nurture ourselves as carefully as we do our characters, our stories, our artistic creations.