Ongoing Submissions: Tabletops & Tentacles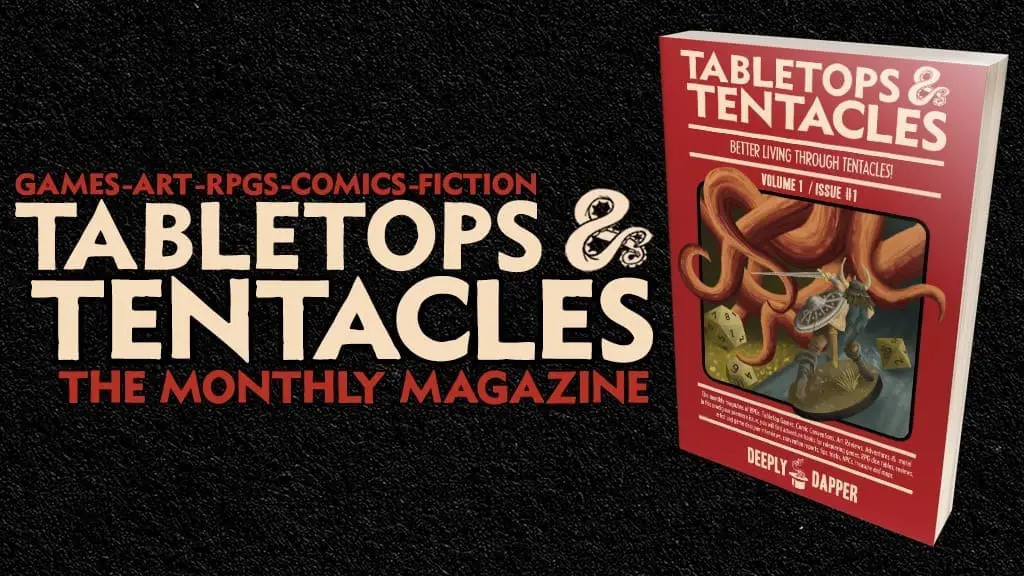 Payment: $25 and a contributor's copy
Theme: Fantasy, sci-fi, horror and noir themes.
T&T is a fiercely independent geek 'zine which means two things: We are always looking for fresh voices and interesting takes on short fiction, columns and reviews. And we don't have a lot of money, as the magazine is published out of the love of the geeky world we live in. That said, we believe in paying our contributors and will pay what we can. As more people discover the magazine, we will hopefully be able to increase the rates we pay contributors.
AUTHORS:
Author guidelines and submissions: We are currently seeking short fiction – 1,000-6,000 words with a specific interest in fantasy, sci-fi, horror and noir themes.
T&T is a completely indie publication with my wife and I doing 90% of the duties and while our funds are limited, we believe in supporting and paying our creators for their work, whether in per-word scale, trade, copies of the issue to sell, advertising or a combination of them.
We are currently paying contributors $25 per story for accepted submissions.
Authors will also receive a physical and digital copy of the magazine and have the option of purchasing additional copies at cost.
Payment can be made via PayPal or Venmo. I am also open to alternate options, like store credit or space in the magazine to promote your projects if that's preferred.
Payment will be sent after your Short Story is approved and locked into a specific issue.
Currently, things are in a world of flux and we have received a large number of submissions. It could be a number of months before I have time to read and assign fiction for future issues, but I will try and get back to you as quickly as possible. (My wife recently suffered a near-fatal medical emergency that left her nearly blind and that has slowed our review and contact efficiency significantly.)
If you are interested in contributing, please send us your work and bio below. (Links to dropbox or other location is fine as well)
We are open to new and previously published works and the stories will appear in the digital and physical copies of the magazine. We are open to the idea of serialized fiction as well, but we currently have two ongoing series planned for the magazine, so space may be limited.
Each issue of T&T will also include digital content and items such as eBooks and excerpts can also be considered in that format. We are new to this and flexible as we shape the magazine to our readers' interests!
Via: Tabletops & Tentacles.
About the Author
Latest Posts
Stuart Conover is a father, husband, published author, blogger, geek, entrepreneur, horror fanatic, and runs a few websites including Horror Tree!