CLOSED MARKET: Glintmoon
This Market hasn't been updated since 2019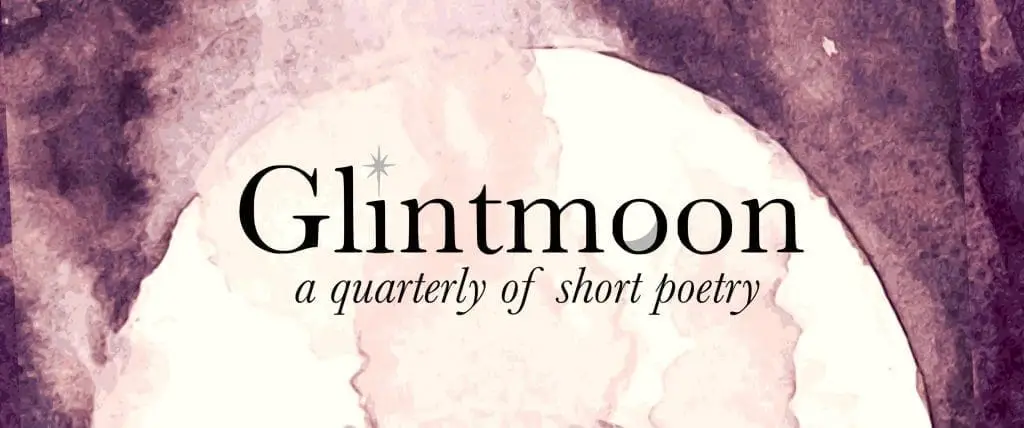 Payment: $5 USD per unpublished poem
Glintmoon exclusively publishes poems of ten (10) lines or fewer. We will consider any and all poetry that follows this one rule. However, it must be said that we are not partial to traditional forms, such as the haiku or the tanka, nor do we particularly enjoy rhymed or metred work. This doesn't mean that we're not looking for poems of three or five lines. In fact, we absolutely do want to read three and five line poems. We simply aren't interested in many of the structures and intentions behind traditional forms.

We are a diversity-oriented publication and encourage submissions from underrepresented voices. In particular, we're looking for work that considers race, ethnicity, gender, sexuality, identity, and disability in original and meaningful ways. We want to see fervent, unorthodox poetry that stretches and reimagines what the short form is and what it can do. Give us life and depth, the human and the now.
It should go without saying but do not send us work appropriating experiences and/or identities not your own. We do not tolerate bigotry of any kind. This means no racism, misogyny, homophobia, transphobia, transmisogyny, ableism, fatphobia, exoticizing/fetishizing of cultures, communities, and peoples, Islamophobia, etc. Should you send us work blatantly containing any of the above, your submission will be deleted without response, as will all subsequent queries. It is a waste of our time to respond to submissions that do not respect basic human decency.
Some poets whom we are fond of include (in no notable order): Amy Clampitt, Chen Chen, Louise Glück, Eileen Myles, Lucie Brock-Broido, Gertrude Stein, Danez Smith, Timothy Liu, H.D., Richie Hofmann, John Ashbery, Maggie Smith, Audre Lorde, sam sax, Rita Dove, Maggie Nelson, Rickey Laurentiis, Mary Szybist, Seamus Heaney, Mark Doty, Hieu Minh Nguyen, and many, many others.
We accept submissions year-round on a rolling basis. Issues are published in February, May, August, and November.
We only accept electronic submissions. Please use our editorial address: editor at glintmoon dot com.
We do accept simultaneous submissions. We do not accept unsolicited reprints.
Send up to five poems per submission and a bio. All poems must be unpublished. This includes personal websites, blogs, etc. Please wait for a response before supplying us with new work.
Please use "SUBMISSION: Poet's Name" as the subject line of your submission. If you do not follow this simple request, your submission will not be read.
We strongly prefer that you paste your poems in the body of the email in plain text. However, if your work has special formatting, you may attach it as a Word, Pages, PDF, or RTF file.
We endeavor to respond to every submission within two months. If you have not heard from us after two months, please send us a query with "QUERY: Poet's Name" in the subject line.
We currently pay $5 USD per unpublished poem via PayPal. We purchase First North American Serial Rights and First World Electronic Rights, as well as Non-Exclusive Anthology and Non-Exclusive Archival Rights. All rights revert to the poet upon publication.
Via: Glintmoon.
About the Author
Latest Posts
Stuart Conover is a father, husband, published author, blogger, geek, entrepreneur, horror fanatic, and runs a few websites including Horror Tree!