Epeolatry Book Review: The Only Good Indians by Stephen Graham Jones


Disclosure:
Our reviews may contain affiliate links. If you purchase something through the links in this article we may receive a small commission or referral fee. This happens without any additional cost to you.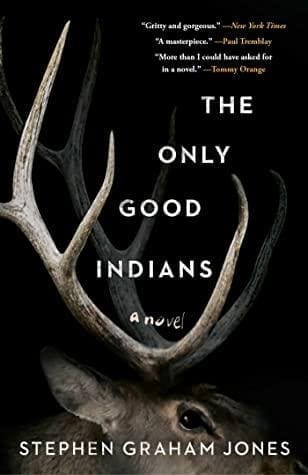 Title: The Only Good Indians
Author: Stephen Graham Jones
Genre: Horror
Publisher: Gallery/Saga Press
Release Date: 14th July, 2020
Synopsis:
The creeping horror of Paul Tremblay meets Tommy Orange's There There in a dark novel of revenge, cultural identity, and the cost of breaking from tradition in this latest novel from the Jordan Peele of horror literature, Stephen Graham Jones.
Seamlessly blending classic horror and a dramatic narrative with sharp social commentary, The Only Good Indians follows four American Indian men after a disturbing event from their youth puts them in a desperate struggle for their lives. Tracked by an entity bent on revenge, these childhood friends are helpless as the culture and traditions they left behind catch up to them in a violent, vengeful way.
As usual, Stephen Graham Jones knocks it out of the park. Set in the world of modern Native American issues, this episodic novel tells the tale of revenge. Jones gives us a group of longtime Native American friends and the horrors that befall them and their families due to their past transgressions.
With each successive section, the story builds and builds to an ultimate faceoff. Throughout, we find ourselves rooting for both avenger and victims. Jones's love for his Native culture shines with every chapter. I also love that basketball plays such a huge role in the novel. Jones does an amazing job making the sport and its elements an interesting part of the account.
I will be surprised if I ever find a Stephen Graham Jones book I don't like.
I give this one 5 out of 5 stars.
About the Author
Latest Posts
Joe lives with his wife and son in the Pacific Northwest where the Cascade Mountains meet the Salish Sea. He enjoys writing in the weird, horror, and fantasy genres.
Growing up he enjoyed R. L. Stine's Goosebumps books as well as classics like Dune, and Lord of the Rings. In college he discovered Stephen King, and later Mark Danielewski's House of Leaves and authors like Clive Barker and Laird Barron.
Joe's short story, 'Gustav Floats', was published in Dim Shores Presents Volume 2. In the spring of 2021 his story, 'The Pigeon Lied' comes out in Howls From Hell.
You can follow Joe on the following social media sites:
Twitter, Good Reads, Facebook, and Instagram!