Epeolatry Book Review: The Dead Take the A Train by Cassandra Khaw and Richard Kadrey


Disclosure:
Our reviews may contain affiliate links. If you purchase something through the links in this article we may receive a small commission or referral fee. This happens without any additional cost to you.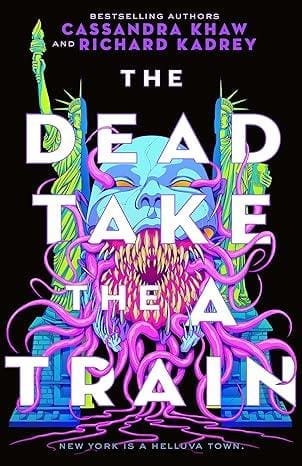 Title: The Dead Take the A Train (Carrion City #1)
Author: Cassandra Khaw and Richard Kadrey
Publisher: Tor Nightfire
Genre: Occult Fiction, Dark Fantasy, Cosmic Horror

Release date: 3rd October, 2023
Synopsis:  Bestselling authors Cassandra Khaw and Richard Kadrey have teamed up to deliver a dark new story with magic, monsters, and mayhem, perfect for fans of Neil Gaiman and Joe Hill.
Julie is a coked-up, burnt-out thirty-year-old whose only retirement plan is dying early. She's been trying to establish herself in the NYC magic scene, and she'll work the most gruesome gigs, exorcize the nastiest demons, and make deals with the cruelest gods to claw her way to the top. But nothing can prepare her for the toughest job yet: when her best friend, Sarah, shows up at her door in need of help. Keeping Sarah safe becomes top priority.
Julie is desperate for a quick fix to break the dead-end grind and save her friend. But her power grab sets off a deadly chain of events that puts Sarah—and the entire world—directly in the path of annihilation.
The first explosive adventure in the Carrion City Duology, The Dead Take the A Train fuses Cassandra Khaw's cosmic horror and Richard Kadrey's gritty fantasy into a full-throttle thrill ride straight into New York's magical underbelly.
This book was no speedy subway ride through New York, more like a leisurely stroll through Central Park. Still, I kept up the book reviewer's reading pace for the first couple of chapters or so, before failing utterly.
I blame the authors.
It's absolutely Khaw's and Kadrey's fault for creating a story that is such an immersive (and dark) deep dive that even this New-York-minute speed reader found myself lingering over the pages, even in the midst of book's the most fast-paced action sequences.
I soaked up every word, every suspenseful scene, every last drop of ichor and pus and blood and guts. And I loved the horrifyingly gruesome experience.
But you know what I adored even more than the magic-steeped carnage?
The characters. Namely, the messy, bad-decision-making, fallible main character Julie Crews. Granted, my own personal hell zone at present is nowhere near as rollickingly dangerous as the world Julie moves through, but I still felt that I could relate to her all the same.
So, in a strange, surreal way, this spooky urban fantasy was the light at the end of the train tunnel for me. The Dead Take the A Train stands as a testament to the oft-used claim that horror literature provides surcease to its readers.
By way of Julie's troubled pathway through her own existence, I felt that I had a sense of self restored right alongside her.
There was only one little part of the story that haunted me, and, hopefully without giving away a key spoiler, there was a magical item at the heart of this book, and it seemed there were a few key details about the item that left me with more questions (and tiny tears in the storyline) than answers.
So, whether you're going through your own dark time or whether you're looking for a spine-shattering read that's perfect for Halloween, I'd recommend letting this tome's depraved mysticism wrap itself around you on that chilly autumn evening. And, who knows, maybe there's a parallel dimension out there where I've taken refuge in an urban jungle, and I'll discover that it not only contains magic but Julie and Sarah and all the other characters as well. That's how real and powerful this tale felt. 
I can't wait to follow these characters' adventures on their twisted journey in the second Carrion City book (also forthcoming). 



/5
About the Author
Latest Posts