'Death's Dance' Blog Tour – Dancing with Death: A Novel Idea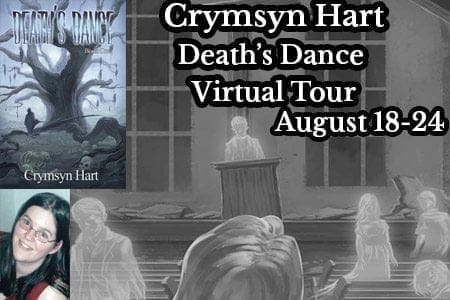 Dancing with Death: A Novel Idea by: Crymsyn Hart
A few people have asked me, how I came up with the idea for Death's Dance. The simple answer is I wrote to specifically for the publisher I'm with now, hoping it would get picked up by Seventh Star Press. And if it didn't, well then I'd find another home for it. However, I was fortunate enough that I was accepted by Seventh Star. That being said, this is my first straight horror novel that I've written in years so it was a big move for me to go from romance to horror.
When I first thought about the idea of Death's Dance I had the name of the book and the first scene which had been inspired by a dream. The dream was someone gazing into a mirror and seeing this black robed figure reaching out toward the woman in the dream. She was in a trance, being pulled toward the mirror and if she touched it something bad was going to happen. As she stared into the mirror behind the robed figure was a swirling mist and a large oak tree with nooses hanging from it.
The dream lingered long enough for me to write it down and it sat with me. It sat with me until I thought about it and my brain began to expand on it until it became the hatchings of a book. They say write what you know and I now psychics, ghosts, and a bit about the supernatural. So to make the main character easier for me to mesh with, I made her into a psychic medium like myself who can talk to ghosts. So it wasn't difficult to make the stretch that she could have been involved in paranormal investigation television show and she wanted nothing to do with it anymore. But who was the robed figure in the glass? That was the question that plagued me the longest.
Another major character that appears within my other books the Angel of Death, the grim reaper. He started chattering in my mind about why not involving grim reapers in the mix. What is creepier than death? So that was who the grim reapers in the book were born. Of course stringing it all together was a little difficult. And I hadn't read too many books involving the main characters being reapers so I went with the thread and followed the characters down the rabbit hole.
They lead me to Death's Dance and what it was. I don't outline as I write. I've tried, but it doesn't work out too well. As I figured out the relationship of Death's Dance, the town the book is named after, to the characters things came into view and I realized I had a book. What I wasn't expecting was the relationship between the grim reaper and the main character that developed. But well that had to be explored and the more I learned about the reaper the more I knew that there was a much deeper connection that had to be explored.
As I fleshed out their connection, the book seemed to write itself. I got to the ending and realized that well there was more story to be told so the series was born. I took a month to edit Death's Dance, wrote the book proposal for it which was a first for me so I actually had to outline the second and third books, along with a possible forth. Once that was done I sent in book one to the publisher and began waiting and waiting. However, while I waited I started writing the second book of the series called Death's Revival. By the time I had finished the book I had realized I could spinoff another series from it. So I finished the first book in the new series. Then I had an acceptance, but I had also started book three and was halfway through it as well.
Once Seventh Star accepted me, I had to connect with the cover artist and wait on edits. My edits were not as bad as I thought so they took me a couple of weeks going over them to be sure. The cover art came in and I planned on the two interior pieces that the artist was doing as well. Once everything came together, and the book was done all I had to worry about was promoting. So book three got done while I waited for my release and well the rest is history. Publishing has been great and I'm happy to say I enjoyed the world of grim reapers because they are not as scary as everyone thinks.
Virtual Tour
Author: Crymsyn Hart
Featured Book: Death's Dance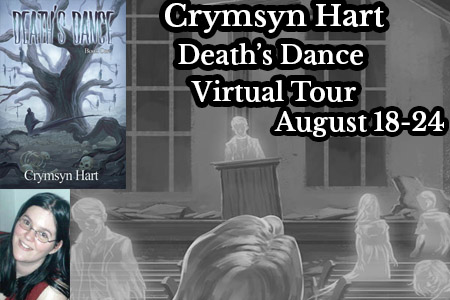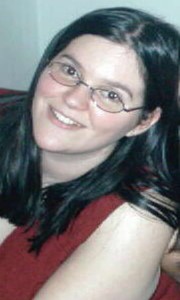 About Crymsyn Hart: Crymsyn Hart is a national bestselling author of over seventy paranormal romance and horror novels. Her experiences as a psychic have given her a lot of material to use in her books. She currently resides in Charlotte, NC with her hubby and her three dogs. If she's not writing, she's curled up with the dogs watching a good horror movie or off with friends.
To find out more about Crymsyn Hart, please visit her website at www.ravynhart.com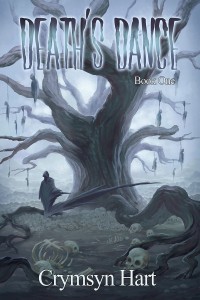 Death's Dance Book Synopsis: Being a psychic, you would think talking to the dead was a walk in the park. However, it's not always that simple. The hooded specter haunting me is one I've been dreaming about since I was a kid. One day, he appeared in my bedroom mirror. Good. Evil. I don't know what his true intentions are.
Enter Jackson, ghost hunting show host extraordinaire, and my ex, to save me from the big bad ghost.
From there…well…it's been a world wind of complications. My house burnt down. I'm being stalked by an ancient evil and gotten myself back into the world of being a ghost hunting psychic. Jackson dragged me, along with a few other psychics, to a ghost town wiped off the map called Death's Dance.
From there things went from bad to worse.
Death's Dance is Book One of the Deathly Encounters Series
Author Links:
Website: www.ravynhart.com
Facebook: https://www.facebook.com/pages/Crymsyn-Hart-Fan-Page/115120201850089
Goodreads: www.Goodreads.com/crymsynhart
Twitter: https://twitter.com/crymsynhart
Tour Schedule and Activities
8/18 Jess Resides Here Interview
8/18 The Southern Belle from Hell Top Ten
8/18 Beauty in Ruins Guest Post
8/19 Darkling Delights Guest Post
8/19 Deal Sharing Aunt Top Ten
8/19 Shells interviews Guest Post
8/20 Stuart Conover's Author Page Interview
8/20 SpecMusicMuse Interview
8/20 Azure Dwarf Post on Artwork
8/21 Come Selahway with Me Top Ten List
8/21 Armand Rosamilia, Horror Author Guest Post
8/21 SocialBookShelves.com Review
8/21 Blog of Sheila Deeth Character Post
8/21 A Haunted Head Guest Post
8/21 The Official Writing Blog of Deedee Davies Top Ten list
8/22 SBM Book Obsession Review
8/22 Bee's Knees Reviews Guest Post
8/22 Seers, Seraphs, Immortals & More Interview
8/23 Reading Away The Days Review
8/23 Sapphyria's Book Reviews Excerpt
8/23 Horror Tree Guest Post
8/24 Willow's Author Love Review
8/24 The Rage Circus Vs. The Soulless Void Review
8/24 Bookishly Me Review
8/24 LucyBlueCastle Guest Post
Tour Page URL: http://www.tomorrowcomesmedia.com/crymsyn-hart-deaths-dance-tour-page/
Tour Badge URL: http://www.tomorrowcomesmedia.com/wp-content/uploads/2014/08/CrymsynHartTourBadge.jpg
Amazon Links for Death's Dance:
Kindle Version: http://www.amazon.com/Deaths-Dance-Deathly-Encounters-Book-ebook/dp/B00L8JOJAY
Print Version: http://www.amazon.com/Deaths-Dance-Crymsyn-Hart/dp/1941706134
About the Author
Latest Posts
Stuart Conover is a father, husband, published author, blogger, geek, entrepreneur, horror fanatic, and runs a few websites including Horror Tree!