Trembling With Fear 05/20/2018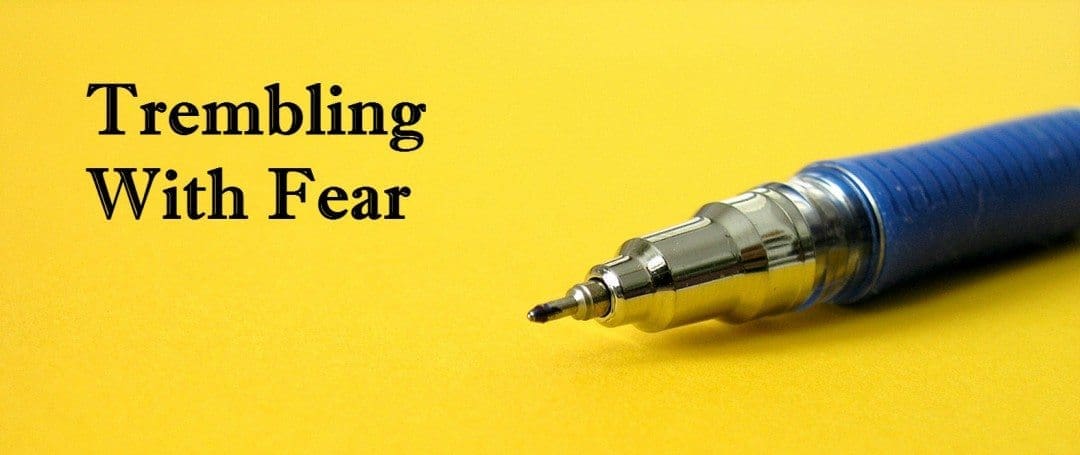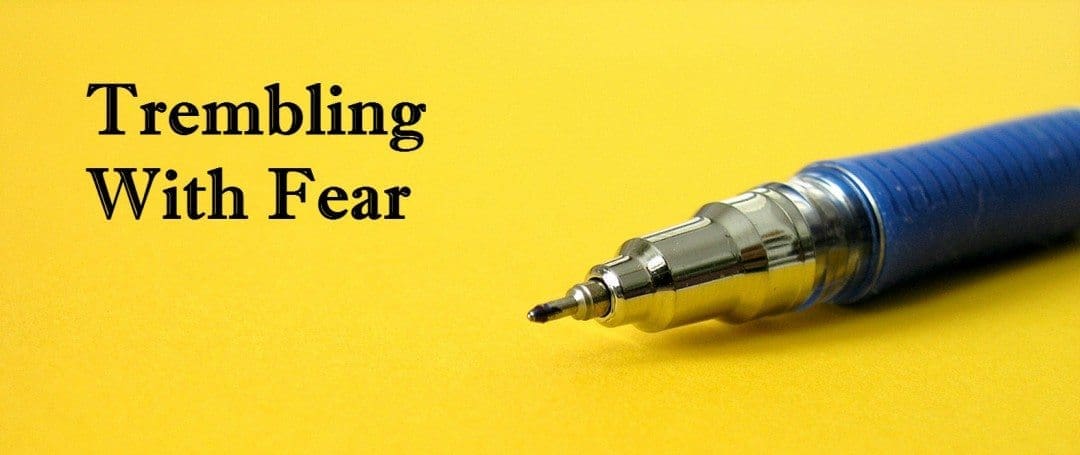 Writer? How much do you earn? So little? Nothing? Ah, just a hobby then. Writing dismissed, placed on a par with knitting or baking a cake or lifting weights … but you can't keep someone warm with words, can't quiet hunger or build strength. Writing's not important. We hear it all the time, the putdowns of the naysayers. Yet we know they are wrong. The stories of religious works have directed mankind for centuries, for good or bad. Fables have described morality. Speeches have roused and steered armies, both the physical and the ideological. Fiction has allowed us to explore themes and enter other worlds in a safe environment.
Our words on modern platforms also allow us to share our thoughts and lives with those on the other side of the world, forming new friendships, sometimes to share not just in the good but also the challenges of life. Lat week, Arthur Unk, one of our well-known contributors, whilst grieving an approaching loss, paid a beautiful tribute to his own 'real-life Superman' (https://arthurunk.wordpress.com/2018/05/12/a-life-well-lived/). Not important? Here Arthur uses words to show what it is to be human, they warm the heart, feed the soul, give strength. It is an example of how writing binds us closer together as readers recognise shared experiences, feel less alone. Whether via fact or fiction, without words, without language, we are nothing and as writers we bear that torch. Remind yourselves of that when the old self-doubt creeps in. Writers drive civilisations and horror has its place, holding up a mirror to what was, what could be … and sometimes what already is.  We write the warnings and release the monsters from their chains, shine a light on the dark and hope somebody notices. We are the Book of Revelation. Monsters do not always remain on the page …
'Trembling With Fear' Is Horror Tree's weekly inclusion of shorts and drabbles submitted for your entertainment by our readers! As long as the submissions are coming in, we'll be posting every Sunday for your enjoyment.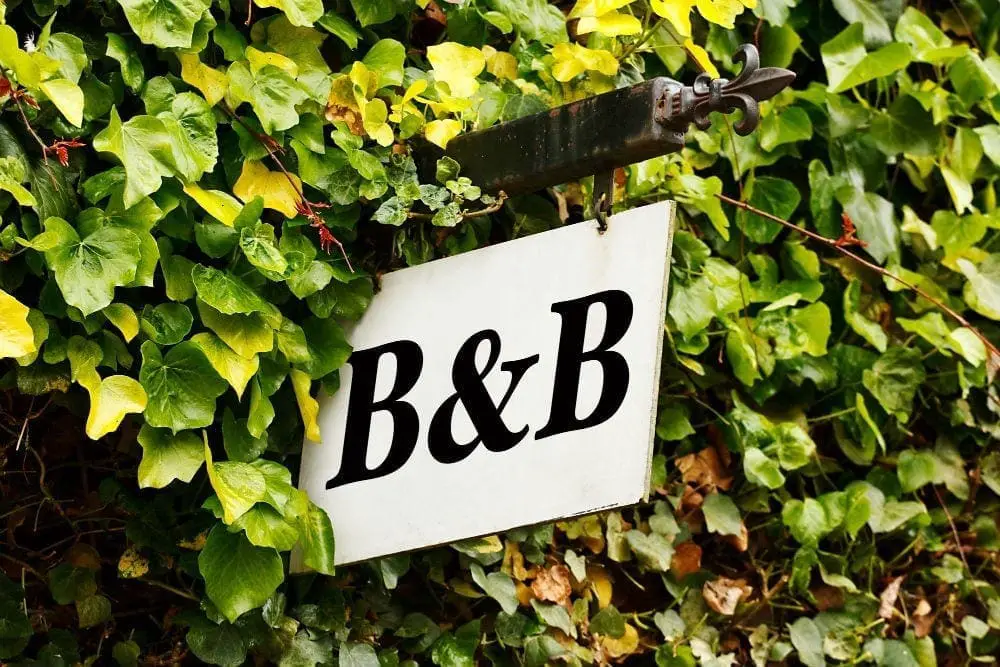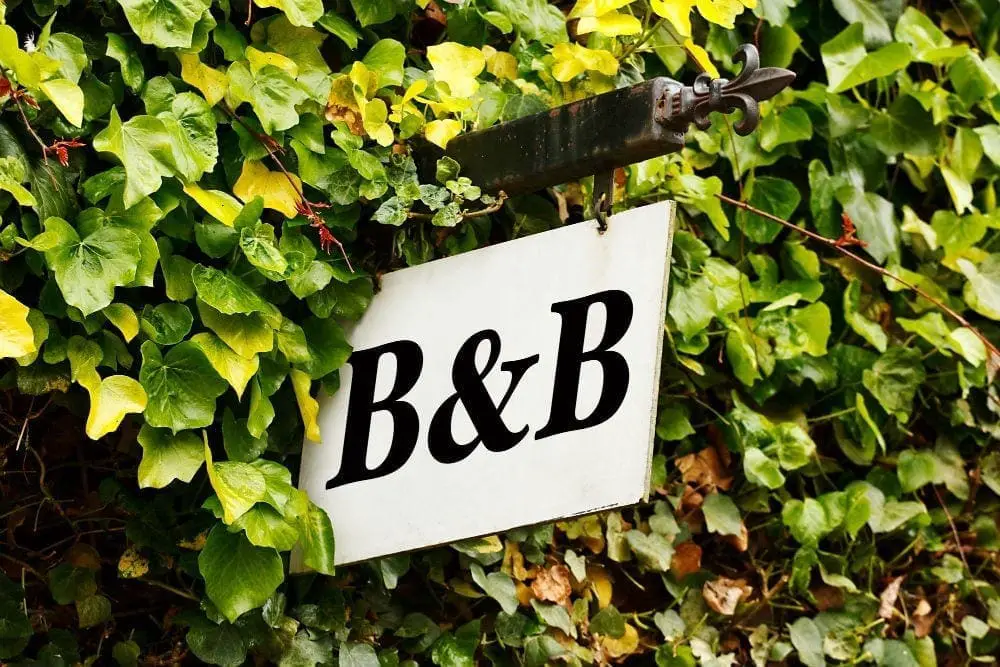 Bed And Breakfast
The sycamore tree in the back yard was the main reason Marilee and Garth loved the house. The hollow trunk in the sycamore tree was twenty feet across.
"It's a true colonial built in 1785 and has the original Franklin stove. The windows and insulation were updated about twenty years ago," said the realtor.
Marilee said, "Tell us about the tree. Why's the opening in the trunk filled with bricks? Is it haunted, we want a place that's haunted?"
"There are pictures taken after the civil war when the tree was barely fifteen feet across. The hollow trunk was open back then. The opening was bricked over during the great depression. My grandmother said hobos liked to sleep inside the tree."
"Like a one-tree hobo jungle?"
"More like a tramp's graveyard. They found a new body inside almost every week. Some wanderer would squirrel himself inside at sunset and turn up dead in the morning. The final bough broke when the owner's daughter disappeared. The police left no twig unpruned, but they never found the girl. Her parents insisted the tree had killed her, but the police believed she'd run away with some young sprout from the city. The police chief said, "Don't be a couple of saps. Surely, you don't think the pollen ate her."
"The owners walled the tree closed. The house and tree stayed in the family for years. It's been empty since the Second World War. Everyone in town thinks it's haunted."
Garth tapped on the brick and said, "I saw a sycamore this big in Pennsylvania. These trees live five or six hundred years and they hollow out after they turn three hundred. The inside of this one has to be huge and it will make the best bed and breakfast in the world. I like this place and it's high time we put down roots somewhere. Let's buy it."
The realtor smirked. "At the price, this deal is low-hanging fruit."
Marilee nestled up to the tree and said, 'I never thought of myself as a tree-hugger, but I agree. This tree likes me."
Garth and Marilee remodeled the dormant sycamore that winter. They removed the bricks and used them to build a patio and fire pit. They ran power, installed windows, modern plumbing, and a round door. Frodo would have been proud. They loved the trunk's interior rustic feel and they left the soft rough wood untouched. The odor of the cleaning fluid lingered inside the tree, and they named their treehouse, "Pith and Vinegar".
Garth accosted the electrician when he fell asleep inside the tree. The electrician said, with a quivering timber in his voice, "No charge, I quit. The tree makes me dizzy. It saps my energy."
The framing crew said working inside the tree made them groggy and walked off the job. Garth didn't mind, they were too slow, and they just lumbered around or spent half the day sawing logs. The foreman said, "I'm stumped as to the reason, but my men and I are afraid of the tree. You and your wife are nuts if you don't chop it down."
Garth finished the hard work and Marilee painted the framed opening and decorated the inside with furniture, carpets, and tapestries. They installed a television and reading lamps.
"Garth, I'm tired. I guess I'm getting old, I'm exhausted after I work in the treehouse."
"Me, too. I'm glad we're finished. You did an amazing job, it's a real fairy house. After dinner, let's chill a couple bottles of wine and spend the night in the tree."
"Let's build a fire and snuggle on the patio before we go to bed," asked Marilee with a sparkle in her eyes?"
"Tremendous idea."
After dinner, they walked arm in arm to the hollow tree and sat together on the couch. They fell asleep in minutes.
Two days later the realtor found them, and their desiccated bodies were covered with tendrils sprouted from the interior walls. The couple were encased in a web of fine rootlets. The tendrils twitched toward the realtor. They crawled mindlessly across the wooden floor and probed blindly through the air. The roots entwined around her and touched her face.
She welcomed their sylvan caress. She smiled at the dead couple and said, "Looks like you've gotten yourselves into a vine mess. Nothing for me to pine about."
She let down her hair and her auburn tresses were filled with foliage. Her hair had a greenish tinge in the morning sunlight. The backs of her hands were covered with scales that matched the tree's bark. The tree welcomed the return of its dryad. She'd been barricaded outside since the Great Depression. Dryads won't touch brick or masonry. They only work with living things.
"I'm back, darling," she said. "And I swear with God as my witness, we won't ever be hungry again."
The dryad filed paperwork and deeded the property to herself. She opened a quaint bed and breakfast, just like Garth and Marilee had planned. She did a blooming business, but refused to open a second branch. Most guests were charmed by the hobbit-like treehouse, stayed a few days, and wrote glowing reviews.
Some guests checked in, but never checked out. Breakfast was always served, but the tree decided what or who was on the menu. Things never worked out well for visitors who barked at the owner. Even the prettiest rose needs a little protein now and then.
Robert Allen Lupton
Robert Allen Lupton is retired and lives in New Mexico where he is a commercial hot air balloon pilot. Robert runs and writes every day, but not necessarily in that order. He has been published in several anthologies and his short stories are online at www.horrortree.com and  www.crimsonstreets.com. His novel, Foxborn, was published in April, His collection of running themed horror, science fiction, and adventures stories, Running Into Trouble, was published in October, Dragonborn, the Foxborn sequel will be released in April, 2018
Links:
www.amazon.com/author/luptonra
www.goodreads.com/author/show/15292457.Robert_Allen_Lupton


The Astral Queen
The Astral Queen landed on the planet's surface.
The pilot descended. Wind whipped her face and her green skin was blasted by sand.
She surveyed the land. Black clouds blotted out sky and sun. Mangled metal towers sprouted from dunes of ash and sand.
She turned and reboarded her ship. Inside she paused before a glass chamber. She pressed a hand on the glass and peered in at her ancestors frozen in cryogenic tubes. Not today, she thought.
When she reached the bridge she crossed the planet off her list and adjusted the database so it reflected Earth as "Inhospitable."
Eric S Fomley
Eric S. Fomley writes science fiction, fantasy, and horror short fiction. He has several publications which can be found on his website ericfomley.com. He can also be found on Twitter @PrinceGrimdark.
Know Hell
Childhood shapes us all. He was no exception.
A Yuletide Day. Twenty years ago. Cowering in fear as his psychotic father bludgeoned his mother. His old man's incarceration and hours of therapy failed to heal. The festive season remained a nightmare, unmarked and uncelebrated.
A thud from below awoke him. Gingerly he tip-toed downstairs, butterflies in his belly. Opening the door, his senses were flooded. The heady aroma of pine; the technicolour glare of strobing bulbs, reflected off tatty tinsel. The shabby Saint Nick, red suit stained a deeper scarlet, grinning through a filthy beard.
"Ho Ho Ho! Merry Christmas!"
Steven Holding
Steven Holding lives with his family in Northamptonshire in the United Kingdom. His work has been short listed in several contests and his story "UNTIL THE END OF THE WORLD" was selected as the winning entry in the WRITING MAGAZINE 2016 annual short story competition. One of his monologues was chosen to be performed at Northampton's Royal Theatre, while his adaptation of "Alice in Wonderland" was produced at Northampton's Derngate Theatre in 2017.
You can visit his website at www.stevenholding.co.uk
Road Shadow
I drive down darkened side-streets.
He follows.
I turn left.
He turns.
I pull right. Speed onto the interstate. Swerve between lanes.
He skids, jerks, mimics every move. Rides my bumper.
I skid to the shoulder.
Our tires squeal to a halt.
I exit. Bang his window. "Why are you following?"
His waxen face shines. My own maniac smile spreads beneath eyes, raw as butcher's meat. He's me. And he'll always follow.
Ghostly bourbon fumes swim in streetlamp vertigo.
I stumble to my car.
Fumble for keys.
Peel away.
Headlights blur the mirrors.
Someone's following.
And I've already forgotten who.
About the Author
Latest Posts
Stuart Conover is a father, husband, published author, blogger, geek, entrepreneur, horror fanatic, and runs a few websites including Horror Tree!