The Spooky Six with Willow Croft and Tim Waggoner
This edition of the Spooky Six features none other than Tim Waggoner . . . and a fragant pot of unsweetened herb tea!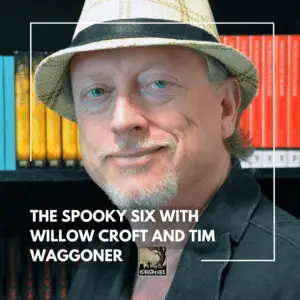 Author and editor Thomas F. Monteleone has called Tim Waggoner "One of the best horror writers of his generation." Waggoner's first novel came out in 2001, and since then he's published over fifty novels and seven collections of short stories. He writes original dark fantasy and horror, as well as media tie-ins. He's written tie-in fiction based on Supernatural, Grimm, The X-Files, Alien, Doctor Who, A Nightmare on Elm Street, and Transformers, among others, and he's written novelizations for films such as Halloween Kills, Resident Evil: The Final Chapter and Kingsman: The Golden Circle. His articles on writing have appeared in Writer's Digest, The Writer, and The Writer's Chronicle. He's the author of the acclaimed horror-writing guide Writing in the Dark, which won the Bram Stoker Award in 2021, as well as its follow-up Writing in the Dark: The Workbook. He won another Bram Stoker Award in 2021 in the category of short nonfiction for his article "Speaking of Horror," and in 2017 he received the Bram Stoker Award in Long Fiction for his novella The Winter Box. In 2016, the Horror Writer's Association honored him with the Mentor of the Year award. In addition, he's been a multiple finalist for the Shirley Jackson Award and the Scribe Award, and a one-time finalist for the Splatterpunk Award.
His fiction has received numerous Honorable Mentions in volumes of Best Horror of the Year, and he's had several stories selected for inclusion in volumes of Year's Best Hardcore Horror. His work has been translated into Russian, Portuguese, Japanese, Spanish, French, Italian, German, Hungarian, and Turkish. He holds BS Ed. and MA degrees from Wright State University and has taught college English classes since 1987. For nine years, he served as a faculty mentor in Seton Hill University's MFA in Writing Popular Fiction program. Along with writing fiction and teaching, he's worked as a newspaper reporter, magazine editor, copy editor, and developmental editor. For the last twenty-six years, he's been a full-time tenured professor who teaches creative writing and composition at Sinclair College in Dayton, Ohio.
Pronouns: He/Him
 Website
 Social Media Links
Newsletter Sign-Up: https://timwaggoner.com/contact.htm
Website: www.timwaggoner.com
Blog: http://writinginthedarktw.blogspot.com/
YouTube Channel: https://www.youtube.com/c/timwaggonerswritinginthedark
Twitter: @timwaggoner Facebook: https://www.facebook.com/tim.waggoner.9
Instagram: tim.waggoner.scribe
Keenedom Message Board: https://thekeenedom.freeforums.net/
Where You Can Find Tim Waggoner's Books
Amazon Page: https://www.amazon.com/s?k=tim+waggoner&i=stripbooks&crid=1CUTLF31HG3M6&sprefix=tim+waggoner%2Cstripbooks%2C118&ref=nb_sb_noss_1
Barnes and Noble: https://www.barnesandnoble.com/s/tim%20waggoner/_/N-8q8
Books-a-Million: https://www.booksamillion.com/search?filter=&id=8706943431431&query=tim+waggoner
Bookshop: https://bookshop.org/search?keywords=tim+waggoner
Goodreads: https://www.goodreads.com/search?q=tim+waggoner&qid=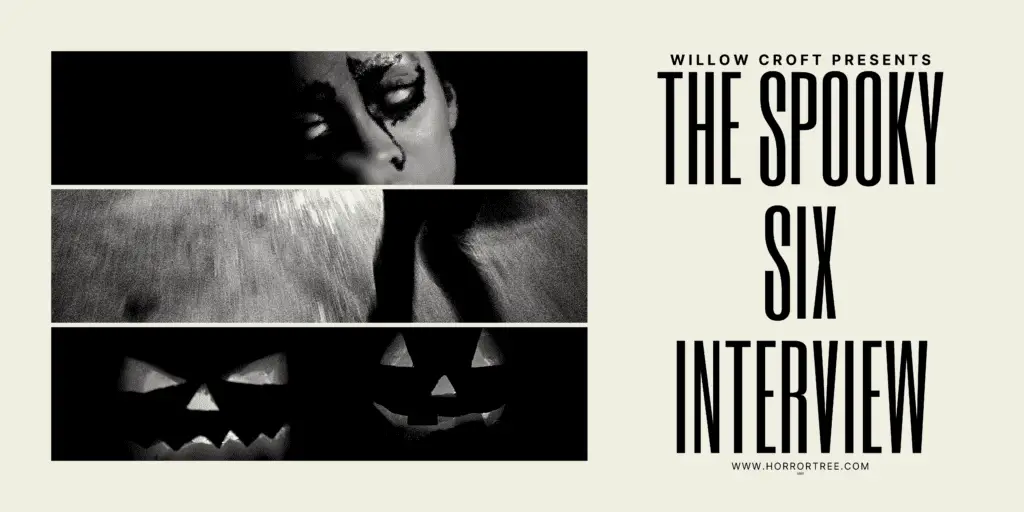 Willow Croft: "Hey, look at that derelict Victorian mansion . . . let's go explore it!" What's the most unusual setting you've read about in a horror/thriller book, or included in your own creative works?
Tim Waggoner: My novel The Way of All Flesh, which came out in 2014, is my take on the zombie apocalypse trope. A large part of the novel takes place inside the mind of the lead character, who is a zombie. How he—and other zombies—see the world is very different from how humans perceive it.
Willow Croft: "It was a dark and stormy night . . ." What are your go-to comfort foods, drinks, or other ways to wind down after a long day (or night) of writing?
Tim Waggoner: I'm diabetic, so my comfort food options are limited—usually Diet Coke, an Adkins bar, or sugar-free candy. I may scroll through social media or watch a horror movie. My wife's not a horror fan, so if she's hanging out with me, we'll watch movies that aren't too scary, along with true-crime documentaries, and UFO/cryptid/ghost documentaries. Ancient Aliens is a favorite of ours because it's hysterical.
Willow Croft: "Did you hear that noise?" Everyone, even us horror writers, have our night terrors. What is it that frightens you the most?
Tim Waggoner: I can see the potential danger in just about anything, which is probably why I write horror! Late at night, I sometimes hear a noise and worry that someone might be trying to break into the house. So far, it's always been a false alarm. I also have nightmares about people breaking in. Otherwise, my fears are normal ones—something bad happening to the people I love, letting down friends and family, etc.
Willow Croft: "I'm sure it was nothing. But I'll just go outside and check, anyway. Alone. With no weapons." Have you ever gotten writer's block? If so, how do you combat it? Do you have certain rituals or practices that help get you into the writing (or creating) mindset?
Tim Waggoner: I don't think of it as writer's block, but I do go through occasional lulls where my brain feels sluggish and refuses to cooperate with me. I have difficulty writing fiction during those times, so I switch to nonfiction for a bit, and that works. I'll also tend to other writing-career-related activities—catching up on correspondence, updating my website, preparing the next edition of my newsletter, writing a new blog entry, creating a new YouTube video, or answering interview questions! Sometimes I'll vary the time of day I write or the location, and that often gets things going again. I may experiment with a short story idea which isn't already promised to an editor, so it doesn't matter if I finish it or not. If I can't produce any kind of writing, I keep up on writing and publishing news on social media, think of new projects I might try, read and watch movies for inspiration. As long as I keep doing, eventually the fiction-writing engine kicks into gear again.
Willow Croft:  "Don't go into the basement!" Are you an impulsive pantser or a plotter with outlines galore? What other writing/industry advice would you share with your fellow writers & creators?
Tim Waggoner: I'm a combination of both a planner and a pantser. Since most of my novels are sold to publishers on an outline first, I have to develop a solid outline to get a contract. After that, I may never look at the outline again as I write the book, and I don't worry if it veers from the outline, as long as the basic story remains the same as what the editor is expecting to receive. I've written a lot of media tie-ins novels, and those require a detailed outline that both the editor at the publishing house and the IP holder have to sign off on, and you need to stick to that outline. Even with an outline, individual scenes aren't planned out, and sometimes I'll make rough outlines of scenes, really just rough notes for myself. When it comes to short stories, I'm more of a pantser. The short length allows for more experimentation, and if something I try doesn't work, there's usually time to try a different idea. I may start a story with an image or basic concept and go from there. Sometimes I'll write notes about what to include next in the story as I go. Other times I just write and see where the story takes me.
As for advice to pass on, that's the focus of my nonfiction books, my blog, my YouTube channel, and the articles in my newsletter. I've got so much advice to share that it's hard to pick just one or two things. But if I have to . . . For fiction writers, I'd say write with an immersive point of view and make your fiction more vivid. Regardless of how much we read, most of us experience stories as visual media in movies, on TV series, in video games, etc. far more than we do as printed words. Because of this, beginning writers write stories as if they're scripts, all dialogue and stage directions. They write from the point of view of a passive observer who's watching events play out before them, as if on a screen. Fiction writers need to learn to imagine as if they are the main character in a story or scene, and to write from that character's viewpoint. That kind of immersive storytelling—where the reader in a sense becomes the viewpoint character—is fiction's great strength, and right now, no other media or forms of technology can replicate this experience.
Willow Croft: "Ring ring!" It's the middle of the night and the phone mysteriously rings. Which notable writer, or person from history, would be on the other end of the line?
Tim Waggoner: Stephen King. I first realized I could become a writer when I read an interview with King in an old horror comic. This was right after The Shining came out. I read a lot as a kid and as a teen, but for some reason, it never occurred to me that I could be a writer. After I read the interview, something clicked, and I realized that writing was something than someone could choose to do. Something I could choose. I'd love to talk to King and thank him, because if I hadn't read that article, who knows if I'd ever have become a writer?
(Disclaimer: Please note that the interview responses are the opinion(s) of the interviewee and may not be directly representative of The Horror Tree, its staff, and/or its guest contributors.)
About the Author
Latest Posts