The Best Books With Unreliable Narrators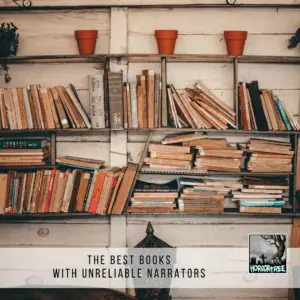 Unreliable narrators can seem strange to some. However, one could argue that every person is an unreliable narrator for their own life story. They tend to believe their version of events. Truth is subjective and varies depending on the individual's perspective. Authors must follow one rule when allowing characters to tell their stories: the characters must present their version to the reader.
Although a narrator can be deceitful to a degree, the reader must have enough information to see the truth. Even in fiction, no reader likes to be deliberately misled. They do.
In this article, we will speak about types of unreliable narrators and offer you a list of books our colleagues from Mycustomwriting.com and we had composed together.
Types of unreliable narrators
As impossible as it would be to categorize every type and type of character, the same is true for trying to identify every kind of unreliable narrator. To better understand their function as literary devices, we have divided these questionable raconteurs in three types.
1) Deliberately Unreliable – Narrators who are aware they are being deceived
Because they can, this type of narrator will lie to the reader. They are able to grab your attention and choose the view they want.
This type of narrator is important because people love to read about characters that they can relate to. This is the most difficult part of writing this type of narrator. The character must be compelling enough to keep us connected with them, even if they are misleading. While we don't necessarily have to like them, it is important to get to know them. Even Alex from A Clockwork Orange, for instance, has an underlying humanity. He wants individual freedom above all else. Therefore, his flagrant lies are an exercise of freedom.
2) Evasively Unreliable – Narrators who deliberately alter the truth
This kind of narration is often very ambiguous. Sometimes it is self-preservation, and other times it is slightly manipulative. Sometimes, the narrator doesn't realize they are lying until much later. They are often unreliable because they feel the story must be told in a way that justifies it. Their stories are often embellished and watered down.
This type of contradiction can leave readers waiting anxiously for the narrator to clarify their thoughts. They may also draw their own conclusions.
Life of Pi by Yann Martel

We Need To Talk About Kevin by Lionel Shriver
3) Naive Unreliable: Narrators who lie but don't have all the facts
This type of narrator, unlike the other two, is not unreliable by design. They simply lack a traditional, greater understanding. This can help the reader see your story with new eyes. Although the narrator might give us partial explanations of what is happening, it can force us to dig deeper and find the connections. These naive narrators might also inspire readers to pay more attention to things they may have taken for granted.
Forrest Gump by Winston Groom

Room by Emma Donoghue
The Best Books With Unreliable Narrators to Read
These books are unique because they challenge our beliefs about reality and truth. These stories' narrators may not be reliable due to their mental health, motivations, or a limited perspective. We, the readers, must navigate this uncertainty and determine for ourselves what truth and falsehood. These books range from psychological thrillers to postmodern novels to classics and contemporary works. They will keep you on your toes as you explore the uncharted terrain of the narrator's perspective.
Although the books in this collection are from different countries and genres, they share one common thread: a narrator who is not trustworthy. These books will be as interesting and stimulating as they were for us. We also hope that they will challenge your notions about storytelling and truth. Relax, take a deep breath, and let the unpredictable world of the unreliable narration guide you.
Darling by Rachel Edwards (2018)
Rachel Edwards' Darling, eponymous by Rachel Edwards, seems so trustworthy and endearing that readers will grab their hands and let them lead the way. . Darling's story is a compelling one. We are on her side. The racism she experienced as a British-Jamaican married into a white family. Her bravery as a mother to a severely ill child. Her warmth, passion, and generosity. It's easy to forget–in truth, it's almost impossible to recall at the hands of such skilled storytellers–that Darling's version of events is not always the truth.
The Magus by John Fowles (1965)
The Magus is not for you if you don't like being blindfolded, spun around, and turned on the spot by an unreliable narration. Nicholas Urfe, a young Oxford graduate who teaches English on Phraxos. Maurice Conchis is an eccentric recluse who makes friends with Nicholas and starts playing strange tricks on him. A series of psychological games that become more bizarre and complex as the story progresses. The reader also loses faith in the truth as Nicholas' grip falls apart. This novel had many moments where I thought, "Ah ha!" It's now I understand it!" Only to find the rug being pulled from under my feet again.
Lolita by Vladimir Nabokov (1955)
Nabokov's famous masterpiece is a reminder that words can pose a danger. The novel is told through the eyes of Humbert Humbert, a paedophile, murderer, and follows his obsession with Dolores Haze, a twelve-year-old girl (to whom he gives the fantasy-friendly name Lolita). Humbert marries Dolores's mother to get access to the child. He is soon widowed. The stepfather and stepdaughter embark on a cross-country road trip. Dolores is abused by Humbert, and her attempts to keep her interested become increasingly frenetic. Humbert's ability to narrate is what makes the book more difficult than just repellent. Humbert seduces, flatters, and wows the reader with his flamboyant prose style. It is dangerous to be brought onside: willing to accept the actions of a monster because the monster spins its yarn so well.
The Killer Inside Me by Jim Thompson (1952)
Jim Thompson was the one who made noir… noir, and not James M Cain, a reality. He was also the first crime writer to get us inside the heads of psychopaths and seriously twisted killers. Deputy Sheriff Lou Ford has been a pillar in the small Texan community he represents. He doesn't know the truth, but he does have a secret. The net gradually tightens as more bodies begin to appear.
One of Us is Lying by Karen M. McManus (2017)
This is a problem you can solve if you pay attention. Five students from Bayview High were taken into detention Monday afternoon.
Bronwyn, the brain, is Yale-bound and never breaks any rule.
Addy, the beauty, is the perfect homecoming princess.
Nate, the criminal, is currently on probation for dealing.
Cooper, the athlete, is the all-star pitcher in baseball.
Simon, the outcast, is the one who created Bayview High's infamous gossip app.
Simon never gets out of the classroom. Simon was dead before he was released from detention. According to investigators, Simon's death was not an accident. On Monday, he died. On Tuesday, he had planned to reveal juicy details about his four high-profile classmates. This makes them all suspects in the murder. Are they perfect patsies for the killer still at large? Everybody has secrets. It doesn't matter how far you go to protect your secrets.
You by Caroline Kepnes (2014)
A beautiful and aspiring writer walks into Joe Goldberg's East Village bookstore. He does what everyone would do: he Googles her name on his credit card.
New York City has only one Guinevere B Beck. She has a public Twitter account and tweets incessantly to Joe, telling him everything he needs.
Joe obsessively and invisibly takes control of Beck's affairs, orchestrating a series of events to make Beck feel at home in his arms. Joe transforms from a stalker into a boyfriend and quietly removes all obstacles in his way, even murder.
Six Suspects by Vikas Swarup (2008)
Vivek 'Vicky' Rai, the playboy child of the Home Minister in Uttar Pradesh, killed Ruby Gill seven years ago at a New Delhi restaurant because Ruby refused to give him a drink. Vicky Rai, the playboy son of the Home Minister of Uttar Pradesh, was killed at his farmhouse during a party to celebrate his acquittal. Each guest is searched by the police. Six guests are found with guns.
This elaborate murder mystery features Arun Advani (India's most well-known investigative journalist) as we follow the lives of six suspects: A corrupt bureaucrat, an American tourist, a stone-age tribesman, a Bollywood sex icon, a mobile phone theft thief, and an ambitious politician. Each suspect is equally likely to have pulled the trigger. Vikas Swarup's second novel, inspired by real events, is both an engaging page-turner as well as an insight into the heart and soul of contemporary India.
17 & Gone by Nova Ren Suma (2013)
Lauren, a seventeen-year-old girl, has visions of missing girls. All these girls share one thing: they are all seventeen years old and have disappeared without a trace. Lauren is struggling to overcome these nightmares, and impossible questions require urgent answers. Why are these girls talking to Lauren? What can she do to help them? Is she the next one? Lauren's quest for clues leads to things unraveling. Lauren is rushed to the hospital after a close encounter with death. This shocking truth alters everything.
Nova Ren Suma offers a rich and complex interpretation of the meaning of being lost.
About the Author
Latest Posts
The Horror Tree is a resource for horror authors which was created in 2011. The main goal when starting the site was to include all of the latest horror anthologies and publishers that are taking paying submissions. A resource useful for both new and experienced publishers alike looking for an outlet for their written material!