Taking Submissions: Jane Nightshade's Serial Encounters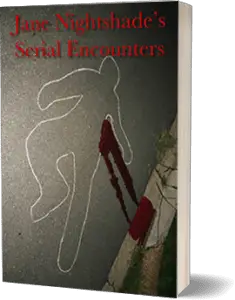 Deadline: August 30th, 2023
Payment: $5
Theme: Short stories about casual encounters of fictional people with serial killers
Have you ever wondered about the ordinary people who came in contact with famous serial killers before everyone knew them for their depraved, murderous acts?
What did Jeffrey Dahmer's plumber experience when he unclogged the notorious cannibal's toilet? Or how about the guy who worked in the music shop where Charles Manson had his guitars strung? The girl who waited on Ted Bundy at his favorite coffee shop? Jack the Ripper's neighborhood bartender? How about one of the kids who had John Wayne Gacey perform as a clown at their birthday party?
For this anthology, we're looking for short stories about casual encounters of fictional people with serial killers, that turned creepy or deadly. Stories can be straight crime/thriller stories or ones with a supernatural bent (haunted objects, ghosts, demons, etc.).
Characters and victims, aside from the serial killers, must be fictional—real names of victims or family members can not be used. Also, feel free to use lesser-known killers like Richard Speck or The Boston Strangler, in case the Bundy and Manson stories start piling up like the bodies of their victims…
Note: Stories should not lionize or celebrate the serial killers, or promote racism, bigotry, or depictions of violence against children.
PLEASE read and adhere to our submission guidelines… 
* Word format saved in .doc, or .docx
* 12 pt times new roman
* Double spaced
* Absolutely NO extra lines between paragraphs!
* Up to 5k word count (although we are incredibly flexible for awesome stories!)
* Write SERIAL KILLERS along with your name and story title in the header of your email
*The body of your submission email will be considered the cover letter.
* The submission documents are to be separated and Word (.doc or .docx) documents are to be attached to your submission email.
To submit, email your polished story to: [email protected]
– Make sure that you check your mss for grammar and punctuation, use our guidelines to help you:
DOWNLOAD YOUR HBB GUIDE TO GRAMMAR HERE (PDF)
NO REPRINTS – ORIGINAL UNPUBLISHED WORKS ONLY
Deadline: 30 August 2023
Payment – $5.00 for first rights.
Capped at 120K words in total.
Via: Hellbound Books Publishing.
About the Author
Latest Posts
Stuart Conover is a father, husband, published author, blogger, geek, entrepreneur, horror fanatic, and runs a few websites including Horror Tree!