Exclusive Interview: Todd Sanders of Air and Nothingness Press
Todd Sanders, & Air and Nothingness Press
By Angelique Fawns
Air and Nothingness Press has been publishing poetry, science fiction, fantasy, and short stories since 1997. I encountered Todd Sanders when I send a short story in to his call (found right here on Horror Tree) for 'Spirit Machine'. Though he did not choose my piece, he gave some good advice and was pleasant to correspond with. I sat down with him to learn more about his curious anthology.
AF: You are currently launching a new anthology; can you tell us about it?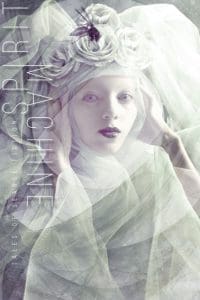 TS: 'Spirit Machine' is an anthology collecting stories that mix the Science Fiction and Steampunk genres with Spiritualism (think mediums, séances, Ouija boards, discarnate entities, and spirit talking). It features 28 authors from six different countries.
I think it is a really fun anthology and there is a wide range of stories in the book which also touch on horror and other genres. There are some known names and some fabulous newcomers with their first professional sales.

AF: What kind of marketing are you planning and what sort of reception are you expecting?
TS: I mainly market through Twitter, word of mouth, and the press website –  www.aanpress.com. For this book, I'll be running a hybrid crowdfunding campaign through Kickstarter and direct pre-orders through my website. If we have book fairs again this year, the book will be available at those as well as printing is done.
Readers and authors seem very excited about the concept of the anthology so I am hoping the book will be a success. With 28 authors represented, the ability to crowdsource social media accounts helps spread the word as well. Though, as publisher, it is my responsibility to market the book through the press. It helps I've gained a bigger following in the last few years with the three fairy tale mashup books – Upon a Once Time, Upon a Twice Time, and Upon a Thrice Time – more interest and exposure leads to a larger number of submissions and stronger stories that I can publish.


AF: Tell us about the creation of Air and Nothingness Press.
TS: This is the 25th anniversary year of the press. I began in 1997 by self-publishing a book of my poetry and then became a translator of the French surrealist poet Robert Desnos. I published five books of his writings over the next ten years as well as my own work. The first book of his I did was actually a full cloth-covered hardcover edition, letter-pressed with four hand-printed woodcut plates and old school binding; this was before the current interest in letterpress so it was a bit a task to educate myself, find the right people, and get the books printed back in 2000.

In 2017, I began working with science fiction and fantasy authors, namely Steph Swainston and Jamie Lackey, publishing short story collections and then on to anthologies and bigger projects. I publish between four and five books a year and the current books are all of a branded size with french flaps and interior cover printing. My day job is being a graphic designer, and since this is all a labor of love, I explore ideas of design and layout and am known for a well-defined design style. I recently started a sideline publication project – AaNX – which is an eight-page full-color newspaper formatted piece that allows me to combine text, images, and graphic design in ways I cannot do with the books. I aim to do one or two issues of that a year.



AF: There's an interesting meld of genres used in your anthologies- why such an eclectic mix?

TS: I publish limited editions, and the press is my own creation (no board of directors or partners or staff) so I have the luxury of exploring ideas and genres that might be less popular among larger presses, but things I personally enjoy and want to see out there. Stories I cannot find elsewhere. Having a mix of genres in the books means I get to publish a wide array of authors and they can work to their best benefit with what suits their writing styles and interests. I think the anthologies overall are the better for this and appeal to a larger readership.

AF: Do you work as an author-publisher full time or do you have a day job? If so, what do you do as a day job?

TS: I am a graphic designer primarily. I do also help authors and organizations self-publish books, acting as the designer and project manager. I am also a woodworker and build custom furniture for clients.

AF: Can you tell me more about your background and how you got interested in publishing?

TS: My degree is in Architecture and, when I was in school, I began making artist books in my spare time. These books combined poetry and photography and found objects, very much before computers came along and design software, so it was in part much more the zine culture of the 1980s. While at Carnegie Mellon I was also an assistant editor at the University Press and began to learn about the publishing side of the equation – how work is solicited, chosen and edited, and printed. After graduating I became an architectural intern at a local firm and had enough money to start publishing my own books. Over time I switched careers to graphic design and began working on books with greater attention.


AF: What kind of writing do you do yourself?

TS: I am a poet and translator, and mainly write prose poetry, often with a scientific bent. Over the years I have become one of the principal translators of the French poet Robert Desnos here in the US. Translating is an interesting process and has taught me much about the structure of Desnos' writing and his own choices and mechanics, which in turn informs my own work.


AF: You have a couple of interesting calls for 2022. Tell us about them.

TS: I have four books planned so far for this year. Three of which are open calls:
– 'Spirit Machine' which will come out in the spring of 2022. (The Kickstarter will be live on February 1st, 2022.)
– 'Orpheus + Eurydice Unbound' (planned for the summer) asks for reinterpretations of the Orpheus/Eurydice myth, dividing the myth and collection into 4 sections: The Wedding, The Snake, The Quest, and The Look Back. Writers are encouraged to submit stories in a variety of genres. The book will then reassemble the myth sections in groups, hopefully creating a collage or quilted experience for the reader.
– 'The Librarian' was conceived to be a celebratory book for the 25th anniversary. Authors are asked to create stories about The Librarian who travels the multiverse (along the timeline – past through the future – and across planetary systems and universes) helping out people, societies, and those in need, with their questions, problems, and research (as librarians do). I am looking for positive, hopeful stories with positive endings, and narratives that celebrate librarians. I have some big things planned for the book and its creation as a physical object.

I am also publishing a second collection of time travel stories – 'Spring Forward, Fall Back' – which is the follow-up to 'Future Perfect in Past Tense' which came out last year. And looking at issue #2 of AaNX which will feature 6 invited writers to work with images of the assemblage artist Randie Snow. Randie is also a graphic designer so we'll collaborate on the layout and look to do some interesting things graphically with the layouts.

For those seeking more info on the open calls –
http://aanpress.com/submissions.html
AF: How does your publishing company turn a profit, if it does?

TS: The press is a labor of love. While I eventually make back the cost to print the books and pay authors (I pay professional rates for all stories I publish) I don't pay myself any sort of salary for my own work. I find success in publishing new authors (often allowing them to join the SFWA – Science Fiction and Fantasy Writers of America) and giving them a first chance to get their voices out there. I am also happy that I get to work with talented authors from around the world who might be otherwise marginalized in the mainstream publishing world. So profits are slim but the work is rewarding.

AF: Any hints for submitting authors?

TS: I am looking for stories that are left of center and take chances. Not looking for safe or mainstream. I always include the following in my OC guidelines:
"Be wild, take chances, submit stories that are left of center. Show us your fireworks!

AF: What is really exciting you in the publishing field currently?

TS: Lots of small presses out there doing excellent work.
A thriving Twitter author community that is connecting and supporting authors from around the world. I am always surprised when I find out authors I am working with know each other, beta read each other, or are in writing groups together even if they live in different countries. Lastly, readers embracing small presses and printed book arts.

AF: What are your plans for your press in the future?

TS: Looking at 2023 I want to publish a collection of thousand-word stories (hard SF genre) about massive engineering megastructures (shellworlds, alderson disks, dyson spheres, matrioshka brains) that reshape stellar system. This collection is tentatively titled 'Gargantua'. I like the mix of huge stellar projects narratively encapsulated in a mere 1000 words.

Also 'Tall Tales of the Holy Terror Tomboy' is a collection of genre stories about a real-life (yet seemingly mythic) girl named Verneida Serenus Smith who raised holy heck in the 1920s. She was described in newspapers at the time as "pretty as a picture, wild as a deer, hardy as a mountain goat, as hard as nails, and able to care for herself anywhere." I helped do some research on her a number of years ago, helping out Katie Henry. I am trying to see if she will co-edit the collection with me.

Continuing AaNX and seeing how the newspaper format can develop. And possibly a collection of science fiction stories about cats.

Thank you for your time and for the interview fun.
About the Author
Latest Posts
Angelique Fawns writes horror, fantasy, kids short stories, and freelance journalism. Her day job is producing promos and after hours she takes care of her farm full of goats, horses, chickens, and her family. She has no idea how she finds time to write. She currently has stories in Ellery Queen, DreamForge Anvil, and Third Flatiron's Gotta Wear Eclipse Glasses. You can follow her work and get writing tips and submission hints at http://fawns.ca/.