Taking Submissions: The Toilet Zone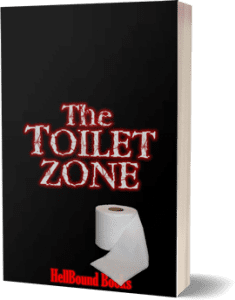 Deadline: May 30th, 2019
Payment: $5, Equal share of 30% of the anthology profits
…no, don't panic, we are not looking for lavatory-themed tales of terror – although should your short story involve the smallest room in the house, we'd be more than delighted to read it!
The theme for this anthology is short horror stories that will make an ideal sit-down read, just long enough for those extended stays at the convenience, and terrifying enough that they really are best read whilst over water….
This anthology will be compiled by the incomparable author and filmmaker Bret McCormick, so be sure to write to impress!
We have based story length upon the average time spent upon the convenience (10-15 mins) and the average reading speed (200-250 words per minute), so that the stories within this exceptionally unique anthology will be the perfect 'per visit' length!
NOTE: we will also accept a handful of shorter stories – 'flush fiction' – if the fit is right!
To submit, email your polished story to [email protected]
PLEASE read and adhere to our submission guidelines…
* Word format saved in .doc, or .docx
* 12 pt times new roman
* Double spaced
* Absolutely NO extra lines between paragraphs!
* 2.5K-4K word count (although we are incredibly flexible for awesome stories!)
* Write 'TOILET ZONE' along with your name and story title in the header of your email
*The body of your submission email will be considered the cover letter.
* The submission documents are to be separated and Word (.doc or .docx) documents are to be attached to your submission email.
– Make sure that you check your mss for grammar and punctuation, use our guidelines to help you:
DOWNLOAD YOUR HBB GUIDE TO GRAMMAR HERE (PDF)
Deadline: MAY 30th 2019 (for publication June 2019)
NO REPRINTS – ORIGINAL UNPUBLISHED WORKS ONLY
Payment –$5 for first rights
Equal share of 30% of the anthology profits
Capped at 150K words in total
ViaL Hellbound Books Publishing.
About the Author
Latest Posts
Stuart Conover is a father, husband, published author, blogger, geek, entrepreneur, horror fanatic, and runs a few websites including Horror Tree!