Epeolatry Book Review: Transmuted by Eve Harms


Disclosure:
Our reviews may contain affiliate links. If you purchase something through the links in this article we may receive a small commission or referral fee. This happens without any additional cost to you.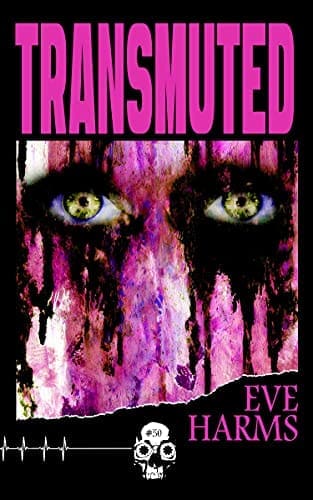 Title: Transmuted
Author: Eve Harms
Genre: Horror
Publisher: Unnerving
Release Date: 15th July, 2021
Synopsis: Her doctor is giving her the body of his dreams…and her nightmares.
Isa is a micro-celebrity who rarely shows her face, and can't wait to have it expertly ripped off and rearranged to look more feminine. When a successful fundraiser makes her gender affirming surgery possible, she's overjoyed—until she has to give up all her money to save her dying father.
Crushed by gender dysphoria and the pressure of disappointing her fans who paid for a new face, she answers a sketchy ad seeking transgender women for a free, experimental feminization treatment. The grotesquely flawless Dr. Skurm has gruesome methods, but he gets unbelievable results, and Isa is finally feeling comfortable in her skin. She even gains the courage to ask out her crush: an alluring and disfigured alchemy-obsessed artist named Rayna.
But Isa's body won't stop changing, and she's going from super model to super mutant. She has to discover the secret behind her metamorphosis—before the changes are irreversible, and she's an unwanted freak forever.
TRANSMUTED is an outrageous and unapologetically queer body horror tale that will leave you gasping, giggling, and gagging for more. Experience the freaky thrills of TRANSMUTED today!
That synopsis sums things up perfectly. It's a wild ride. Transmuted is Eve Harms brand new novella and is her best work yet.
This story is horrifying in all of the right ways. Isa, our protagonist, is saving up for FFS (facial feminization surgery), until she had to give up the money to save her terminally ill father. But then she sees an ad for a new, experimental process that won't cost her a penny. It's too good to be true, right? But what other option does she have?
We ride along as this experimental process morphs Isa into her ideal feminine shape. But the changes do not stop there. There is a scene a bit over halfway through that will forever be burned into my brain: the most insane scene I will probably ever read.
I really have no complaints about this one. The imagery is visceral and gut wrenching throughout. It was a great time, and the pacing continues to accelerate until you are rocketed into space by the ending.
Be sure to check this one out. I know I look forward to future titles from Eve Harms.
I give this one a 4.5 out of 5 stars.
About the Author
Latest Posts
Joe lives with his wife and son in the Pacific Northwest where the Cascade Mountains meet the Salish Sea. He enjoys writing in the weird, horror, and fantasy genres.
Growing up he enjoyed R. L. Stine's Goosebumps books as well as classics like Dune, and Lord of the Rings. In college he discovered Stephen King, and later Mark Danielewski's House of Leaves and authors like Clive Barker and Laird Barron.
Joe's short story, 'Gustav Floats', was published in Dim Shores Presents Volume 2. In the spring of 2021 his story, 'The Pigeon Lied' comes out in Howls From Hell.
You can follow Joe on the following social media sites:
Twitter, Good Reads, Facebook, and Instagram!