Epeolatry Book Review: Till We Become Monsters by Amanda Headlee

Disclosure:
Our reviews may contain affiliate links. If you purchase something through the links in this article we may receive a small commission or referral fee. This happens without any additional cost to you.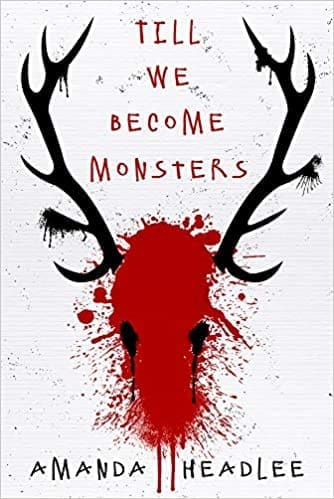 Title: Till We Become Monsters
Author: Amanda Headlee
Genre: Supernatural Thriller/YA
Publisher: Woodhall Press
Release Date: 1st June, 2021
Synopsis: Monsters exist and Korin Perrin knew this as truth because his grandmother told him so. Korin, raised in the shadow of his older brother Davis, is an imaginative child who believes his brother is a monster. After the death of their grandmother, seven-year-old Korin, blaming Davis for her demise, tries to kill him. Sixteen years following the attempt on Davis' life, racked with guilt, Korin comes to terms with the fact that Davis may not be the one who is the monster after all.
Past wrongs needing to be righted, Korin agrees to a hunting trip with his brother and father. But they, along with two friends, never make it to their destination. An accident along the way separates the hunters in the dark forests of Minnesota during the threat of an oncoming blizzard. As the stranded hunters search for each other and safety, an ancient evil wakes.
I tend to judge a book's reading potential by its cover. Till We Become Monsters cover design—a rendering of a recognizable antlered skull dripping with danger—earns 5 stars. 
Family history and jealousy are the bones to this monster, the children are its flesh. 
Korin Perrin is a little boy who's quite aware that monsters are real. So says his grandmother, who is quite the storyteller. Set in small-town Minnesota with a population of just 278, Korin's older brother Davis is a brat; no spoiler there. Korin had a special relationship with his grandmother. It has abruptly ended. And Korin blames Davis. 
Headlee does a great job setting her account. I feel myself getting comfortable in Grandfather's leather reading chair. I hear Grandmother's tone, and her love for Korin. Minnesota's cold, cold winter, which bodes well for any thriller, made shiver and reach for my blanket.
As with any good story, I was pulled from the comfort of my chair into the dark world of changelings, wendigo, and bears–oh my! A lot happens within this tale that I can't discuss due to spoilers. There are woods and there are hunters. I will tell you there's a twist—I do love twists! Headlee's novel (her first, by the way) is an easy read, and it's not laden with a huge cast. Good dialogue, and plenty of action to keep you reading. I read a galley copy so I won't refer to any typos or formatting issues.  
4 out of 5 stars
Sign up for our Newsletter
Never miss a post from our team by signing up!