Epeolatry Book Review: The Citadel of Bureaucracy by J.D. Mitchell


Disclosure:
Our reviews may contain affiliate links. If you purchase something through the links in this article we may receive a small commission or referral fee. This happens without any additional cost to you.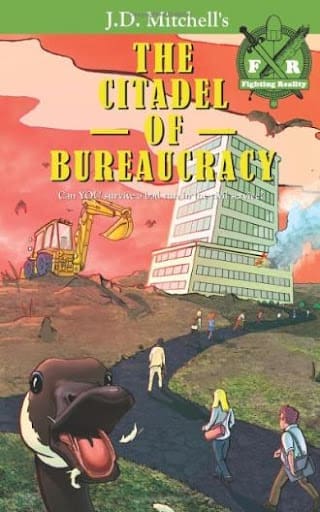 Title: The Citadel of Bureaucracy
Author: J.D. Mitchell
Publisher: Fighting Reality Books
Genre: Urban Fantasy, Political Satire, Speculative Fiction
Release date: 1st June, 2023
Synopsis: Part story, part game, this is a book in which YOU make all the decisions!
The Citadel of Bureaucracy holds dark and dangerous perils for civil servants unprepared for its labyrinthine cubicle walls, but enter you must. The Albatross Pay System has shorted you, money's tight, and long hours have left you ragged and in desperate need of a vacation. You've just got to make it through one more day. But it won't be easy. Packed with asbestos, bad wiring, and with air quality equivalent to a dank, rat-infested dungeon, the Darby Complex, known as "The Citadel" to its hapless inmates, is riddled with appalling hazards and frantic civil servants to test you beyond all reasonable limits.
Working against the clock, you must fight unreliable transit, dodgy I.T., the dreaded Canada goose, and a rising sense of nihilism in an effort to get paid and clear your desk before your vacation. YOU decide which paths to take, which dangers to risk, and which colleagues to confront. May the blessings of the Janus-faced God of Finance and H.R. be with you, for you'll find little succour in the Citadel's unhallowed halls.
Collects The Never-Ending Party #1–#5 from the ComiXology original digital series, in print for the first time!
I'll probably overuse the "right-time-right-place" theme when writing reviews, but the Citadel of Bureaucracy was another such serendipitous read.
To my mind, big corporations and bureaucracies are governed by the same inexplicable logic, and my up-close-and-personal experiences with the corporate sector have been plagued with frustration and confusion, and left me feeling pretty demoralized.
As a result, I had mixed feelings about taking the literary journey to J.D. Mitchell's Citadel of Bureaucracy. But I plodded on to my dreary fate all the same, in much the same manner as the story's protagonist, a belabored Acting Policy Analyst.
Here's the twist, though. You, the reader, actually become this civil servant, navigating the pitfalls and dangers of life in this bureaucratic purgatory. Your fate is determined by a roll of the dice. Literally. As in actual dice.
Before I embarked on the adventure Mitchell created (he's defined it as "urban fantasy"), I set out on my own real-life quest to find a pair of dice. 
I could have bought a pair from one of the nearby corporate chain stores, but I chose to visit thrift stores and garage sales. It seemed a fitting rebellion. And I was lucky…I actually found dice at a yard sale. (Though I'm not sure why I bought a box full of metal hangers I don't even need.)
I was not so lucky with the fates that awaited me in this choose-your-own-adventure novel. But the dark humour within the pages helped erase much of the bitterness of my recent immersion in the corporate world.
And, as not only a person who struggles with the soul-crushing conformity of the workplace today, but also as writer who struggles with the strictures of outlining, I was impressed with the organization needed to create this hilariously unique story. (Or stories, actually. There are multiple storylines that unfold as a result of the dice rolls needed to advance your progress.)
Even though I never passed my "performance review" on all my playthroughs, this book delivered on its first-page promise—it really was a "cathartic adventure". Special thanks to J.D. Mitchell for a fabulous, and much-needed, pick-me-up.
I'd highly recommend this clever novel. It's deftly written, and, as a little aside, I appreciated the animal-friendly disclaimer on the copyright page, for sure! I'd also recommend having plenty of spare bookmarks to mark your path through this book.

/5
About the Author
Latest Posts