Epeolatry Book Review: Into the Gray by Kathleen Palm


Disclosure:
Our reviews may contain affiliate links. If you purchase something through the links in this article we may receive a small commission or referral fee. This happens without any additional cost to you.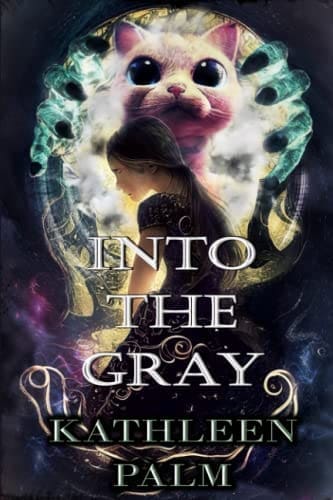 Title: Into the Gray
Authors: Kathleen Palm
Publisher: Spooky House Press
Genre: Horror
Release Date: 13th February, 2023
Synopsis: Welcome to Nowhere, a huge gray place full of piles of lost things.
And a weird Caretaker who speaks in riddles.
And a giant metal claw in the sky.
And some creepy zombie robots.
And hopefully one stuffed pink kitty.
Ember sets out to search Nowhere and defy Caretaker's instructions to get that cat back.
Because life is diddly darn wrong. Because her little sister cries. Because black fog clings to them, changing them.
And Ember wants life to be okay again.
Ember's family has moved to a new town, starting over with a new school, new friends, all while living in a house that should be haunted. When Ember's little sister, Ash, loses a prized possession, Ember becomes determined to find Pink Kitty, the key to solving all their family troubles. 
This book is a twisty turny take on childhood adventures with plenty of action and creepy occurrences to keep the reader engaged. With the charm and whimsy of Alice's Adventures in Wonderland combined with the creepy unsettling nature of Coraline, this book offers the best of both worlds, with a side of heart. 
Targeted at middle grade audiences, Into the Gray deals with serious subject matter while delivering on touching emotional themes. Palm uses age-appropriate situations to introduce readers to nontraditional family structures and gender roles. Palm portrays the importance of exploring and understanding the complexity of one's feelings (rather than simply trying to take the bad away and make everything good). The author hits emotional notes to help young readers know that it's okay not to be okay.

/5
About the Author
Latest Posts
Holley Cornetto was born and raised in Alabama, but now lives in New Jersey where she writes dark fantasy, horror, and weird fiction. To date, her writing appears in over a dozen magazines and anthologies. To indulge her love of books and stories, she became a librarian. She is also a writer, because the only thing better than being surrounded by stories is to create them herself. In 2021, she earned an MFA in fiction writing from Lindenwood University. She is a proud member of the Horror Writers Association.