Epeolatry Book Review: Avatar: The Last Airbender–Imbalance Omnibus by Faith Erin Hicks, et al


Disclosure:
Our reviews may contain affiliate links. If you purchase something through the links in this article we may receive a small commission or referral fee. This happens without any additional cost to you.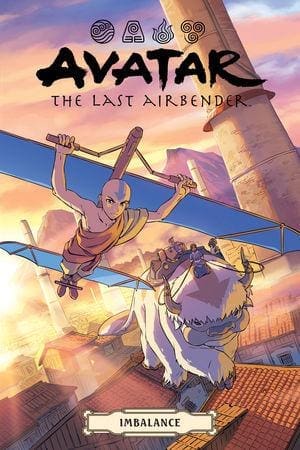 Title: Avatar: The Last Airbender–Imbalance Omnibus
Author: Faith Erin Hicks, Bryan Konietzko, Michael Dante DiMartino
Artist: Peter Wartman, Adele Matera
Genre: Kids, Fantasy, Action/Adventure 
Publisher: Dark Horse
Release Date:  August 30, 2023
Synopsis: Aang faces a decision from which there is no return!
When Aang, Katara, Sokka, and Toph return to Earthen Fire Industries–the factory owned by Toph's father–Aang is surprised when their arrival is met with a cold shoulder. As soon as the team is asked for help at a business council meeting, the reason for the slight becomes clear: a massive bender-versus-non-bender conflict has gripped the town and is threatening to turn violent. In order to heal the divide and save the town, Aang and the team will all face tough decisions about power and identity that could tear them apart.
Join Faith Erin Hicks (The Adventures of Superhero Girl, The Nameless City) and drawn by Peter Wartman (Stonebreaker), in collaboration with Avatar: The Last Airbender creators Michael Dante DiMartino and Bryan Konietzko in this beautiful second edition of Imbalance! With a brand-new cover by Peter Wartman!
Collects Avatar: The Last Airbender–Imbalance volumes 1-3
Avatar: The Last Airbender (ATLA) aired on Nickelodeon for three seasons from February 2005 to July 2008. It is set in a world where "benders" can manipulate the elements—earth, air, fire, and water—in styles based on Chinese martial arts. Benders can only control one element, but the Avatar can control all four. The Avatar's purpose is to maintain world  harmony, and each Avatar is reincarnated and born to each nation in turn. ATLA focuses on Aang, an airbender by birth who falls asleep for 100 years and wakes to find a world ravaged by war. The television show features Aang, along with his close friends Katara, Sokka, and Toph as they face the conquering fire nation. 
Following the TV show, a series of comics were released continuing the character's adventures. Imbalance is the 6th of these comic series, originally released in 2018-2019 and recently re-released in an omnibus that collects all three volumes of Imbalance into one. It is this omnibus that I am reviewing here.
I consider the television show easily one of my favourites despite it being geared towards children. ATLA has all the lighthearted banter and wit you'd want in a children's show, along with a depth and complexity that rivals many adult shows. Tackling themes such as war, spirituality, genocide, different beliefs, friendship, and love, the show does not shy away from heavy topics, yet it never feels exploitative or inappropriate for its audience. Sometimes it was a touch goofy, but more than once the show brought tears to my eyes. This comic continues in that vein, and while it did not make me cry, the story here continues to grapple with difficult topics while also maintaining its lighthearted tone.
Aang and friends travel to Cranefish Town (where Toph's family owns a factory) for what was supposed to be a quick visit. Instead, they get embroiled into a complicated conflict that is tearing the town apart. Tensions between benders and non-benders are at an all-time high and Aang must find a way to strike balance between the two sides.
ATLA does not present every conflict as purely black and white or good vs. evil. There is evil in their world, but more often than not, like in real life, the discord is not so simple. The factories in the town previously employed skilled benders at high wages, but are now being replaced with machinery run by non-benders. The out-of-work benders turn to a life of crime in order to get by. However, as Sokka (the only non-bender in the core group) points out, the machines may seem like job-stealers to benders, but to non-benders they simply level the playing field. With the machines, non-benders can perform tasks that were previously impossible to them. This breeds insecurity in some of the benders, which is why they are attacking others. Aang must make difficult choices on how to handle the situation as it grows more complex with different factions wrestling for control.
Imbalance captures the spirit of the original series. The characters felt like those I've grown to care for through the television show, and their actions and decisions fit them well. I think any fan of the series would enjoy this continuation. It doesn't answer any burning questions leftover from the show like the other comic storylines do, but Imbalance still continues the story and deals with the complicated aftermath of the war. I was able to follow along and orient myself in their lives without having to read the preceding comics. However, I think if someone read this without watching the show, much would be lost. The conflict in the town stands alone, but knowing and understanding the characters and the decisions they make would not resonate the same way.
As a nice touch, there are also behind the scenes sketches and images to round out the omnibus.
I recommend this collection for any fans of the original series, and I enjoyed spending time with some of my favourite characters again.

/5
About the Author
Latest Posts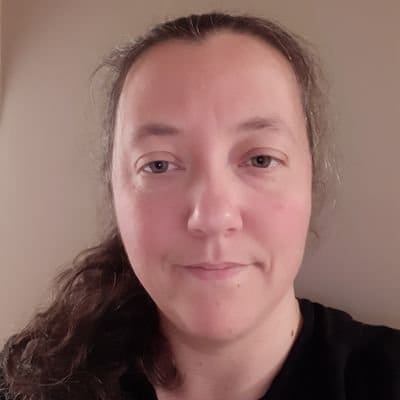 Melody lives in Ontario, Canada and writes short, dark fiction. She has been published in several anthologies and online publications. In university, she studied Ancient Greek and Roman Studies and often infuses her work with elements of Greek mythology. She also loves reading, embroidery, and martial arts. You can follow her homepage at: https://www.blog.melodyemcintyre.com/
Homepage: https://www.blog.melodyemcintyre.com/MelodyEMcintyre.com
Twitter: @evamarie41.