WIHM: Exclusive 'EXCORIARE' Excerpt


Normally, I do a review of my previous year in January. This year, I didn't do one because I was so happy the year was over. I don't base my success soley on the dollar amount in my bank, or the number of books I've sold. I base it on progression.
At the closing of 2017, I was able to breathe, and suddenly my eyes focused on the incoming year and I felt a sense of relief. I had progressed. I knew in my cold, dark heart, the new year would bring with it much more for me … because I would make it happen.
I am not going to sit on my ass and wait for it to come to me. I'm putting the eggs in the basket and skipping right into the scary forest where hope and dreams either get buried and die, or grow into the monsters we nurture them to be. I'm a woman and I write horror. I'm a mother of monsters. I want to feed and play with them until they are grown and venture from the cave, into your nightmares.
Do you want to play with me?
EXCERPT BELOW FROM "EXCORIARE" – COMING SOON
The sound of her breath caught up with the tempo of her heart rate. In out, in out, in-out-in-out. Closing her eyes, Fay allowed her head to fall back into the rapturous abyss, its arms around her like a lost lover. The night was black. No moonlight due to the clouds of the incoming midnight storm. It was like falling in love. Fingers splayed, the sticky fluid ran slow and freely down her arms and she let out a slow exhale like an O rising from deep in her womb, up through her lungs and finally escaping from between her lips. Staring up at the blanket of space, starless and silent, tears of ecstasy fell from the corners of her eyes. A release of all the rage finally melted away until she was quivering like a virgin on prom night. This … she whispered to the voices chattering deep in her mind, mmm, this.
There were no words to describe the feeling. So, she closed her eyes again and leaned forward against the cooling body of the man beside her. His eyes stared back at her, pupils dilated into large black dots against a backdrop of blue. She needed to touch him again, and lifted her hand to do so. Tracing his jawline, she smiled as the rough stubble from his five o'clock shadow brushed against her fingertips. His lips were soft and full, still wet from the kisses he trailed along her neck. When her thumb brushed over his mouth, it opened, and he let out a breath, jagged and shuddering. He tried to speak but it was nothing more than a croak.
"Shh," Fay whispered, leaning in to speak the words against his mouth, "Don't speak. Just feel."
Sliding her hand over his chin, she pressed against it, so her tongue could easily push inside. With a low moan she trailed her hand further down his chiseled body, hard from years of dedicated military training, and finding the trail of soft hair over his naval, she continued until she found it. It was hard and stiff against her palm. Still wet from when she left it. Tightening her fingers around it's girth, she pulled slowly, and he moaned deep into her mouth. Fay hissed in pleasure, pausing to savor the moment until she could hold back no longer. Adjusting her grip once more to ensure her hand wouldn't slip, she gave a thrust and sent the hilt of the hunting knife straight back into the gaping wound it came from, forcing more blood to gush over her fingers.
The man's body spasmed and his eyes widened with a sudden influx of life, pulling him back from the grasp of death. He still had a little fight left in him, after all. The excitement coursed through Fay's body, tingling across her skin underneath the leather bodysuit, and her temperature rose most notably between her legs. She had wrapped them around one of his, the one jerking and trying to kick at her. Flexing the muscles between her thighs, she held onto him. His limbs tangled between hers; in her mind she transformed into an anaconda, gripping so hard he could feel his bones ache just before his knee popped. Before he could scream, Fay eyes stared into his and she gripped his tongue with her teeth, pulling until the muscle was stretched into a thin, rubbery band. Her date for the evening struggled with a renewed, fight or flight vigor, in an attempt to survive. Throwing her head to the side with a rough tug, the man's tongue snapped and wiggled in her mouth, slippery with blood and intermingled spit. Fay released the hold she had on the man, shoving him onto his back as she rose to her feet like a steam from the earth. Tipping her head back once more, she let the piece of flesh slide down her throat with a thick swallow and tuned out his waning, gurgled screams.
With her arms outstretched, she let the cool night air rush over her, blowing her hair back from her bloodstained face and announced to the world, "This is who I am."
I am, she declared to the voices and to the world, Everything you want to be, and more.
©2018 Lisa Vasquez
All Rights Reserved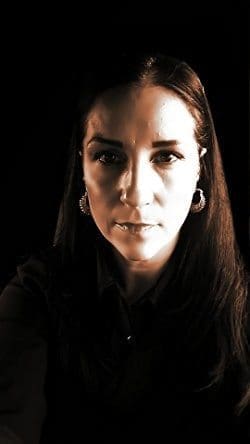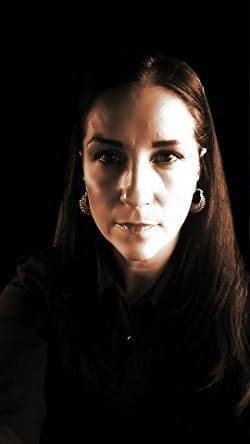 Lisa Vasquez
By her "Darque Design," Lisa Vasquez creates vivid, twisted horror with the precision of a scalpel, and cuts into the reader's psyche with "fleshed out" characters. In her most recent release, THE UNFLESHED: TALE OF THE AUTOPSIC BRIDE, the main character, Angus Wulfe, gains notoriety for being as vile and twisted as the iconic Dr. Hannibal. Lisa's writing style has been compared to the works of Mary Shelley, Baz Luhrman, and the Grand Guignol (John Palisano, Bram Stoker-winning author of NERVES), and is being hailed as, "A writer of nightmarish vision and a new, poetic voice in today's horror genre" (Peter Molnar, author of THE CLOCKWORK LAZARUS).
Lisa is the CEO of Stitched Smile Publications, the owner of Darque Halo Designs, the Publisher's Liaison for the Horror Writers Association, and volunteers as a mentor to other authors.
You can read Lisa's in the following collections: HYDROPHOBIA: CHARITY ANTHOLOGY FOR HOUSTON (victims of Hurricane Harvey), ATZ: THE GATHERING HORDE, and in Kevin J. Kennedy's COLLECTED HORROR SHORTS (Christmas, and Easter editions).
For more information and updates on Lisa's work, you can find her at: www.unsaintly.com.
About the Author
Latest Posts
The Horror Tree is a resource for horror authors which was created in 2011. The main goal when starting the site was to include all of the latest horror anthologies and publishers that are taking paying submissions. A resource useful for both new and experienced publishers alike looking for an outlet for their written material!