No Longer Ongoing Submissions: Vastarien: A Literary Journal
Our definition of Ongoing Submissions has changed and Vastarien no longer fits it. We will continue to list the magazine in future posts as we see their calls open.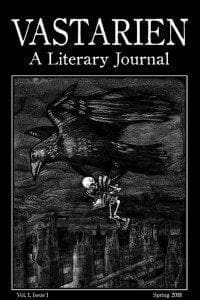 Payment: 1 cent ($.01) per word to a maximum of $50. Poetry pays $20 flat.

WE WANT:
Nonfiction from 2,000 to 7,500 words. Scholarly and/or critical articles pertaining to Ligotti or associated authors (see below). As for contemporary authors to add to this list, Livia Llewelyn, S.P. Miskowski, Matthew M. Bartlett, T. E. D. Klein, Gemma Files, Ramsey Campbell, Allyson Bird, Laird Barron, Nicole Cushing, Mark Samuels, and many more have produced work that we would love to see subjected to intelligent critical analysis and discussion.
Literary Horror Fiction from 750-6,000 words. Note: We are looking for original work inspired by Ligottian and/or related themes (regarding which, see the list on our main page).
Poetry at a length of no more than 50 lines, dealing with subjects and themes that fall within our area of interest.
Artwork that similarly addresses our subject matter.
The following authors and their work are of especial interest to Vastarien:
Charles Baudelaire
Thomas Bernhard
Aloysius Bertrand
J.L. Borges
William S. Burroughs
Angela Carter
Louis Ferdinand Celine
E.M. Cioran
Charlotte Perkins Gilman
Douglas Harding
Shirley Jackson
U.G. Krishnamurti
H.P. Lovecraft
Vladimir Nabokov
Emile Nelligan
Michael Persinger
Edgar Allan Poe
Maurice Rollinat
Arthur Schopenhauer
Bruno Schulz
Paul Valery
Peter Wessel Zapffe
LENGTH: See the specific guidelines above for length requirements for different types of submissions. Additionally, in no case will a submission over 7,500 words be considered for publication without prior approval. Words subject to inclusion in the overall word count shall include the body of the submission and any explanatory footnotes; citations shall not be included in the overall word count.
PAYMENT AND RIGHTS: We pay 1 cent ($.01) per word for nonfiction and prose fiction, to a maximum of $50. Poetry pays $20 flat. Payment for artwork is negotiable. We purchase first serial and electronic rights. Upon publication, rights revert to the author, but we retain the right to continue selling back issues of the journal and the right to archive your work online.
HOW TO SUBMIT: Submission is via Submittable only:
ACCEPTABLE FILE TYPES: DOC, DOCx, and RTF
RESPONSE TIME: We aim to respond to submissions within two weeks (though final selection can take longer). If you have waited longer than 60 days, feel free to query us at [email protected], with QUERY plus the title of your submitted work in the subject line.
INTERNATIONAL AUTHORS: Vastarien welcomes submissions from authors outside the United States.
DIVERSITY STATEMENT: Vastarien believes in promoting a range of excellent writing and artwork from authors of diverse backgrounds, genders and sexual orientations. We encourage submissions from authors and artists traditionally underrepresented in horror and pieces that reflect these varying perspectives.
VASTARIEN DOES NOT ACCEPT THE FOLLOWING:
Multiple submissions
Unsolicited reprints (defined as essays, articles, stories, or poems that have already appeared anywhere online or in any other published form)
Via: Vastarien Journal.
About the Author
Latest Posts
Stuart Conover is a father, husband, published author, blogger, geek, entrepreneur, horror fanatic, and runs a few websites including Horror Tree!