WIHM: Contemporary Dystopias; Women, Bodies, Horror


Contemporary Dystopias; Women, Bodies, Horror
Tracy Fahey
As I work on my third collection, 'I Spit Myself Out,' I'm dealing with body horror; terrors both physical and mental that come from within. And as I do so I'm contemplating the female experience, women's writing, and the perspectives on body horror that emerge from this amalgam. Contemporary female horror writers write in many wonderful ways on the subject, from visceral bizarro and splatterpunk to nightmarish magic realism to quiet, literary horror. We are diverse, and therefore so are the voices on the subject – here I'm just going to focus on just a few themes that seem to keep resurfacing; bodies in dystopian settings, anxieties of dissolution, and acute physical fears.
Margaret Atwood's The Handmaid's Tale (1985) is enjoying a deserved resurrection, partly due to its wonderful TV adaptation, but also because it reflects real, current fears about reproductive rights, bodily autonomy and control. Atwood's vision of a future where female fertility is tightly controlled and women's bodies are at the mercy of a patriarchal government now looks disturbingly like a viable reality. Issues of body ownership are debated across the world, with increasing legislation curtailing women's rights. And stemming from this we have contemporary novels like Aliya Whitely's The Beauty (2014) where women die out, only to return as strange plant hybrids, and also powerful narratives of resistance, like Naomi Alderman's The Power (2016) which sees the female body become a weapon.
Stemming from this are fears of dissolution. Christina Dalcher's Vox (2016) imagines a future where women are silenced; forbidden to read, their conversation curtailed to under a hundred words a day. Their very silence begins to erode their identities; Dalcher's dystopian vision is peopled with obedient wives and observant daughters. Likewise, the strange girls of Gwendolyn Kiste's The Rust Maidens (2018) literally start to come apart, their disintegrating bodies mimicking the decay of their home town.
These fears stem not only from a patriarchal society, but a society where the abuse, murder and rape of women are endemic. Female writers of body horror echo the real anxiety of occupying vulnerable bodies. In an earlier WiHM post for The Horror Tree, 'Men Use Saws, Women Use Scalpels', JD Blackrose discusses the emotive fears inherent in the maternal body; of pregnancy, birth and infant helplessness. But there's also the entire domestic noir genre which focuses on fears that are born in violent homes; BA Paris' Behind Closed Doors (2016) and Paula Hawkins' The Girl On The Train both detail the abuse inflicted on the female protagonists. Karin Slaughter's novels offer horrific scenarios where women are tortured, raped and mutilated; most notably in Triptych (2006).
When we read these accounts of female body horror, there is a rawness there, a sense of urgency, an anger behind these voices that is mesmerising.
It's horror. It's reality. But we're writing it out.
Tracy Fahey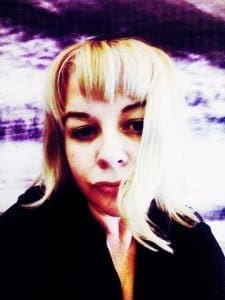 Tracy Fahey is an Irish writer of Gothic fiction.  In 2017, her debut collection The Unheimlich Manoeuvre was shortlisted for a British Fantasy Award. Two of her short stories were long listed by Ellen Datlow for Honourable Mentions in The Best Horror of the Year Volume 8. She is published in over twenty Irish, US and UK anthologies and her work has been reviewed in the Times Literary Supplement. Her first novel, 'The Girl in the Fort', was released in 2017. Her second collection of Irish folk horror, 'New Music For Old Rituals' was released in 2018 by Black Shuck Books. She is currently working on her third collection, 'I Spit Myself Out.' 
More information available on her website at https://www.tracyfahey.com   
Tweet her @tracyfahey
Facebook page https://www.facebook.com/tracyfaheyauthor
Amazon author page https://www.amazon.com/Tracy-Fahey/e/B00JTVZJ8Y
About the Author
Latest Posts
The Horror Tree is a resource for horror authors which was created in 2011. The main goal when starting the site was to include all of the latest horror anthologies and publishers that are taking paying submissions. A resource useful for both new and experienced publishers alike looking for an outlet for their written material!