The Horror Tree Presents… An Interview With Liz Butcher!


Horror Tree (HT): Today we'd like to welcome Liz Butcher to Horror Tree! Or, perhaps, welcome her back as some of you may recognize the name of one of our old staff members! Liz, thanks for joining us today. First off if you could tell us a bit about your latest release, 'LeRoux Manor'?
Liz Butcher (LB): So good to be back! LeRoux Manor is about a teen named Camille who's forced to leave her home and friends in Melbourne, Australia, and travel across the world to Woodville in the U.K. when her father inherits the family estate from his estranged uncle. As soon as they arrive, Camille can't shake the feeling she's being watched and when she finds old albums in the attic, she discovers that her ancestor was found murdered the day of the Manor launch, and his young daughter vanished without a trace.
HT: What drew you to writing a novel with the location being an old estate? What kind of research did you do to flesh out the setting for this work?
LB: I've always loved really old buildings, and unfortunately here in Australia we just don't have anything like that. So I was eager to write a story set in an old estate, but I wanted to do something a little different too. I researched some of the manors in the U.K. and their layouts which was a lot of fun.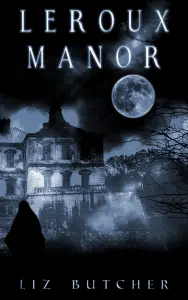 HT: Were any of the characters in 'LeRoux Manor' inspired by people you know? If so, can you share any of the details?
LB: No, I wouldn't say so. Though I think I unintentionally instilled in Camille by insatiable curiosity!
HT: If 'LeRoux Manor' were to be picked up as a feature film, what would be your dream casting choices?
LB: Oh, good question! How's this look?

Camille LeRoux– Angourie Rice, Young Mena – Amelie Bea Smith, Old Mena – Michelle Fairly, Grace – Lily – Rose Depp, Jayne – Alisha Boe, Lachlan – David Mazouz, Jonathan – Gage Munroe, Philip LeRoux – Guy Pierce, Allysha LeRoux – Toni Collette, Robert McAllister – Alan Alda & Margaret McAllister – Maggie Smith.
HT: How does it feel to have multiple books under your belt?
LB: Exciting! You experience such a sense of accomplishment when you finish writing a novel and I'm so proud that I've managed to write more than one! Hopefully there will be many more to come.
HT: You've written both short stories and longer works. Do you have a preference between the two? Is there a different kind of mindset you approach in tackling a short story vs a novel?
LB: I think now, I prefer writing novels because I love getting deeper into the characters and settings etc that you don't really get to do with short stories. There are definitely different mindsets employed for each of them. Short stories focus on the writer's skill to tell a story in a concise way without sacrificing a storyline or character arc. Novels give you the freedom to really flesh out those areas. 
HT: Backtracking a bit, can you share a bit about 'Fates' Fury' with our readers?
LB:  Fates' Fury was my first novel, and is set here in Australia. The Fates decide that the human race need to be eradicated to create a better Earth. Jonah Sands and his two best friends, Tristan and Ava Carter, find themselves in the center of paranormal phenomenon as The Fates unleash hell on Earth. An alliance of ancient gods return to help Jonah and mankind fight for their right to remain here and to try and protect the Tablet of Destinies from the hands of The Fates.
HT: The two novels have quite different stories on the surface. Can you share where your mind was with both of them, what differentiates them from one another, and how they're similar?  
LB: Fate's Fury took me years to write, and when I was first toying with the idea it was near the end of 2012 when people were talking about the end of the Mayan calendar, and I wondered what would happen if our right to exist was questioned – would we really have a leg to stand on? Fates' is a mish-mash of horror, mythology and urban fantasy, so it differs to LeRoux Manor which is horror. 
HT: Do you have any tips for writers who are attempting to juggle a family, job, projects, and getting their writing in as well?
LB: I applaud you! It's a lot harder than it looks, that's for sure! For years I've found I'm much better at juggling everything else, if I've had the opportunity to write. Up until my career leave which started a few months ago, I was up at 4am everyday to fit my writing time in before the day officially started. If it makes you happy, you'll be happier for it – if that makes sense.
HT: I'm wondering if you can share what you have in the works for your next release (or two if you have a couple of irons in the fire)?
LB: My next book I'm looking to release early next year is titled Never, Never and is a modern retelling of Peter Pan. Only in my version, Wendy Darling has grown up and is a detective still troubled by her traumatic past the creature who abducted her in her teens – Pan. When a local vanishes in a similar way, Wendy must face her past and her fears if she hopes to save her.
I'm also working on the first installment of a series about a character called Luna Zimmer, who's a hot mess about to embark on her new hobby as a paranormal investigator as she hunts for answers about what happened to her family and who she really is.
HT: Finally, is there anything else you'd like to share with Horror Tree's readers today? 
LB: Support The Horror Tree! It's an amazing resource! Thank you so much for having me!
About the Author
Latest Posts
Stuart Conover is a father, husband, published author, blogger, geek, entrepreneur, horror fanatic, and runs a few websites including Horror Tree!