Taking Submissions: Adi Magazine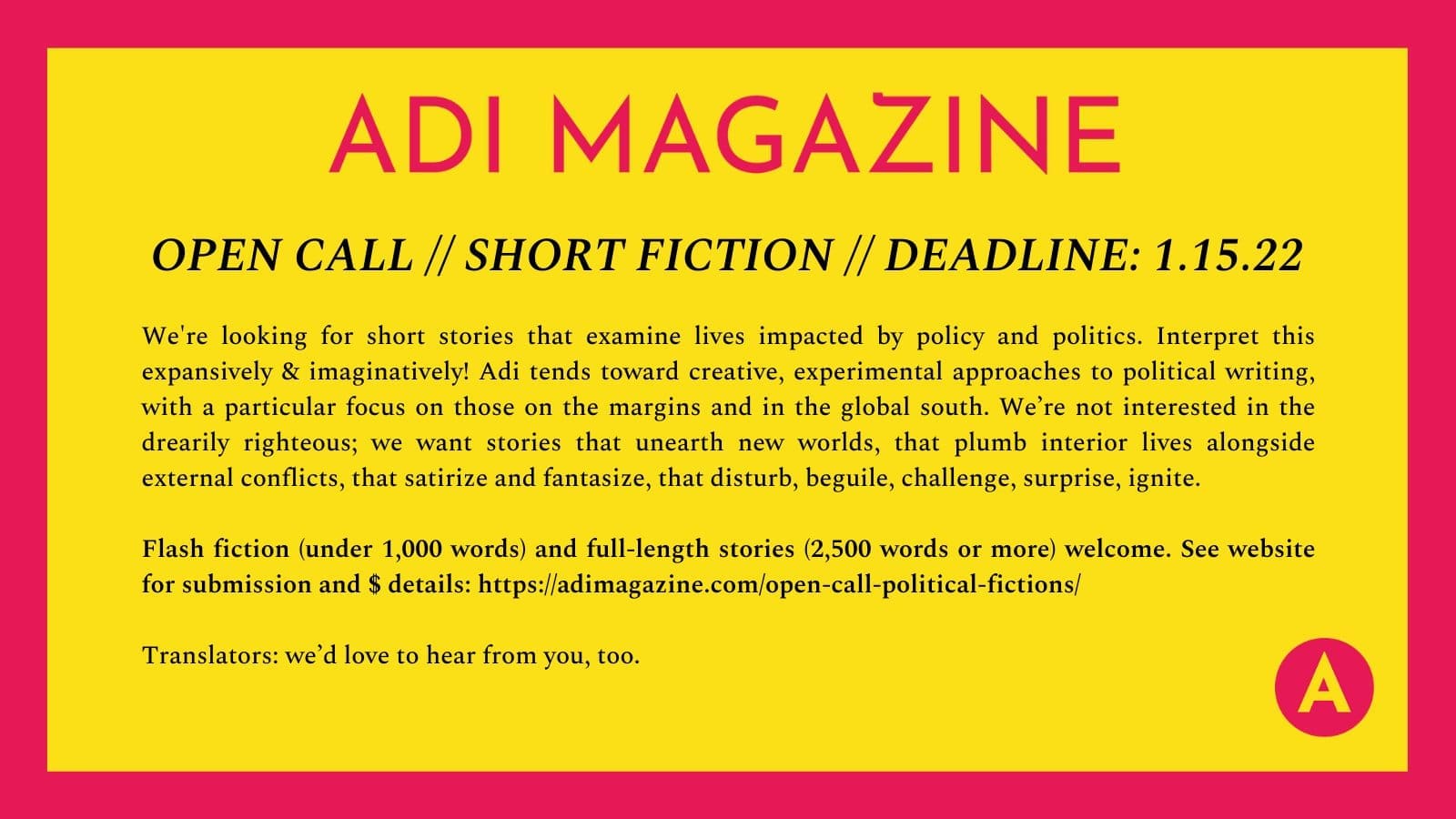 Deadline: January 15th, 2022
Payment: For full-length stories, 2,500 words or more, payment is $500. For flash fiction, under 1,000 words, payment is $200.
Theme: Short stories that examine lives impacted by policy and politics
Adi is seeking new short fiction for our winter 2022 issue. Send us your work!
We're looking for short stories that examine lives impacted by policy and politics. This should be interpreted expansively and imaginatively. Please familiarize yourself with the range and spirit of our archives; Adi tends toward creative, experimental approaches to political writing, with a particular focus on those on the margins and in the global south. We've previously published fiction on ghosts in a post-fossil fuel world; love on opposing sides of a military crackdown; intervention through the eyes of a fugitive lion.

We're not interested in the drearily righteous; we want stories that unearth new worlds, that plumb interior lives alongside external conflicts, that satirize and fantasize, that disturb, beguile, challenge, surprise, ignite.

Translators: we'd love to hear from you! If you have unpublished work from writers who fit the bill, please get in touch. (If the story's already been translated, just go ahead and submit, but if not, feel free to email us with a blurb about the potential story and we'll take it from there).
For full-length stories, 2,500 words or more, payment is $500.
For flash fiction, under 1,000 words, payment is $200.
The deadline for submissions is January 15th, 2022, though we welcome them earlier. Email your piece in a word document to [email protected] with POLITICAL FICTIONS in the subject line. One submission per author, please. Include a short biographical note and word count on the first page of the document.
We aim to make selections by February 15th, 2022.
***
Adi is a literary journal of global politics. Founded in 2019, we've published new work from such writers as Tracy K. Smith, Nadifa Mohamed, Meena Kandasamy, Evie Shockley, Terese Mailhot, and Rafia Zakaria. Named after a Tamil word with three meanings—protest, intervention, and violence—Adi's aim is to platform political writing rooted in lived experience and a commitment to inventiveness, both formally and conceptually.
Via: Adi Magazine.
About the Author
Latest Posts
Stuart Conover is a father, husband, published author, blogger, geek, entrepreneur, horror fanatic, and runs a few websites including Horror Tree!