Disclaimer:  The reviewer was provided a membership of Plot Factory for an honest review. Features we talk about may or may not be available at lower tiers and could represent retired or removed elements.  Please check the site to ensure the features that interest you are available, and at which tier.
Disclaimer:  Our reviews may contain affiliate links. If you purchase something through the links in this article we may receive a small commission or referral fee. This happens without any additional cost to you.
When it comes to writing tools, I'm often looking for the next new thing, the next *big* thing.
I'm on various writing sites, so when I was given the option to review Plot Factory and explore, I was delighted.  Mostly because they have a narration feature, and I've been exploring my editing with narration from either my text to speech on my Kindle, or in Word, so other options are always welcome.
But that's not the only thing there is on the site. I'll be talking more about canon and organising universes later, but there are tools in Plot Factory that are far more advanced than some other sites that let you do this – in fact, I had to design a Wiki to do it in the past.
The basics of Plot Factory
Plot Factory has a word processor, some basic formatting within it, and is pretty easy to use.  If you're used to Blogger or WordPress, you'll be unphased by it.  As it should be for a writing site. And as soon as you join, you're directed to their very active Discord server.  I'll touch on that later, but as much as I love all of the other features, honestly, the Discord server is quite incredible.
I can also confirm that as suggested on their front page, it's completely mobile friendly.  I went through several devices while on the go over the last two weeks, and it's all smooth and loads.  It's still new, so I can forgive having to occasionally reload pages or faults that I've seen.
(and as an aside, all reported faults show up in chat on the Discord server and are almost immediately fixed, for the few I saw.  As it's still in active development, the fact that the developer is available to answer on Discord and fix things is actually a very good thing).
Bells and whistles abound in Plot Factory
I'm sure that I could explore for weeks and find new things, but each of the tabs on this screen leads to more options.  But the easiest way to look at all of the options and branches are different ways to access things.  Each screen can, I think, pull other things in that have been created elsewhere, and if you're building a series of books, with characters that repeat, or places, or rules, or other items you really need to keep track of, Plot Factory has you covered.  Organising is easy!
Stuck?  There are questionnaires to shake your thoughts free, and at the time of writing this piece, they are running a weekly writing prompt on the Discord server.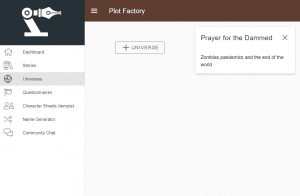 Narration from Plot Factory
One of the unusual things that I found on the site was the narration.  You can put your novel through its paces and see how it flows.  To give you an idea of how this sounds, I pasted the Horror Tree's 'About us', and had 'Matthew' read it.  There are four options.  Matthew, Joanna, and Brian and Amy (British voices).  All four sound lovely – Amy (British) in fact, sounds like a narrator I recognise, which is quite neat.
Take a listen! (This is Matthew)
Pros and cons of Plot Factory
I wish I had some clear cut pros and cons to offer with the site – I'm still enamoured and exploring, and everything I've got issue with are things that are more to do with the fact that I code and write sites rather than actually issues with what the site does.  It could be too much if you write stand-alone and no-repeat universe books, but even then, organisation, backup, access no matter what platform, Epub export and narration (depending on your level of membership), could be worthwhile.  But, if you're looking for no distractions, no fluff and filler, then the site may be a bit much for you.
Finally, the best bit
I'll be honest, the bit that I've spent the most time with has been their community.  They are friendly, talkative, helpful, receptive and a joy to discuss things with.  Their server is quite highly trafficked, and there appear to be sprints, voice chat, and more going on, as well as the aforesaid writer's prompts.  As far as I'm aware, the Plot Factory Discord is free to join, on their free plan.  There are people from all over the world available on the server, but do be aware that you might get distracted.  So far, I've talked about everything from language construction to study, to publishing, to cats.  LOTS of cats. 🙂
In summary
I think there's a solid site in place with Plot Factory.  The narration is by far and away the most interesting thing on there for me, but I like everything from goals and accountability, to the writing challenges, the writing interface (which isn't too simple, but isn't hugely complicated – like I said – if you're used to posting on sites, you'll find it familiar), and backup.  I love that I've connected up to Dropbox and it just copies it over for me – something I don't have on my other writing sites for now.   But, if you write standalone books, some of the features might not be necessary for your needs.  If like me, you write a lot of stuff that's based in universes that you need to keep track of or are stuck on filling out your character details, then you're going to LOVE Plot Factory… and most of all, it's community.
If you're interested in learning more, be sure to check out Plot Factory today!