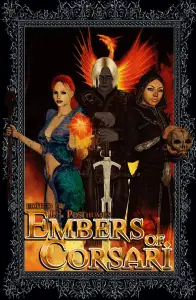 Deadline: August 1st, 2022
Payment: Royalties
Theme: High fantasy set in a new world (bible available).
"Embers of Corsari". An anthology set in A new world that will be available for other authors to dabble in. Yes, there's a world bible you'll have to look over and abide by. Genre is high fantasy.
Submission call: Enter a world of heroes, villains, monsters, and gods. Where magic is as common as the air you breathe. I'm looking for stories about the beginnings of heroes or villains. Or even their ends. The start of wars… or perhaps the end where little is left but devastation and the embers of hope. Fiery-tempered warriors or Red-headed temptresses. Or perhaps even Pyromaniacs. Everything begins with a burning ember: may it be hope or hate, love or revenge.