Disclosure:
Our reviews may contain affiliate links. If you purchase something through the links in this article we may receive a small commission or referral fee. This happens without any additional cost to you.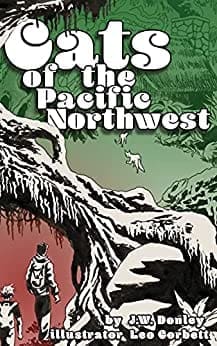 Title: Cats of the Pacific Northwest
Author: Joe Donley
Illustrator: Leo Corbett
Genre: Horror/Supernatural Thriller
Publisher: Dark Forest Press
Release Date: 20th July, 2021
Synopsis: David, an unsure young man, is trying to figure out how to be a "man" in the modern age. Well, at least what his girlfriend, Emma, expects of him. When she suggests a backpacking trip out on the Olympic Peninsula, he jumps at the opportunity to demonstrate his worth. But, once they get out into the wilderness, they are quickly lost. Now they are out of food and beginning to starve, when a strange couple of cats cross their path.