StokerCon 2022: How Stoker Got His Con On
I don't want to rehash the StokerCon website, so this article stems from my personal point of view. FYI; StokerCon Pittsburgh 2023 Early Bird Registration is now open!
The Curtis Denver, voted one of Denver Colorado's Best Hotels for its artistic vibrancy and attention to detail, hosted StokerCon Thursday May 12th through Sunday May 15th. 
Thursday's reception kickoff brought lots of faces, some new (Jennifer McMahon, Michael Bailey and Shanna Heath, and a super fun woman I met while in line at the cocktail bar—I didn't get her name!), some I'd only seen on social media or Zoom and wanted to meet face-to-face (Jim Chambers, Sumiko Saulson, Joe Donley, and Tim Waggoner), and others comfortably familiar like my Hive Writing Group. And cocktails.  
Conference days started around 8am with coffee and breakfast and the coordinators packed the days with your choice of panels, roundtables, author readings, and Horror University. Evenings offered cocktails and parties, but you were free to go out on the town if you pleased. Attendee SWAG included an HWA T-shirt, and a selection of various novels. We also received a coveted copy of the StokerCon 2022 Souvenir Anthology The Denver Resurrected Edition edited by Cynthis Pelayo.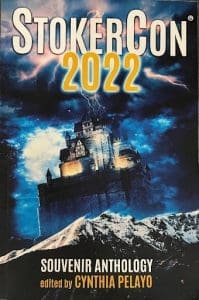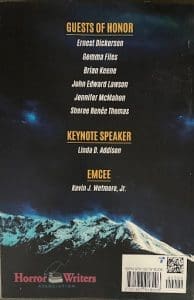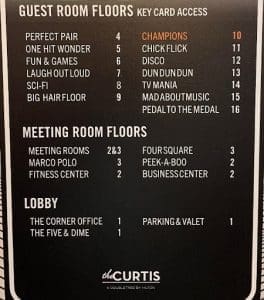 The hotel named every floor with a theme, and if you wanted a themed room, you had to request one. I stayed on the 10th floor. 
My favorite? The 13th —DUN DUNDUN: the Horror Floor.
[Here are a few shots from the floors.]
Floor Hall: The Shining and Poltergeist: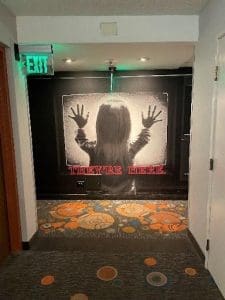 The elevator hall: Edgar Allan Poe: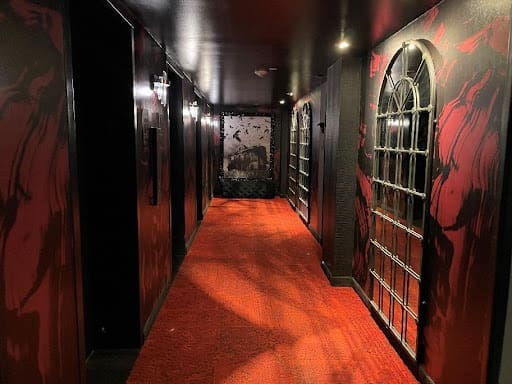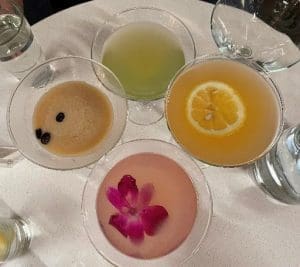 The attached restaurant and bar offered great food and yummy cocktails. We, and by we I mean my Hive Writing Group: Cathy Jordan, Diana Sismour, Amanda Headlee, and Dianna Sinovik (5th member Jacque Day attended virtually) celebrated the end of each day with a fabulous, and a generously poured, martini. 
This is a business conference, and writing is big business. Horror writers may wonder how to dress the part. First and foremost—I recommend black. Humorous horror tee shirts were a common thread worn with business jackets and jeans (Buffalo Bill tees, The Goonies, Freddy, Salem—you get the idea). Want to take it up a notch and wear your Halloween costume? Go for it. Business casual also works. But I didn't see anyone in shorts or Walmart pajama wear. 
As for the Bram Stoker Award dinner, think Academy Awards. Or maybe not. This ran the fashion gamut. Some dressed comfortably, others dressed for Halloween, and quite a few wore gowns and black ties. 
I was sooo disappointed that Alma Katsu couldn't be there! I had several of my books for her to sign and looked forward to fan-girling and taking a selfie. Oh well—maybe next year.
HWA President John Palisano could not attend, and I wanted to meet him and rub elbows cuz he's the president. I'm sure I'll have another opportunity for that.
A few others had to drop out or exit stage left due to COVID. Some attendees may have gone home to find out they tested positive.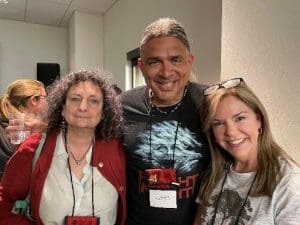 I did meet Ellen Datlow, editor extraordinaire and winner of umpteen awards (Google her—you'll be amazed). Got my picture taken with her.
Also got to meet Stephen Graham Jones. Got my picture taken with him, too.
The conference incorporated a mass author signing and ice-cream social: This smart lady brought an extra carry-on with wheels, anticipating the haul I'd bring home. No, not ice cream—about 2 dozen signed books!
I picked up an impressive gem, Shadow Atlas edited by Carina Bissett, Hilary Dodge, and Joshua Vilola.  "Their stories are maps revealing the topography and contours of landscapes unimaginable and dark. The Shadow Atlas collects their adventures." This anthology includes an impressive list of recognizable author names, and I think it's going to become a cult classic. I'll post my review on horrortree.com
I ran into Jo Kaplan (my new friend), signing copies of It Will Just be Us, which was optioned for a movie. It's a spooky gothic, and I recommend signing up for her newsletter—it comes with book and booze recommendations! Look for my upcoming review of her newest novel When the Night Bells Ring on horrortree.com.
I'm stoked (pun intended) to read Eric LaRocca's Stoker nominated long fiction, Things Have Gotten Worse Since We Last Spoke, and I bought all 3 of his books. Guess what? I'll have an upcoming review of We Can Never Leave This Place, on horrortree.com.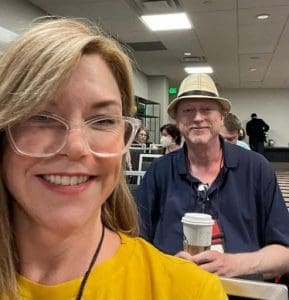 The series of Horror University Workshops offered two-hour, in-person classes. I chose to take YOUR CORNER OF THE CRYPT: FINDING YOUR NICHE IN HORROR, with Tim Waggoner. What a genuine, great guy. Seriously. 
Tim handed out his card, offered handouts, and made himself available. Honestly, I was quite late in attendance because I was at my pitch session, but he didn't bat an eye, and I caught up quickly. He had a self-evaluating worksheet, which I'd never seen before, and he challenged me to write a trope that I don't like to read—werewolves! Please, don't bark or howl at me; we all have that one trope we can't take, and Lycanthropes are beyond my suspension of disbelief. Tim, however, said I should write a story about werewolves. And I will.
The Pitch Session was one of the largest attended panels. You had to be quick on the reply when the HWA mailer announcement came out, by selecting your top three preferred agents to whom you wanted to pitch your work. What if you didn't snag your favorite? When you see him/her walking about, introduce yourself and ask for their business card, explaining why you wanted to but didn't get to pitch to them. 
A pitch is a concise, engaging description of your project meant to pique the interest of the person to whom you are pitching your story. 
I'd like to summarize what I learned and give a few of the Dos and Don'ts. Do keep your pitch short—two or three sentences at most—and be prepared to answer questions. Know what you wrote, not what you meant to write. Do consider this an opportunity to build relationships with agents, and show them your passion. Do be prepared to talk about comparable titles on the market. 
Don't read your pitch—have a conversation about it. Don't pitch a book that's already been published. If your pitch results in a "no"? Be respectful, and ask for a business card so you can take advantage of a future opportunity with your next piece. Don't consider this a magic ticket to success.
According to Alec Shane, agent for Writer's House, "The opening page asks a question that I have to read all the way through in order to get the answer. Take me back to when I was a kid and wanted to stay up all night reading under the covers with a flashlight." 
Pay attention to whom you're writing, new twists on old tropes, to whom you're writing, and voice. Voice is what makes a story original. What is voice? I can paraphrase what Angie Hodapp, Director of Literacy Development at Nelson Literary Agency said: It's hard to explain, but it's the author's fingerprint and it's what brings life and personality into your story.
Becky LeJeune, agent at Bond Literary Agency, said that during a pitch, "Give me the three Rs—Recent, Relatable, Relevant."
If you'd like more info or want to practice your pitch, go to manuscriptacademy.com From their webpage: Academy, LLC, is a conference, meeting portal, written critique marketplace, workshop hub, event space, and podcast designed to treat you, the writer, as a real person–not one of thousands in the slushpile.
And now (drumroll please) …
Named in honor of the author of the seminal horror novel Dracula, the Bram Stoker Awards® are presented annually for superior writing in eleven categories including traditional fiction of various lengths, poetry, screenplays, and non-fiction. Previous winners include: Jordan Peele, Anne Rice, Stephen King, Ellen Datlow, George R. R. Martin, Joyce Carol Oates, George A. Romero, Nancy Holder, Linda D. Addison, and Neil Gaiman. 
Active and Lifetime members of the organization are eligible to vote for the winners in all categories. 
The Bram Stoker presented much like the Academy Awards with fanfare, dress, dinner, and the charged atmosphere. Admittedly, I expected the Opening Remarks to be as dull as my black dress, but by the end of the night, attendees voted unanimously for the return of the hilarious MC—Kevin J. Wetmore.
Says John Palisano, HWA President. "The winners and finalists show a diverse group of amazing voices from new and veteran creators. Our HWA members and awards juries have shown dedication and objectivity to the selection process for outstanding works of literature, cinema, non-fiction, and poetry."
And without further ado, the winners are:
Superior Achievement in a Novel: 
Winner: Stephen Graham Jones – My Heart is a Chainsaw (Gallery/Saga Press)
Superior Achievement in a First Novel
Winner: Hailey Piper – Queen of Teeth (Strangehouse Books)
Superior Achievement in a Young Adult Novel
Winner: Erica Waters – The River Has Teeth (HarperTeen)
Superior Achievement in a Graphic Novel
Winner: Alessandro Manzetti (author) and Stefano Cardoselli (author and artist) – The Inhabitant of the Lake (Independent Legions Publishing)
Superior Achievement in Long Fiction
Winner: Jeff Strand – "Twentieth Anniversary Screening" (Slice and Dice) (Independently published)
Superior Achievement in Short Fiction
Winner: Lee Murray – "Permanent Damage" (Attack From the '80s) (Raw Dog Screaming Press)
Superior Achievement in a Fiction Collection
Winner: Gemma Files – In That Endlessness, Our End (Grimscribe Press)
Superior Achievement in a Screenplay
Winner: James Flanagan; Mike Flanagan; and Jeff Howard – Midnight Mass, Season 1, Episode 6: "Book VI: Acts of the Apostles" (Intrepid Pictures)
Superior Achievement in an Anthology
Winner: Ellen Datlow – When Things Get Dark: Stories Inspiredby Shirley Jackson (Titan Books)
Superior Achievement in Non-Fiction
Winner: Michael Knost – Writers Workshop of Horror 2 (Hydra Publications)
Superior Achievement in Short Non-Fiction
Winner: Angela Yuriko Smith – "Horror Writers: Architects of Hope" (The Sirens Call, Halloween 2021, Issue 55) (Sirens Call Publications)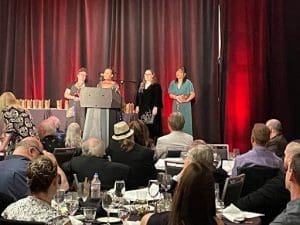 Superior Achievement in a Poetry Collection
Winner: Angela Yuriko Smith; Lee Murray; Geneve Flynn; Christina Sng – Tortured Willows: Bent. Bowed. Unbroken. (Yuriko Publishing)
HWA Liftetime Achievement Awards were given to Nancy Holder, Koji Suzuki and Jo Fletcher.
The Specialty Press Award was given to Valancourt Books.
The Richard H. Laymon President's Award was given to Sumiko Saulson.
The Silver Hammer Award for service was given to Kevin J. Wetmore. 
The Mentor of the Year Award was given to Michael Knost.

The Seventh Annual FINAL FRAME Horror Short Competition winners are:
BEST WRITING IN A SHORT FILM:
"Becoming Emma Braintree"
Written and Directed by Joshua Koske
Based on a short story by Aaron Dries
SECOND RUNNER-UP to Grand Prize:
"Every Time We Meet For Ice Cream Your Whole Fucking Face Explodes"
Written and Directed by Anthony Cousins
Based on a short story by Carlton Mellick III
FIRST RUNNER-UP to Grand Prize
"The Thing That Ate The Birds"
Written and Directed by: Sophie Mair and Dan Gitsham
About the Author
Latest Posts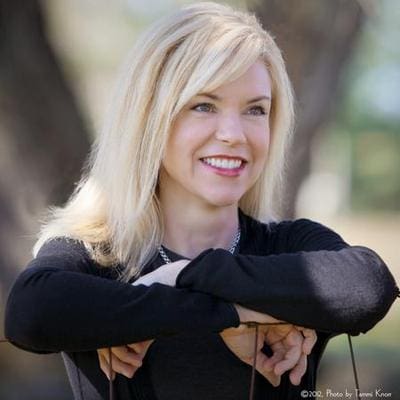 Catherine Jordan is the new review coordinator for Horrortree.com. She's a horror movie fan and a horror novelist, although she edits and writes in many genres. Ms. Jordan has been featured in a variety of anthologies, on-line publications, and print magazines. It was her pleasure to serve as judge for the Bram Stoker Award and for the ITW Young Adult Award. Catherine also facilitates writing courses and critique groups. She credits her five children with inspiring her writing material.
You can follow Jordan's work at her homepage and Amazon.