Re-post: What HWA Has Done for Me by Annie Neugebauer


I saw this over at Horror Writer's Association and thought anyone who might be thinking about joining should check it out. Enjoy!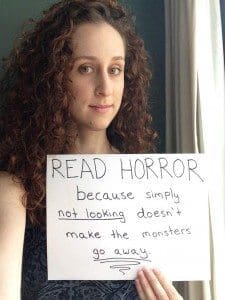 When I was starting out as a horror writer in 2008, I hadn't yet heard about the Horror Writers Association (though I had heard of the Bram Stoker Awards, as the winners list provided much of my reading material). But after a couple of years of actively pursuing writing, seeking publication, and delving into the industry head-first, I learned that the HWA was something I wanted to be a part of. Resources, support, networking, education, mentorship, and most importantly for me at the time, a sense of community. Count me in! But when I went online to look up the membership requirements, I quickly realized two things:
1) I wasn't qualified to be an Active Member.
2) I desperately wanted to be.
To my mind, Affiliate Membership was the equivalent of being a semi-professional writer and Active Membership equaled professional. Becoming an Affiliate required one short story publication with a token payment, while Active required three short story sales at professional rates (5 cents a word or higher). In October of 2011, I had three short stories published, two for "exposure only" (no money) and one for pro rates, so I applied and was accepted as an Affiliate Member.
I spent the next two years working toward getting two more professional short story sales. This changed my life as a writer.
At the time, I wasn't thinking about anything other than the fact that I needed professionally-paying markets to reach my goal of stepping up to Active Membership. 2012 was a slow year full of lots of drafting, editing, and submitting. Many rejections. Because that's the thing; I'd started submitting only to pro-paying markets. With editors regularly taking months to get back to me and more often than not coming back with a no, I couldn't "afford" to "waste" any of my stories on semi-pro, token, or exposure-only markets. I didn't necessarily have anything against them; I just knew that they would slow me down in my progress toward getting my next two pro sales.
So I continued to work hard. I wrote more and more stories until I had a stockpile of about a dozen. I edited them fiercely, improving each time. I submitted mercilessly to the most ambitious markets, rotating stories to different venues until every option was exhausted. I got so many "We liked this, but…" and "Please send along anything else you have…" emails that I knew I was on the verge. I pushed and pushed and pushed, knowing eventually something would give.
Finally, my second pro sale came in May 2013, and my third in December. I was in. I'd done it. In December of 2013, I became an Active Member of HWA. I could now call myself a professional horror writer without feeling like a sham.
So I wiped the sweat off my brow, celebrated for about sixty seconds, and realized I could start sending my stories out to markets that paid a little less now. But then a funny thing happened. I realized I didn't want to.
Working so hard to achieve my goal had taught me something incredibly valuable: I was at a professional level of work now. I'd incidentally proven to myself that I was capable of that caliber. Would sending out my stores to semi-pro markets get them picked up faster? Probably. But did I need to? Well… no. To quote Will Rogers, "If you hit the bull's eye every time, you're standing too close to the target."
I like the challenge of submitting to professional markets. It keeps me honest. If one of my stories isn't getting picked up at any of them, I'm forced to step back and ask myself if it's the story that's the problem. And if it is, I revise the story – not the markets I'm sending it to. That's just one way that I make sure I'm only putting out my best work.
(I feel I should note that I don't think payment level is the only "measure" of a market, and I see no reason to be overly strict about this new rule of thumb. If a market's quality, readership, or prestige is high enough to outweigh lower payment, that's fine. Or if I know a story is publication-ready and just not the right fit for the available pro markets, that's fine too. I still use my judgement on a case-by-case basis; it's just based on a new set of ideals now.)
Since becoming an Active Member, I've had two more stories published and four more accepted for the near future. Am I perfectly satisfied with where I am as a writer yet? No, but I'm doing good work and I'm proud of my progress so far.
And I have to be honest. If it weren't for the HWA setting their membership requirements this way, I don't know that I would've believed I was there yet. I doubt I ever would've had the confidence to say, "You know what? Nothing but pro markets from now on." It was only in pursuit of that goal that I realized what I was capable of. It was in this process that I realized my own value, the value of my work, and the importance of writers' rights. So thank you, HWA, for pushing me to be the best I can be. I'm so grateful and proud to be a part of this great organization.
This was originally posted at: Horror Writer's Association by: Annie Neugebauer.
About the Author
Latest Posts
Stuart Conover is a father, husband, published author, blogger, geek, entrepreneur, horror fanatic, and runs a few websites including Horror Tree!