Ongoing Submissions: Hexagon Magazine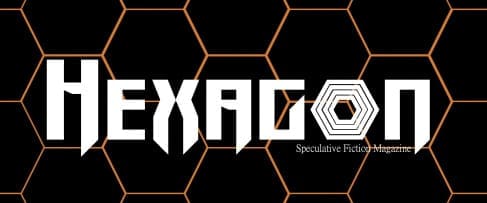 Payment: $5CAD for accepted poetry and cartoons, $10CAD for flash fiction, $15CAD for works between 1,001-4,999 words, $20CAD for accepted written works over 5,000 words, $30CAD for Graphic Stories and $110CAD for cover art pieces.
Theme: All forms of Speculative Fiction
Hexagon SF Magazine wants to ensure that the submission process is easy for creators. We try to respond to all comments, queries, and concerns within a few days. Please do not query regarding the status of a submission until 6 weeks have passed. If for any reason the submission form does not work correctly, please feel free to send us your submission via email.
#BlackVoicesMatter #BlackLivesMatter
Our submission response times are typically between 2-14 days.
What we are looking for
-We accept only previously unpublished short stories, flash fiction, poetry, graphic stories, and visual art, in English or French.
-We are looking for narratives no longer than 7,500 words, and poetry no longer than 30 lines.
-We currently publish only speculative fiction. This includes science fiction, fantasy, horror, cyberpunk, sword and sorcery, magical realism, paranormal horror, dystopian epics, eldritch horror, superhero, space opera, afrofuturism, weird west, etc.
-Deeper than genre, we are looking for pieces with engaging characters, fresh conflicts, and exciting narratives, not just concept pieces. We recommend that you read some of our published work before submitting. You can read Issues here.
-For extra guidance, visit our Wish List and Hard Sells.
-Please include a Content Warning for any stories involving suicide. Thank you in advance from the editor!
-We accept only original work, no fan-fiction. Reprints are not accepted at this time. We accept translated works, as long as permission is granted by the original author.
-We do not accept series or serials.
We are looking for speculative fiction pieces that take us on journeys to other worlds or other times, where elements of the fantastic, absurd, horrifying, or humorous might exist. We are drawn to stories that explore distant futures, ancient civilizations, and everything in between. Experimental fiction is welcomed, as long as there are elements of the wondrous, the weird, or the whimsical.
Submission Format
-Please submit your work to us via the Submit form below. Written works should be in .doc or .docx format. Standard manuscript format (Shunn) is expected, but not required. We only accept electronic submissions at this time.
-We do not accept simultaneous submissions at this time. If a piece is rejected, please refrain from sending it to us a second time unless substantive changes have been made.
-Please limit multiple submissions to one pending submission at any time. Please do not submit more than twice in a three month period. Poems may be sent in batches of three per submission.
-No explicit content or excessive profanity. We do not accept work that supports or suggests racism, sexism, or any other kind of discrimination. Hate rhetoric is not supported or endorsed by Hexagon Magazine.
–For cover art, we are currently commissioning artists for individual issues. If you would like to have our editor take a look at a portfolio or online collection, send us an email at [email protected].
Compensation
-Hexagon is a semiprozine, meaning that we pay contributors, but our editorial staff is all volunteer. For previously unpublished works, we pay a flat fee of $5 for accepted poetry and cartoons, $10 for flash fiction, $15 for works between 1,001-4,999 words, $20 for accepted written works over 5,000 words, $30 for Graphic Stories and $110 for cover art pieces. We are working to offer more compensation as Hexagon grows. All rates are in CAD and paid via PayPal.
-If accepted for publication, we purchase an exclusive licence to publish for a term of 90 days. After the 90 day term, the licence becomes non-exclusive, allowing creators to publish their work elsewhere. A licence agreement outlining all details will be offered upon acceptance.
Submit Now!
Via: Hexagon Magazine.
About the Author
Latest Posts
Stuart Conover is a father, husband, published author, blogger, geek, entrepreneur, horror fanatic, and runs a few websites including Horror Tree!