Taking Submissions: Wilted Pages: An Anthology of Dark Academia (Early Listing)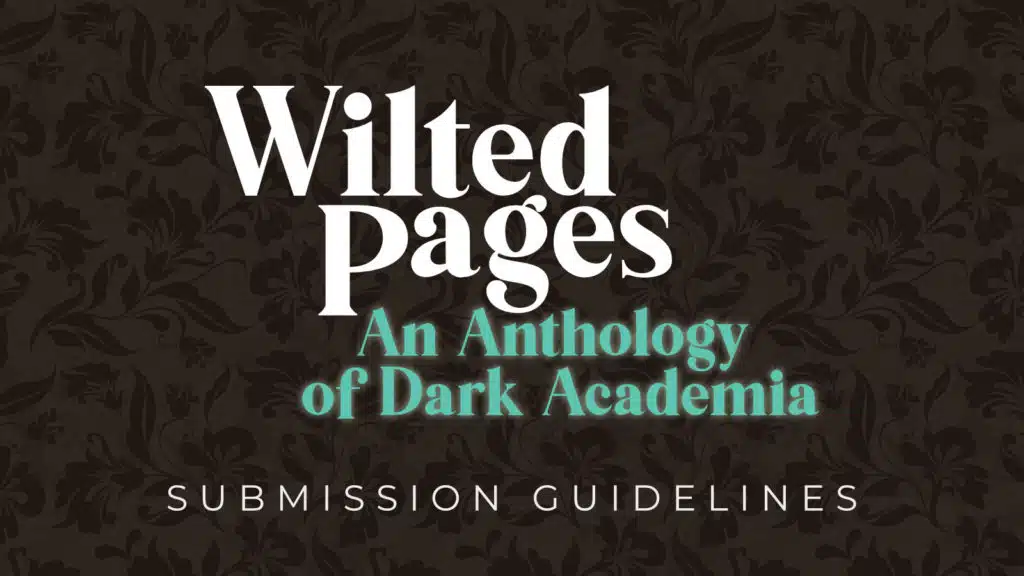 Submission Window: March 8th, 2023 to March 24th, 2023 for all, Underrepresented voices have the entire month of March
Payment: 5 cents per word
Theme: Horror, Dark and Science Fiction Horror that takes place in institutions of learning (see below)
Ai Jiang and Christi Nogle are seeking previously unpublished stories of 1,000 to 4,000 words for Shortwave Publishing's Wilted Pages: An Anthology of Dark Academia.
Wilted Pages takes its inspirations from works such as The Secret History by Donna Tartt, Never Let Me Go by Kazuo Ishiguro, Mexican Gothic by Silvia Moreno-Garcia, Catherine House by Elisabeth Thomas, and The Bone Weaver's Orchard by Sarah Read. Gloomy buildings, secret societies, futuristic boarding schools, gothic yet modern aesthetics, and occult learning are among the pleasures to be found in this subgenre.
We are looking for a broad range of HORROR, DARK FANTASY, and SCIENCE FICTION HORROR concerning
Schools, colleges, universities, and/or other educational institutions
Laboratories and research facilities
Scholarship and scholarly life
Recommended Reading
Submission Guidelines
Format: Double-spaced, Times New Roman, include email address and byline on the first page (*address and phone number not needed)
Length: 1,000 to 4,000 words (*no exceptions)
Include a brief cover letter (A third-person bio — no more than 100 words)
Subject line: SUBMISSION: Story Title — Word Count — Author Name
Submissions open March 8, 2023 and close March 24, 2023. We would love to see work from writers from all backgrounds and locations. Please don't self reject!
March 1-31, 2023: Extended deadline for underrepresented voices—people of color, LGBTQ2S+, neurodiverse people, people with disabilities, those of marginalized genders.
Submissions sent before and after the submissions period will not be read.
Simultaneous/Multiple/Reprint Submissions?
You may submit simultaneously to other markets, but please notify us right away if the story is accepted elsewhere.
You may send up to two submissions in total (Please wait for a pass on the first submission before sending a second. If accepted, please do not send a second, as we will publish only one per author.)
Original, unpublished stories only. No reprints.
Wish Lists
Ai:
Christi:
A distinct sense of setting and atmosphere
Character-focused storytelling
The weird, experimental, and surprising
Handle with Care
We are open to reading a wide variety of content but ask that you include a content note if your piece contains the following:
Discriminatory language and ideas including but not limited to racism, sexism, homophobia, transphobia, eugenics, classism, ageism, ableism.
Violence, sexual abuse, or emotional abuse
Depictions of self-harm and suicide
Payment & Rights
$0.05/word per accepted submission for first world print/digital rights with six months exclusivity.
The Editors:
Ai Jiang spent several years as a tutor of English Literature and ESL and was part of the VicOne Teaching Stream at the University of Toronto during her undergraduate studies. She is a graduate of the University of Edinburgh's MSc in Creative Writing program. Her work has appeared or is forthcoming in F&SF, The Dark Magazine, The Deadlands, among others. Ai has experience as a reader and editor at Orca Literary Journal and Strange Horizons, guest editing for If There's Anyone Left, and was the fiction editor for Orion's Belt and From Arthur's Seat.
Christi Nogle taught at Boise State University for twenty years. She is the author of the novel Beulah from Cemetery Gates Media and three forthcoming collections from Flame Tree Press, beginning with The Best of Our Past, The Worst of Our Future. Her work appears in publications such as Dark Matter Magazine, Vastarien, and Obsolescence from Shortwave Publishing. Christi is an Associate Editor at PseudoPod and, with Willow Dawn Becker, co-edited Mother: Tales of Love and Terror from Weird Little Worlds.
Via: Short Wave Publishing.
About the Author
Latest Posts
Stuart Conover is a father, husband, published author, blogger, geek, entrepreneur, horror fanatic, and runs a few websites including Horror Tree!