Taking Submissions: We Fear Not the Sea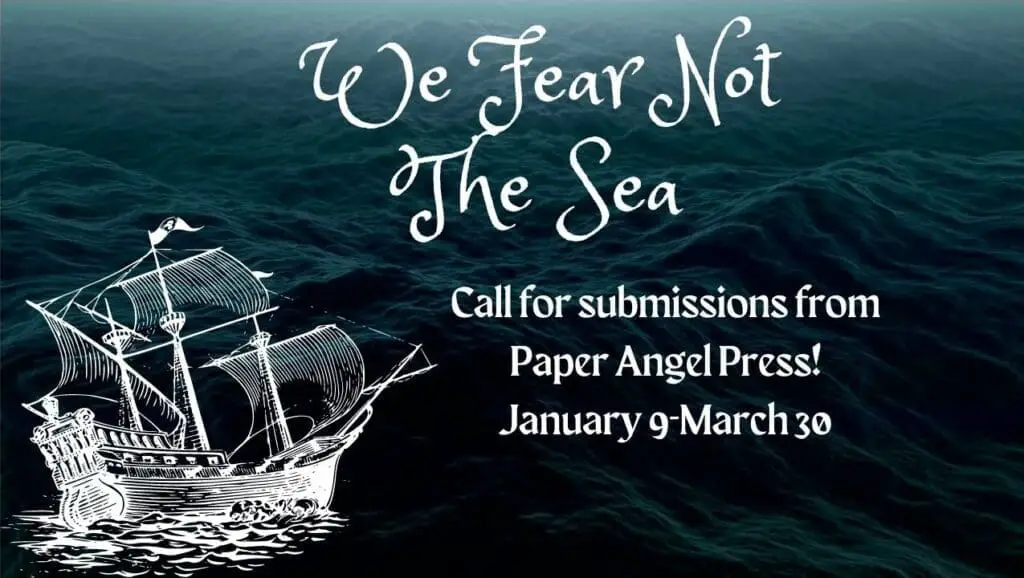 Deadline: March 30th, 2023
Payment: 2 cents per word
Theme: Stories inspired by sea shanties, more on that below!
This is a Call for Submissions for We Fear Not the Sea, an anthology of stories inspired by sea shanties.
Each tale should be based on, or somehow incorporate, one sea shanty and include a speculative element of some kind. Give us your adventures with ghosts, sea monsters, and mermaids! Put us in the salty sea boots of sailors, whalers, pirates, and privateers!
| | |
| --- | --- |
| Open for Submissions: | January 9, 2023 through March 30, 2023 |
| Expected Publication: | June 2023 |
Submission Requirements
Your story:
should be approximately 2,000 – 6,000 words in length.
should be based on the content of or incorporate the use of a sea shanty.
should not contain erotica, or excessive violence or gore.
should be an original submission and not previously published.
should not be simultaneous submission to other markets.
Please submit only one story per submission.
Payment
Payment (after publication) will be:
$0.02 per word
one (1) trade paperback contributor edition
one (1) hardcover contributor edition
access to ten (10) digital contributor copies
Manuscript Formats
Send us your complete, finished manuscripts in digital (.DOCX, .RTF, or .ODT) format to fearnotthesea (at) paperangelpress.com. Please use a standard manuscript format. If you're not sure what one is, here's a good source.
Please include "We Fear Not The Sea Anthology" in the Subject line of your submission.
Include the following in your cover letter/email:

Title of your story
Your legal name
Your preferred name or pseudonym (if different from your legal name)
Your preferred email address
Story genre
Approximate word count
Name of the shanty on which your story is based
Short author biography (3-4 sentences)
If you're not sure if your story is something that we'd be interested in publishing, please feel free to query us at fearnotthesea (at) paperangelpress.com in advance of submitting your manuscript.
Contacting Us
Please check out our general Submissions FAQ if you have additional questions before contacting us.
Please don't contact us about the status of your manuscript unless at least 30 days have passed since we acknowledged receiving it. If you did not receive a acknowledgement within seven business days of submitting your manuscript to us, then please feel free to contact us.
Via: Paper Angel Press.
About the Author
Latest Posts
Stuart Conover is a father, husband, published author, blogger, geek, entrepreneur, horror fanatic, and runs a few websites including Horror Tree!