Taking Submissions: Unfettered Hexes: Queer Tales of Insatiable Darkness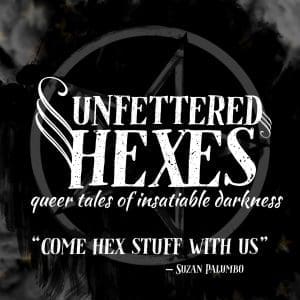 Deadline: January 15th, 2021
Payment: $0.08/word
Theme: Speculative stories of queer witches, occult rituals and dark hunger
Neon Hemlock's next anthology will be called Unfettered Hexes: Queer Tales of Insatiable Darkness and edited by dave ring. We'll be looking broadly for speculative stories of queer witches, occult rituals and dark hunger.
We are currently running a Kickstarter to fund this project. The compensation level for original stories accepted to this anthology is $0.08/word.
Please submit your stories using this form. If you are unable to use the submission form for reasons of accessibility or anything else, please email us at admin at neonhemlock dot com for alternate submission instructions.
We are looking for:
Wordcount: Under 6,000 words. 1-4,000 words is probably the sweet spot.

Concept: Unfettered Hexes: Queer Tales of Insatiable Darkness will be a speculative anthology that explores the boundaries between queer witches, the profane, and infinite darkness.

Unfettered Hexes asks you to sling salt in a circle, call the corners, and breathe life into the unutterable cadences that call forth the void. Find your coven, craft new rituals and hex your enemies.

For this anthology, we use the term "witch" in the broadest sense, paying homage to ritual practices, razor-sharp intent, and connections to the eldritch, the numinous and the otherworldly. We welcome tensions and alignments within those practices, and particularly look forward to non-Western and non-white interpretations. We acknowledge the challenges and strengths of #ownvoices work, while also asking that authors to be careful to avoid cultural appropriation if their writing includes genuine cultural practices.

What we want to see: We are looking for speculative stories of witchery with queer narratives. We want queer stories and we want trans stories and we want indefinable stories. We welcome a broad interpretation of speculative genres; give us space witches and brutal rituals and beasts as otherworldly as you want them to be (we love genre elements from fantasy, horror and science fiction). Throughout, we're looking for rich, varied and nuanced understandings of gender, family and ethnicity.

What we don't want to see: We're also not interested in unexamined bigotry or sexual violence; pieces that include such should be nuanced or looking at the post-event experience of the survivors. And please pay strong attention to our note regarding cultural appropriate above.
Guidelines:
Please submit your story in .doc or .docx file, formatted in something approaching Standard Manuscript Format. Use italics for italics etc. The editor has a slight aversion to Courier and a fondness for Georgia.

Please include a cover/query letter with the title, length, and a brief bio. You may include links to your website/social media, and previous publications if any. Please don't stress about this cover letter, if we have additional questions about your submission, we'll ask them.

Simultaneous submissions are fine, please withdraw immediately if you take another offer. Stories should be previously unpublished.

Please no multiple submissions. If you receive a rejection within the submission window, you may submit another story.
Submissions are open to all.  Neon Hemlock Press is particularly interested in queer stories and authors.  Authors from all underrepresented backgrounds and marginalized communities are strongly encouraged to submit.  Please don't self-reject.
You should receive a confirmation of your submission via email. Please query after February 15th if you haven't heard back from us yet about this project.
We'd love if you tracked your submissions on Duotrope or the Submission Grinder.
Via: Neon Hemlock.
About the Author
Latest Posts
Stuart Conover is a father, husband, published author, blogger, geek, entrepreneur, horror fanatic, and runs a few websites including Horror Tree!