Taking Submissions: Twisted Love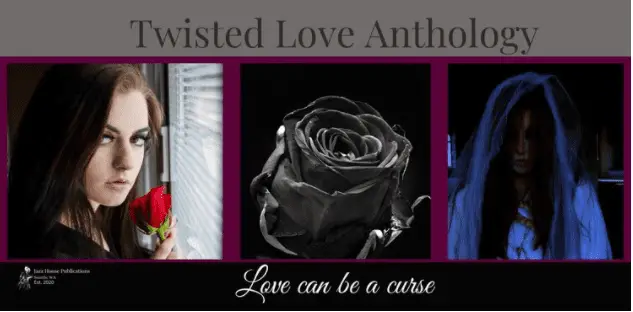 Deadline: January 8th, 2021
Payment: $75
Theme: Gothic horror and romance stories take on new depths and terrifying outcomes when happily ever after is no longer an option
Love can be a curse.
True love can have dark depths. "Till death do you part" might be prophetic. And beware the unrequited, shunned, and spited romantics. In the Twisted Love Anthology, gothic horror and romance stories take on new depths and terrifying outcomes when happily ever after is no longer an option. Jazz House wants to read your twisted, dark, and despairing stories about romantic and gothic horror and the people who find love to have a bitter aftertaste.
This is a Valentine's Day-themed anthology, so please incorporate this holiday's themes and aesthetics in your twisted tales. We encourage every interpretation of this theme, including supernatural, magical, Victorian, and contemporary settings and characters.
Submission Guidelines
1. Submissions are due on or before 12:00 p.m. PST on January 8, 2021. Please submit all stories to [email protected] with Subject Line: JHP Twisted Love and the title of your work.
2. All submissions must be in English and double spaced with 12-point Times New Roman font, paragraphs must be tab-indented, and manuscripts must have Shunn formatting (click here for an example) and use the Chicago Manual of Style. Any edits we make will enforce both Shunn and Chicago formatting to include grammar, punctuation, and layout.
3. Please submit your story as a .docx file. Your name, the work's title, and the work's word count must be on the front page. Please also include a 50- to 100-word author's bio with your submission. If you have a social media account, such as Facebook, Twitter, or Instagram, please also include your handles.
4. Story length is 7,000 to 9,000 words. Your story must meet the minimum word count. Submissions below 7,000 words and above 9,000 words will be rejected without consideration.
5. Do not submit first drafts to us. Your work should have been read aloud, edited by you, and made as ready as possible for our acquisitions editor's review. If you submit a rough draft, your manuscript might be rejected without consideration.
6. You must own the rights to your submission. Only original works will be considered.
7. We do allow simultaneous submissions. If your work is published elsewhere, please let us know immediately. Contact us at [email protected].
8. You retain the copyright and rights to reprint your work. However, Jazz House Publications has the right to use your name and story to market this anthology. This right is retained from the time of submission through this anthology's shelf life. By submitting your story to Jazz House Publications, you agree to these terms.
9. Accepted authors will be paid $75 within 30 days of the date of publication, which is expected to be February 9, 2021. All payments will be made through PayPal.
10. If you have questions, please contact us via email at [email protected] or, on Twitter, send a Direct Message to @JazzHousePR.
Via: Jazz House Publications.
About the Author
Latest Posts
Stuart Conover is a father, husband, published author, blogger, geek, entrepreneur, horror fanatic, and runs a few websites including Horror Tree!