Taking Submissions: This World Belongs to Us
November 30, 2022

-

December 1, 2022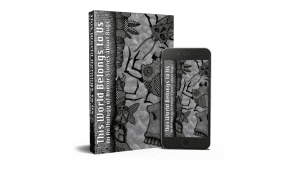 Deadline: November 30th, 2022
Payment: 0.05 per word and a contributors copy
Theme: Horror stories about bugs
From Beyond Press is launching with a bang—or a squirm, or the sound of too many legs skittering in the dark. This World Belongs to Us is an anthology of horror stories about bugs, writ large—we're not scientists, so spiders and slugs and scorpions (oh my!) are OK too. Watch the book trailer here!
This anthology will feature stories by Bram Stoker Award winner Kealan Patrick Burke, multiple Bram Stoker Award nominees Cynthia Pelayo and V. Castro, plus Paula D. Ashe, Donnie Goodman, Felix I.D. Dimaro, and Laurel Hightower, as well as a major rediscovery—John B.L. Goodwin's 1946 story The Cocoon, one of the creepiest stories ever written but out of print for more than 40 years. The eerie cover is by Jacob Blanchet.
Bugs as ill omens, bugs burrowing into bodies or thoughts, bugs taking over your town, giant bugs eating your friends, bugs giving you the side-eye at the supermarket—terrify us with your best stories about the creepy-crawlies that outnumber us, outweigh us, and scare the bejesus out of us. A little humor is OK, but first and foremost we want to be frightened. Bugs don't have to be the main characters, but they have to have some influence on the plot.
This will be our first anthology, and we are paying Horror Writers Association pro rates of 5 cents a word. We anticipate a 50/50 split between featured authors and those chosen via our submission call.
Length: 500-5000 words (hard limit)
Payment: US$0.05 per word (via PayPal) and a paperback contributor's copy
Publication: E-book and print in spring 2023
Deadline: November 30, 2022
Response time: We hope to respond to all submissions within two weeks of the deadline.
Rights: We request first worldwide and electronic rights for 12 months after the date of publication, after which rights revert to the author. All copyright remains with the author.
Inclusiveness: From Beyond Press is committed to creating a diverse and inclusive anthology. Our slush readers will not have access to personally identifying information (the editor will remove it from your submission before sending it to readers). Once finalists are chosen, when presented with stories that are otherwise equally compelling, the editor will give priority to members of the BIPOC, LGBTQIA+, and/or disabled communities.
Reprints: Maybe. Send it along! If it knocks our socks off and we have room, we'll definitely consider it.
Only one submission per author. Simultaneous submissions are OK, but we will need to know by the submission deadline whether you intend to publish elsewhere.
HOW TO SUBMIT
Send your manuscript as a .doc, .docx., or .rtf file in something resembling Shunn format to submit at frombeyondpress dot com.
Please include a short bio (no more than 50 words) that includes your preferred pronouns in the body of your email. Feel free to include a few publishing credits. If you are a member of the BIPOC, LGBTQIA+, and/or disabled communities, you may indicate as such in your bio if you wish.
Via: From Beyond Press.
About the Author
Latest Posts
Stuart Conover is a father, husband, published author, blogger, geek, entrepreneur, horror fanatic, and runs a few websites including Horror Tree!