Taking Submissions: The One and Future Kingdom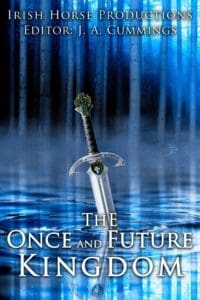 Deadline: February 14th, 2020
Payment: Royalties
VOLUME ONE: THE ONCE AND FUTURE KINGDOM
Theme:
Camelot. King Arthur. Merlin the magician. Knights in shining armor. It's one of the most frequently told stories in the history of Western civilization…
But we haven't heard YOUR story yet.
Tell us your tale of Camelot, Avalon, the Once and Future King, any of the Knights of the Round Table or their ladies (faithful or otherwise).
Genre:
Fantasy and all of its subgenera – as light or as dark as you want to go
Heat level:
PG to R; if there are enough submissions, we will do a volume of Camelot-related erotica.
Length: 5,000 – 10,000 words
NO TV OR FILM RELATED STORIES – THIS IS NOT A FAN FIC COLLECTION
DEADLINE: 2/14/20
PUBLICATION DATE: 3/17/20
IRISH HORSE ANTHOLOGIES is a small publisher specializing in themed anthologies. We will accept submissions according to the theme of each anthology.
Submissions should be provided electronically to our email or via private message on Facebook.
Submission guidelines:
12 pt. Times New Roman
1.5 line spacing
Indent 0.5″
All submissions should at a minimum be proofread and spell checked before being sent.
NO simultaneous submissions.
NO buy-in ever.
word length 5k-10k
Royalty structure: 40/60. Publisher retains 40% to recoup editing and cover art costs. 60% will be split evenly between the authors.
Via: Irish Horse Productions' Facebook.
About the Author
Latest Posts
Stuart Conover is a father, husband, published author, blogger, geek, entrepreneur, horror fanatic, and runs a few websites including Horror Tree!