Taking Submissions: That Ain't Right: Historical Accounts of the Miskatonic Valley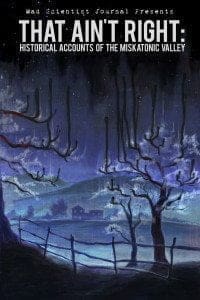 Deadline: April 30th, 2014
Payment: 1 cent per word
This is a collection of stories told by people visiting or living in the Miskatonic Valley. We will be accepting submissions from March 15th through April 30th.
We have two very hard requirements for this:
First, it must be set in the Miskatonic Valley, made popular by H.P. Lovecraft.
Second, it must be told from a first-person point of view.
Horror and fantasy are preferred, but we will consider other genres. Gratuitous sex and violence that doesn't add to the story is discouraged. We will accept multiple submissions, but not simultaneous submissions. We will not be accepting reprints.
If your story is accepted, we ask that you provide a fictional identity for the narrator, with bio. Authors will still be credited under their own name. Your story will just be listed as: A tale by Steve Whatley, as provided by Joe M. Author.
Stories must be between 500-8,000 words in length. Payment will be 1-cent per word.
About the Author
Latest Posts
Stuart Conover is a father, husband, published author, blogger, geek, entrepreneur, horror fanatic, and runs a few websites including Horror Tree!