Taking Submissions: Road Kill: Texas Horror by Texas Writers Volume 5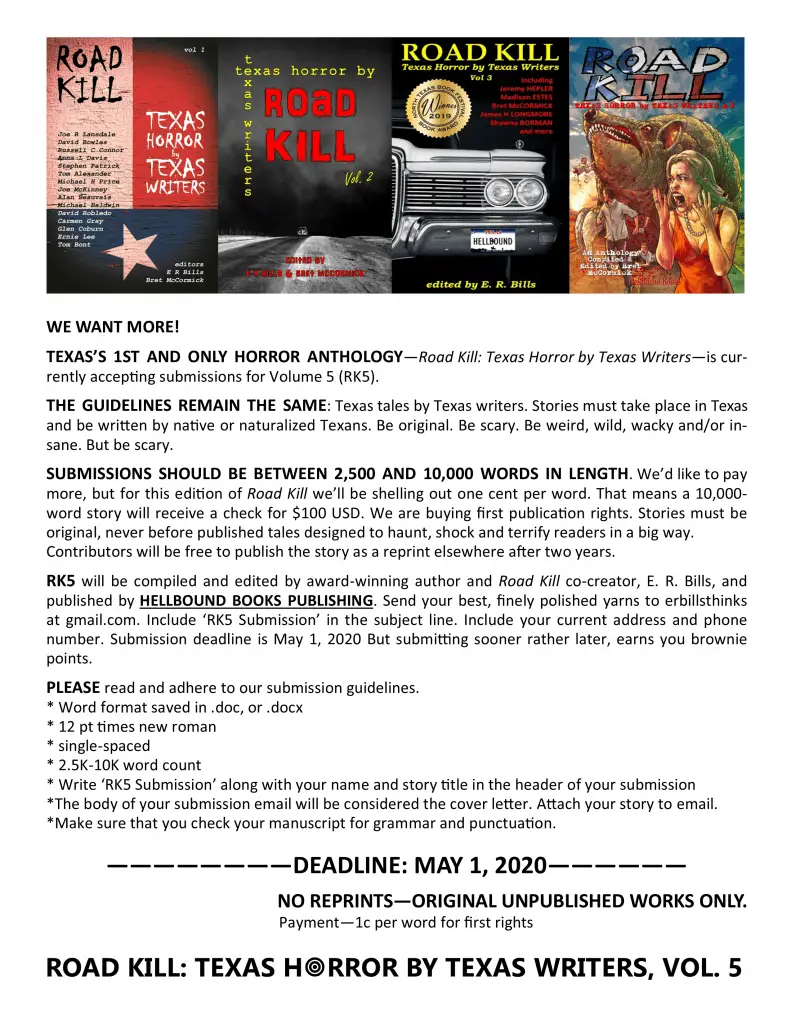 Deadline: May 1st, 2020
Payment: 1c per word
Theme:
Note: Texas authors only
TEXAS'S 1ST AND ONLY HORROR ANTHOLOGY—Road Kill: Texas Horror by Texas Writers—is currently accepting submissions for Volume 5 (RK5).
THE GUIDELINES REMAIN THE SAME: Texas tales by Texas writers. Stories must take place in Texas and be written by native or naturalized Texans. Be original. Be scary. Be weird, wild, wacky and/or insane. But be scary.
SUBMISSIONS SHOULD BE BETWEEN 2,500 AND 10,000 WORDS IN LENGTH. We'd like to pay more, but for this edition of Road Kill we'll be shelling out one cent per word. That means a 10,000-word story will receive a check for $100 USD. We are buying first publication rights. Stories must be original, never before published tales designed to haunt, shock and terrify readers in a big way.
Contributors will be free to publish the story as a reprint elsewhere after two years.
RK5 will be compiled and edited by award-winning author and Road Kill co-creator, E. R. Bills, and published by HELLBOUND BOOKS PUBLISHING. Send your best, finely polished yarns to erbillsthinks at gmail.com. Include 'RK5 Submission' in the subject line. Include your current address and phone number. Submission deadline is May 1, 2020 But submitting sooner rather later, earns you brownie points.
PLEASE read and adhere to our submission guidelines.
* Word format saved in .doc, or .docx
* 12 pt times new roman
* single-spaced
* 2.5K-10K word count
* Write 'RK5 Submission' along with your name and story title in the header of your submission
*The body of your submission email will be considered the cover letter. Attach your story to email.
*Make sure that you check your manuscript for grammar and punctuation.
NO REPRINTS—ORIGINAL UNPUBLISHED WORKS ONLY.
     Payment—1c per word for first rights
About the Author
Latest Posts
Stuart Conover is a father, husband, published author, blogger, geek, entrepreneur, horror fanatic, and runs a few websites including Horror Tree!