Taking Submissions: Mrs Claus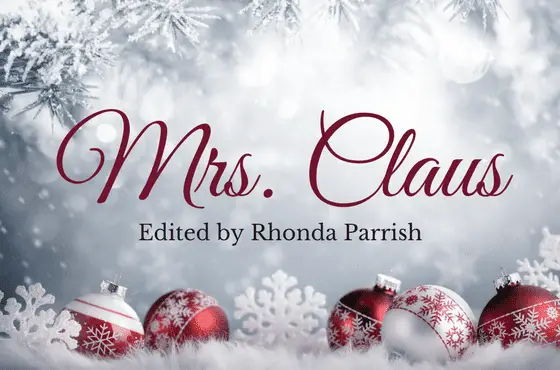 Deadline: May 30, 2017
Payment: $10 and a contributor's copy
Anthologist: Rhonda Parrish
Open for Submissions: April 1, 2017 – May 30, 2017
Expected Publication: Winter 2017
Story Length: up to 10,000 words
Payment: $10 + contributor copy
For a long, long time Santa Claus has hogged the spotlight relegating his wife to the shadows, but no longer. Now it's Mrs. Claus' turn to shine!
We're looking for stories that let Mrs. Claus (or is it Ms. Claus?) take centre stage. Whether she more closely resembles Michelle Obama, Betty White, Shohreh Aghdashlooor or Maggie Smith, Mrs. Claus must be a developed, independent character and not simply an extension of her husband. She can help and support him—of course she can—but there needs to be more to her than only that.
What's her role on Christmas Eve? What about the other days of the year? Is she into sleek red snowmobiles or is she more of an old-fashioned magic sleigh kinda gal? Does she prefer baking cookies or kickboxing? Betting on the Reindeer Games or Avon parties with the elves?
And what is her first name, anyway?
Stories are encouraged to re-imagine the North Pole in new and interesting ways (steampunk? alien? magically relocated to the equator?) and to explore a variety of other settings as well. They can also take place in time frames both real and imagined—Christmas in 1940 Poland, Mars in 2050 or a rediscovered Atlantis in 2017 would all be welcome in this anthology.
Note: This anthology is intended for an adult audience, please don't submit children's stories.
Rights and compensation: Payment: $10 and a paperback copy of the anthology from World Weaver Press. We are looking for previously unpublished works in English. Seeking first world rights in English and nonexclusive right to continue to publish for the life of the anthology.
Open submission period: April 1, 2017 – May 30, 2017
Length: Under 10,000 words
Submission method: Upload story as .doc or .rtf to niteblade.submittable.com/submit
Simultaneous submissions = okay. Multiple submissions = no.
Expected Publication Date: Winter 2017
About the Anthologist: Rhonda Parrish is the editor of several anthologies including, most recently, Equus and D is for Dinosaur. Her website, updated weekly, is at http://www.rhondaparrish.com
Via: World Weaver Press.
About the Author
Latest Posts
Stuart Conover is a father, husband, published author, blogger, geek, entrepreneur, horror fanatic, and runs a few websites including Horror Tree!