Taking Submissions: The Pulp Horror Book of Phobias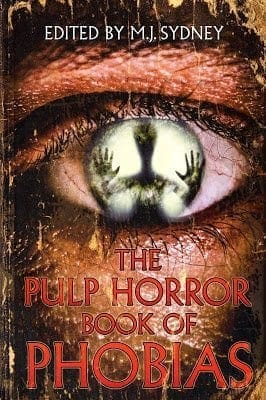 Deadline: July 31st, 2017
Payment: $50 per story
Submissions open to LVP and HWA members: February 21
Submissions open to public: April 1
Submissions close: July 31, 11:59pm tentatively (*see notes below)
Word count: 4,000 to 6,000
Payment: $50 per story, a digital copy of the anthology and a discount code for print copies from Lycan Valley Press
Details:
Phobias are defined as an irrational and extreme fear to something. Some of the most widely known phobias include arachnophobia, claustrophobia, agoraphobia, acrophobia, etc. Anything can be a phobia if it irrationally causes an intense and debilitating fear.
What happens when these irrational fears/phobias become reality? Make the fears and the horrors associated with that fear real. Take them from irrational to rational. Pick a phobia from the list below and take that fear to the next level. Make it come to life and give us a reason to be scared. Your characters don't have to overcome their fears, but if they do, show us how. If they don't, why not?
We don't want characters sitting on a sofa in the psychiatrist's office detailing their childhood or even characters with diagnosed phobias necessarily. Focus on the object of the phobia rather than the phobia itself as much as possible. We want you to make these phobias come to life in ways that will make readers sleep with the lights on, double check the locks on their doors and question reality.
There must be a strong pulp element to the story as well, keeping in mind that pulp doesn't mean poorly written. If you're unfamiliar with the original pulp magazines and stories, please do some research before submitting. Check out Black Mask Magazine http://www.blackmaskmagazine.com/ and here's a pulp archive to get you started (warning: reading on this website may be addictive).
http://www.pulpmags.org/ and also here https://archive.org/details/pulpmagazinearchive.

Although you are free to write in your own style and that which best suits the story, Lester Dent's Pulp Paper Master Fiction Plot is here for reference should you wish to use it. http://www.paper-dragon.com/1939/dent.html Here, James Scott Bell talks about writing pulp fiction: http://www.rachellegardner.com/why-i-write-pulp-fiction/
Titles:
Please do not use the name of the phobia itself in your titles.
Formatting: Please follow Shunn Short Story Manuscript formatting which can be found here: http://www.shunn.net/format/story.html. Or use the downloadable template for Word found here: http://www.shunn.net/format/templates.html
Simultaneous and Multiple Submissions: No simultaneous submissions. Multiple submissions from the same author for two different phobias will be considered but please note that only one story per author will be accepted to allow for greater variety and diversity. Previously unpublished stories only, no reprints unless requested.
Subject: Include only P-first letter of the phobia, author's last name, LVP or HWA (if applicable), Story title.
Example:  [P-A/Last Name/LVPorHWA/Story Title]
Attach stories in .doc, .docx or .rtf files only.
Cover letters are not necessary but if you feel it necessary to include one, please keep it short and relevant.
If you have any questions, please use "PHB Question" in the subject line.
*In the event that a large number of submissions are received for a specific phobia, that topic will be flagged. Flagged topics will close for submissions the following week. If necessary, topics will be flagged on Fridays only and closed the following Sunday at 11:59pm PST, leaving a 10 day window open.
Phobias List A to Z:
         * Topic closing for submissions in one week
       ** Topic is temporarily unavailable and will either be open for submissions or closed
     *** Topic closed for submissions

***Agateophobia – fear of insanity — CLOSED
Botanophobia – fear of plants
Chaetophobia – fear of hair
Dextrophobia – fear of objects on right side of body
Eosophobia – fear of dawn or daylight
Febriphobia – fear of fever or any rise in body temperature
***Gephysrophobia – fear of crossing bridges – CLOSED
***Hedonophobia – fear of feeling pleasure — CLOSED
Haphephobia — fear of being touched OR Helminthophobia — fear of being infested with worms (your choice!)
Ithyphallophobia – fear of seeing, having, thinking about an erect penis ORIatrophobia – Fear of going to the doctor or of doctors (your choice!)
Jangelaphobia – fear of gelatin
Kosmikophobia – Fear of cosmic phenomenon
Lockiophobia – fear of childbirth
***Mnemophobia – fear of memories — CLOSED
*** Necrophobia – fear of death or dead things – CLOSED
***Optophobia – fear of opening one's eyes — CLOSED
***Pedophobia – fear of children  – CLOSED
***Quintaphobia – fear of numbers — CLOSED
Rhabdophobia – fear of being beaten with a rod or magic wand
Sociophobia – fear of society and people
Toxophobia – fear of poison or being poisoned
Utopicphobia – fear of utopian societies
***Venustraphobia – fear of beautiful women  – CLOSED
Warptimaphobia – fear of creating or being caught in a time warp
Xyrophobia – fear of razors
Yogaphobia – fear of yoga or yoga positions
Zelophobia – fear of jealousy
(These are real names of phobias or have been used to describe real phobias, with the exception Warptimaphobia and Yogaphobia which were created for this anthology… and possibly Jangelaphobia.)
Via: The Crows in my Attic.
About the Author
Latest Posts
Stuart Conover is a father, husband, published author, blogger, geek, entrepreneur, horror fanatic, and runs a few websites including Horror Tree!