Taking Submissions: Midnight Before Christmas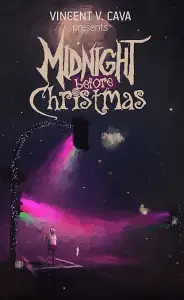 Deadline: May 1st, 2018
Payment: 2 cents per word up to 10K words. Longer stories are welcome but the pay cap is $200.
Note: Reprints Welcome
There's no doubt that the Holidays are the most magical time of year, but that doesn't mean dark happenings aren't lurking beneath your Christmas tree as well.
These books will be available on kindle, hardcover, paperback, and audiobook format.  The title page of each story will be illustrated.  We are looking for holiday related horror, dark sci-fi, dark speculative fiction, neo-noire, and cyberpunk stories.  We like stories with Christmas, Hanukkah and Kwanza themes.   Alternatively, they can simply take place during the holidays (like how Die Hard isn't really about Christmas) or even just involve wintery or snowy settings.  Please read the general submissions for more details.
A word of advice:  If you plan on sending us a Krampus story, please make sure it's a great one!  We'll only have room for one in our collection and we're anticipating a lot of submissions so send something original!
Below is a little more about the project.
Word Count :  1000-10,000 words.  This is not a hard word count.  If you think you have a story that fits what we're looking for, but is a little long or a little short, send it our way.
Payment:  We are offering 2 cents per word up to 10K words.  You are free to send us longer stories, but we cap payments at $200 per story for this project.
Rights:  We are not asking for ownership of your story.  Just the right to print it.
Reprints:  Yes, we accept reprints.  Beggars can't be choosers and we understand we're a fledgling brand.  If your work appears elsewhere, please make sure you double check with the other publication to make sure your story is eligible to print.
Multiple Submissions :   Yes.
Deadline :   May 1st
Send submissions to:  
Put Christmas Submission in the subject line
Midnight Before Christmas
Via: Midnight Hour Media.
About the Author
Latest Posts
Stuart Conover is a father, husband, published author, blogger, geek, entrepreneur, horror fanatic, and runs a few websites including Horror Tree!