Taking Submissions: Demonic Medicine – Take Your Pills a Demonic Anthology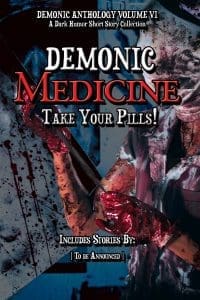 Deadline: June 30th, 2022
Payment: 2 Contributors Copies
Theme: Mixing up some humor, horror, and medicine!
Whose advice do you trust when your health seems amiss? Are you afraid of going to the doctor? Dentist? Voodoo Doctor? Alchemist? Perhaps you can recommend a witch or mage or occult healer? Suffering from a toothache, measles, black plague, boils? Is it time to get that back pain from the demon possession looked at? Submit all your horrifying and humorous medications, cures, malpractice, and more in this collection of squeals and squeamish delights!
Deadline
JUNE 30th 2022 at Midnight EST
Publications
October 2022
Rights & Payments
2 complimentary
Access to buy author copies at a discounted rate
We retain first publication rights for the first 90 days of publication. After that feel free to sell and republish your entry as you wish. All entries will solely belong to you. This only covers publishing for this particular volume.
This will be sold wide – Barnes and Noble, Amazon, Kobo, iBooks, and beyond.
Retail price to be determined at a later time.
By sending in a submission, you are agreeing to the rights above and will receive confirmation to further clarify. If no response in 7-14 business days is received, please feel free to contact or resubmit.
Submission Guidelines
Here's what we need from you to include:
12 pt font
Calibri or Times New Roman
Double-spaced throughout (without extra spaces between paragraphs)
Indented for new paragraphs
1-inch margin all around
Include a title page with:First and last name
Title of work
Blurb/Pitch
Header with last name, title, and page number in top right-hand corner.
2,500 – 5,000 words
Via: 4 Horsemen Publications.
About the Author
Latest Posts
Stuart Conover is a father, husband, published author, blogger, geek, entrepreneur, horror fanatic, and runs a few websites including Horror Tree!