Taking Submissions: Blood Wet Red Dreams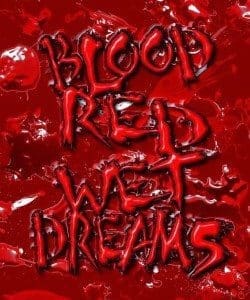 Deadline: September 1st, 2014
Payment: An equal percentage royalty split of 50% of sales p.o.d. and e-book.
Since the call for the last anthology was so specific, for the next one I wanted to run with an idea that I've been carrying around for a while.
BLOOD RED WET DREAMS
It's not so much a concrete theme as it is an evocative phrase.
A trigger to get your creative juices flowing.
The only condition is that the stories must contain at least one of the themes suggested by the title of the anthology.
BLOOD: The blood is the life. Feel free to interpret this in any way you choose. From paper-cuts to torrents of arterial spray. We're not squeamish about gore, and will be particularly unsqueamish about it when considering stories for this anthology, as the mock-up cover will hopefully convey.
RED: The color red. Potentially the most evocative color in the visible spectrum. In thematic perception tests and interpretation of art, red is interpreted both as suggestive of love and anger, as in "seeing red".
WET: I shouldn't have to describe what wet means. A creeping water stain on the ceiling of an old house. A body of water that seems benevolent until it isn't. There are many ways that an author can incorporate the theme of moisture into their work.
DREAMS: Dreams for some, nightmare for others. The mysterious place that the mind is transported to when we close our eyes and give ourselves over to the temporary death of sleep.
Since the call for this one is so wide, we want all new stories.
Not that we won't consider reprints of exceptional quality, but we feel that with the parameters for this call being as open as they are that we would like to see some work that is custom written for the anthology.
I know that the knee-jerk reaction will probably be to write a story about a serial killer.
Don't.
The genre has been over-used, and not very well.
The same thing goes for zombie stories.
If you're going to use over-used tropes such as serial killers, zombies, vampires, witches, werewolves, westerns or noir, we're going to expect you to do something new and spectacular.
To paraphrase Tom Atkins, "Thrill us."
A good story trumps genre classification.
We are going to be very discriminative in our selection process.
We are looking for literature. Not just stories.
If you're going to explore a traditional genre, we expect you to do something new with it.
If you send us another textbook genre story, you will receive a polite letter of refusal and suggestions for other markets that may be better suited for your work.
What we're looking for is writing that is evocative and actually effects readers emotionally.
If you're going to go for scary, we want terrifying writing that will make us leave the lights on after we're done reading.
If you're going to go for depressing, we're looking for stories so depressing they will make our hard luck stories read like love songs and have us calling the suicide hotline.
If you think you've got something that fits the preceding description, feel free to review our submission guidelines below.
We're looking for authors with a unique voice all their own.
SUBMISSION GUIDELINES:
Between 1,000-7,500 words.
Submission Deadline Date: Monday, September 1st
Please title submissions: "Story Name by Author Name – Word Count" replacing "Story Name" with the name of the story and "Author Name" with your name.
One submission per author unless you have discussed the theme for multiple submissions with the editor.
Publish date: Sometime in September TBA.
Page Count Goal for completed anthology: Between 100 – 200 pages.
What do we offer?
Burnt Offerings Books offers to publish and promote your work.
We will handle the cost of editing, formatting, designing a cover, and publishing your work.
In exchange, we will retain exclusive rights to print the work for six months.
After that, we will retain the right to keep the Burnt Offerings Books edition available, but you may also do with it as you please.
We continue to retain the rights to keep our edition available.
You will also be required to use a different cover for republishing purposes to avoid confusion between the two editions.
In exchange for these concessions, you will receive an equal percentage royalty split of 50% of sales p.o.d. and e-book.
Profit-sharing will be distributed at the end of each month.
All submissions will be accepted only on condition of agreement to the preceding conditions.
If you are interested, submission inquiries may e-mail:
[email protected]
Or contact us through our Facebook page:
https://www.facebook.com/pages/Burnt-Offerings-Books/1408858196016246
To stay up to date on what we will be publishing join the Facebook group:
https://www.facebook.com/groups/1449189218642723/
Via: Burnt Offerings Books.
About the Author
Latest Posts
Stuart Conover is a father, husband, published author, blogger, geek, entrepreneur, horror fanatic, and runs a few websites including Horror Tree!