Taking Submissions: Accursed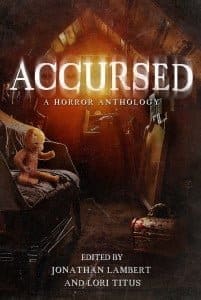 Deadline: May 31st, 2019
Payment: $25
Accursed items. Some people believe in them, some people don't. With a truly cursed item, belief doesn't matter. It's gonna do its best to get you anyway. You might survive, with the worst luck ever. Or you might not. Maybe you'll be compelled to do things you never would without its influence. Maybe you thought it would help you at the casino. Maybe it did. But there's always a price to pay, one you aren't ready for. That little lucky charm you have in your pocket may be doing more damage than good. But you think its helping. It's cursed, and does not have your best interests in mind. Sometimes it's not even an item, it's a person. Be careful what you pick up. Be careful who you friend. You never know. It, or they, might be accursed. Your story must prominently feature some kind of cursed item.
Jolly Horror Press LOVES horror/comedy, but we will publish pure horror as well. We give humorous stories a slight edge however, when considering whether to include them.
Diversity and Inclusiveness: Yes, we want stories from all sectors, from all kinds of people! We encourage submissions from women, people of color, and the LGBTQ+ community. We seek to include writers from all walks of life who have a scary/funny story to tell.
The Details: Please see our generic submission guidelines page for how to submit.
Submission Period: April 1, 2019 to June 30, 2019
Reading Period: July 1, 2019 to September 30, 2019
Expected Publication Date: December 2019
We reserve the right to close early, but no earlier than May 31, 2019
Payment: $25 per accepted story (via Paypal)
Note: These guidelines are generic and apply to all Jolly Horror Anthologies unless otherwise noted. Please see the actual call for submissions for each anthology to learn about any specific requirements.
Word Count: In general, Jolly Horror Press publishes short stories only. We like stories with a word count between 2,500 and 6,000 words. Please query us first if you are considering sending a longer story. The answer is likely a 'no', but you never know!
Diversity and Inclusiveness: Yes, we want stories from all sectors, from all kinds of people! We encourage submissions from women, people of color, and the LGBTQ+ community. We seek to include writers from all walks of life who have a scary/funny story to tell.
Things that we AVOID LIKE THE PLAGUE: Stories that glorify the torture of children or animals. No rape stories. We will not accept anything that degrades or dehumanizes any group of people on the basis of race, color, creed, sexual orientation, gender, gender identity, sexual orientation, religion, or disability. Violations of this policy will get you banned. Don't waste our time or your own.
How to Submit: Please email your story as an attachment to [email protected]. Please make the subject line the words "Submission for NAME OF ANTHOLOGY by YOUR NAME"
Submissions: Simultaneous submissions (stories you have submitted elsewhere but which have not been accepted yet) are okay, but if we accept then you must withdraw your submission from the other anthology. Likewise, if you are accepted there, please let us know so we can remove your story from consideration. Multiple submissions are okay, but we will only publish one story per author per anthology.
Rights: We ask for first rights on any story we publish. This means that the story should not have appeared anywhere else, either in print or online. (This includes publication on an author's own website.) We MAY take reprints, but please query us first. We might consider something that has been published before, but not if it's out there everywhere. When we publish a story, we ask for a period of exclusivity (usually one year), and the right to keep the story in print and perhaps in audio format when applicable. We don't place any limits on what you can do with your story after the exclusivity period.
Format: You may format your story however you like but a few things make us extra happy:
Jolly Horror Press uses Book Antiqua 12 pitch as our default font.
We use hanging indent of 0.2 inches
We use single spacing with no indentation or additional spacing before or after lines of text.
The first line of a story should have no indent.
We use "okay" vs OK,O.K. ok, etc.
Time should be formatted as 12 p.m. vs 12pm, 12PM, 12 O'clock.
Spell out numbers less than 10, i.e. nine, eight…
Use an em-dash instead of a dash when separating parts of a sentence.
Text alignment should be "justified.'
At the top of your story, make sure you put your real name, email address, and word count.
That's it! Not too complicated, right?
We would prefer the file format be MS Word. Please no PDFs or links to Google Docs! Please do not put the story in the body of the email.
Payment: Payment differs per anthology, but it is the intent of Jolly Horror Press to pay market rates once we are established. During start up, expenses are high and profit is low, so we may have an interim period where lower than market rates are established for each anthology.
Quality: Hopefully it goes without saying, but we're gonna say it anyway. Submissions should generally have already been edited. We are not your editor. Minor grammar issues and typos are okay, but constant bad grammar, plot holes, things don't make sense, or other editor nightmares are gonna get your story rejected before we've even finished reading it. So bring your A-game.
Via: Jolly Horror.
About the Author
Latest Posts
Stuart Conover is a father, husband, published author, blogger, geek, entrepreneur, horror fanatic, and runs a few websites including Horror Tree!