Author Interview: Deborah Sheldon on 'The Long Shot'


The Long Shot is a crime novella from Deborah Sheldon, the award-winning Australian author of dark fiction.
Simone Parker visits her home town of Brownbeck after six long years away. When she witnesses a brutal bashing, police officer Mitchell Ross needs her testimony. Simone is keen to help until she discovers her estranged sister, Claire, might be involved.
Award-winning publisher Twelfth Planet Press re-released the novella in 2020. Here, publisher Alisa Krasnostein interviews Deb to get the nitty-gritty on how The Long Shot was written.
***
ALISA: Tell us a bit about the inspiration behind The Long Shot. What kind of story were you looking to tell?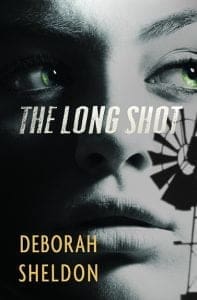 DEBORAH: Generally speaking, I'm a glass-half-empty kind of fiction writer. The Long Shot sprang from my desire to challenge myself and write a glass-half-full narrative. The novella's dark themes are counterbalanced by the bright spots of romantic love, sisterly love, second chances, hope and criminal justice. 
ALISA: The Long Shot is set in a small Australian country town—what attracted you to use such a setting?
DEBORAH: Actually, most of my fiction is set in country towns, the bush or the Australian outback.
I've lived most of my life in Melbourne but I'm not a fan of the city. Visiting the CBD is an ordeal—I loathe the traffic, the sensory overload of sights, sounds, smells. I never drive in the city. I'm always a passenger in the car, keeping my attention on the radio and conversation, while my husband drives.
On the other hand, travelling through the countryside is always a joy. I love hills and valleys; trees and shrubs, grass, crops; fences and by-ways; grazing horses, cows and sheep in paddocks; the architecture of farm buildings; the wide hoop of sky; call of parrots. Rural settings relax me and allow my imagination to wander.
ALISA: Revisiting the past can be a dark and oppressive thing. Talk a bit about the relationship between Simone and her sister Claire.
DEBORAH: I'm drawn to writing about emotionally damaged characters. (Mary Sue characters don't interest me.) Typically, I write about loners. However, for The Long Shot I wanted to explore the difficulties of an estranged relationship between siblings.
As little girls, Simone and Claire were close, two peas in a pod. Their dysfunctional family life drove a wedge between them because they coped in non-complementary ways. Simone accepted the awful reality head-on and chose to flee the situation. Claire went down the path of denial and self-blame. So, bringing together in adulthood two siblings who coped differently with the same childhood abuse posed interesting challenges for me as a writer. I believed both characters were 'right', meaning their conclusions were authentic, but it was the clash of their conclusions I wanted to explore. How can two people reconcile when their versions of the same events are in opposition?
ALISA: What part of the writing process is easiest for you? 
DEBORAH: Editing. Coming up with the idea, fleshing out a plot and characters, and writing the first draft are fun and exhilarating but hard work. Compared to such labour-intensive demands, picking up the metaphorical 'red pen' is a breeze. I enjoy editing, and it helps that I've had plenty of professional experience during the thirty-plus years of my career. 
ALISA: Who is your biggest supporter?
DEBORAH: My husband. He's my number-one fan and my patron. He's also the 'imaginary reader' I always keep on my shoulder. Since he is a reluctant reader by nature, I rewrite and revise to make sure my stories have enough tension and pace to keep him turning the pages. If he loves something I've written, I feel I have succeeded.
***
DOWNLOAD A FREE TWO-CHAPTER SAMPLER OF THE LONG SHOT: https://claims.prolificworks.com/free/4xr11tBP
WHERE TO BUY THE LONG SHOT:
Amazon US

https://www.amazon.com/Long-Shot-Deborah-Sheldon-ebook/dp/B08FTF89XJ

Amazon AUS

https://www.amazon.com.au/Long-Shot-Deborah-Sheldon-ebook/dp/B08FTF89XJ

Twelfth Planet Press

http://www.twelfthplanetpress.com/products/fiction/the-long-shot-2
***
DEBORAH SHELDON is an award-winning author from Melbourne, Australia. She writes short stories, novellas and novels across the darker spectrum of horror, crime and noir. Her award-nominated titles include the novels Body Farm Z, Contrition and Devil Dragon; novella Thylacines; and collection Figments and Fragments: Dark Stories. She won the Australian Shadows "Best Collected Work" Award for Perfect Little Stitches and Other Stories, which was also long-listed for a Bram Stoker. As guest editor of Midnight Echo 14, she won the Australian Shadows "Best Edited Work" Award. Her short fiction has been nominated for various Australian Shadows and Aurealis Awards, and included in "best of" anthologies. Other credits include TV scripts and award-winning medical writing. http://deborahsheldon.wordpress.com
ALISA KRASNOSTEIN is editor and publisher at independent Twelfth Planet Press, a freshly minted creative publishing PhD student and recently retired environmental engineer. She is also part of the twice Hugo-nominated Galactic Suburbia Podcast team. In 2011, she won the World Fantasy Award for her work at Twelfth Planet Press. She was the Executive Editor and founder of the review website Aussie Specfic in Focus! from 2004 to 2012. In her spare time, she is a critic, reader, reviewer, podcaster, runner, environmentalist, knitter, quilter and puppy lover.
TWELFTH PLANET PRESS is an Australian specialty publisher with a reputation for high quality books. We aim to elevate minority and underrepresented voices with books that interrogate, commentate, inspire. Challenging the status quo through provocative science fiction, fantasy, and horror. http://www.twelfthplanetpress.com/
About the Author
Latest Posts
Stuart Conover is a father, husband, published author, blogger, geek, entrepreneur, horror fanatic, and runs a few websites including Horror Tree!