Taking Submissions: Story Unlikely's Annual Short Story Contest 2023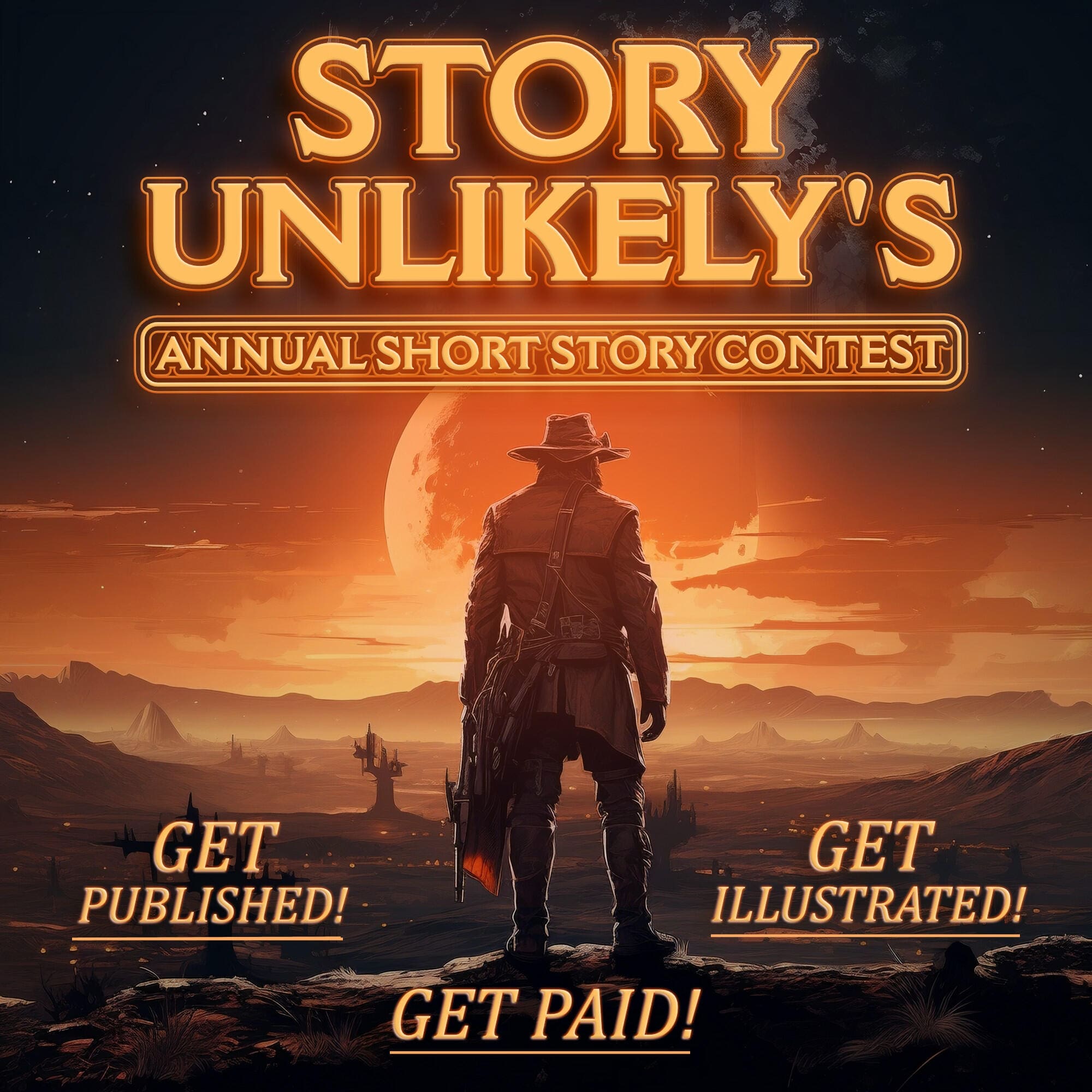 Submission Window: October 1st – December 31st, 2023
Prizes: $1,500 prize package will be divvied up like so: $750 first place, $500 second place, $250 third place.
Theme: Fantasy, sci fi, memoir, fiction/nonfiction, etc at a MAX of 4500 words
Contest guidelines below. READ CAREFULLY. Failure to do so may result in disqualification!
Please note that we have additional perks and leeway for MEMBERS, see details below (highlighted in green)!
Story Guidelines:
The short story contest is open to everyone with a brain (a jab at AI, or to the screen-swiping, order taking, zombie-like state of the West? You decide). Don't be fooled by our promo illustration, there are no restrictions on genre: fantasy, sci fi, memoir, fiction/nonfiction, etc – we don't care as long as it's a good story. The story itself cannot exceed 4,500 words. There are no restrictions on age of participant, and no need to ask us for permission to participate in the contest – just follow the guidelines below.
What do I win?
A $1,000 $1,500 prize package will be divvied up like so: $750 first place, $500 second place, $250 third place. The winning story will be featured on Story Unlikely's website, will be strongly considered for our annual (print) sample magazine, and may be sent out as the bonus story for signing up, which means a lot of exposure to the winner.
All three placing stories will be published in the monthly issue, and all three will be illustrated by our crackpot team of digital editors!
Don't forget about the honorable mentions! That's right, you honorable little losers, you. Is that harsh? It's supposed to be a compliment. Anyway, we do NOT notify honorable mentions ahead of time, because we're lazy busy, so very, very lazy busy. Rather, we announce them in the monthly issue along with the winning story, which you need to sign up for in order to be eligible to enter. If your name appears on this list of honorables, you'll be prompted to contact us and we'll send you a fancy-schmancy certificate for proof that you, indeed, almost won a writing contest. But not quite. Plus, if there is a strong showing, some honorable mentions may be considered for publication in our monthly magazine or podcast.
When can I submit?
The submission period runs from October 1st through January 31st.When will my story be published?
Stories will be published – at our whimsical discretion – the following calendar year between June and December. Winning authors will be notified, at the latest, by May 31st. All authors MUST be signed up for the Story Unlikely monthly magazine (free!) to be eligible for prize and publication. (Don't worry, we only send out ONE issue (email) a month – we can't stand getting our emails blown up, and we know we're not alone in that). Please note that although you're welcome to unsubscribe at any time, just wait until the contest is over, otherwise we'll consider that a disqualification of your entry. DO NOT mark our emails as spam (and we know when this is done) – not only will you forfeit your entry, but you'll be barred from future submissions. Harsh judgement, sure, but easily avoided.
How do I submit?
We accept email submissions only. Attach the entire story to the email (Microsoft word doc or docx). Be sure to remove ALL forms of identification from the story (If your story happens to be about you, just be sure to remove your last name).
Due to our endless quest to get our stories past overreactive spam blockers, we've changed our submission email to: [email protected]. Sure, organization was easier with a different address, but as long as you type the word 'Submission' in the title, your story will end up in the right place. And this is important, so we'll say it again: make sure you type the word 'submission' in the title of your email, otherwise it may be lost! So email submissions to [email protected] in the following format:
(Email Subject Line) Submission: TITLE/GENRE(In the body of the email)Dear Editor,TITLE, GENRE, WORD COUNT[Insert FIRST 250 words of your story (rounded to the nearest sentence) here]# (insert page break)(Insert short author bio, including any previously published stories, as you want it to appear below your story if/when published)(Tell us how you found Story Unlikely)Sincerely,
NAME
Contact information (best email contact, phone number (just in case), country and state, and email).
PERKS FOR MEMBERSIf you find our guidelines a little too restraining, consider becoming a member and unlocking the following perks:      1. Members can submit up to THREE stories instead of one.
2. Stories can be up to 5,000 words instead of 4,500.
3. All member stories that receive honorable mention get personal feedback from our editor-in-chief.
4. Simultaneous submissions ARE allowed for our members – in other words, you can send your entry/s out to other venues while also entering it into our contest (any story withdrawal from non-members we automatically consider to be a simultaneous submission that was accepted elsewhere, which lands you on the excrement list, and none of us want that).
5. Forget the complicated email and submit via our hassle-free/grain-free/humanely built submission form HERE.Sign up for a membership today to receive all the above perks, plus access to all our wonderful back issues AND longer stories hiding behind a paywall. CLICK HERE.
CONTEST FAQDo you accept multiple submissions?
No, one submission per author.
EXCEPTION: If you are a card carrying MEMBER, you can submit up to THREE stories!Do you accept simultaneous submissions?
No – do not send your story entry out to other publishers prior to May 31st, and do not withdraw your entry. We offer a generous prize package with NO cost to enter – in return, we ask that you give us the time we need to give every story a fair shake.
ANOTHER EXCEPTION: Once again, paid members ARE allowed to make simultaneous submissions. To become a member CLICK HERE.What type of formatting should the story be in?
Standard manuscript formatting is fine – we're not picky, so long as its not obnoxious.Any tips on winning this thing?
Many stories get 'bumped' before we finish reading the first page (that's right, we're a merciless bunch). A trained eye can tell the quality of a story and the ability of the storyteller from only a few sentences, so tighten that opening! It also helps to read some of our past issues, like our 2022 contest winning story HERE. Besides, you want to become the best writer you can be, right? Well then, to do that, you need to read the from the best writers out there, and who's publishing better stories than us? Seriously, SUBSCRIBE NOW and see for yourself.What are you looking for?
To put it simply, good stories. Entries will be judged both by the technical and literary quality as well as the author's ability to tell a story. All entries must be previously unpublished. Here's what we're NOT looking for: Excessive anything. Think PG-13, R if necessary. We're not attempting to salt the earth with more cultural dogma couched as mediocre fiction, or writers who are jockeying for the title of Most Woke. There's enough of that out there already. You want to impress us? Write a good story. You want to win? Write a great one.Anything I missed?
Likely you skimmed over two things, and they're OH so important:
#1. To be eligible for the contest, all writers must be signed up to Story Unlikely's monthly issue. Did we mention it's free? Because it is. Totally free. You can unsubscribe at any time, just wait until the contest is over, otherwise we'll consider that a disqualification of your entry. DO NOT mark our emails as spam (and we know when this is done) – not only will you forfeit your entry, but you'll be placed on our Excrement List, aka lifetime ban from submitting, where only a generous donation to the human fund can bring you back into our good graces. Ok, we're joking about the human fund, but not on the ban.
#2. Re-read HOW we want you to submit (like, the first 250 words of your story, we really do need that in the body of your email – it is of utmost importance to us).
#3. Now that you've slogged through all of our rules, how about a little word of encouragement from the Story Unlikely team?
Subscribe below to receive an Unlikely Story every month, absolutely FREE, plus a bonus story sent to your inbox right now! Be sure to add [email protected] to your safe contacts so we don't fall into your spam!
Via: Story Unlikely.
About the Author
Latest Posts
Stuart Conover is a father, husband, published author, blogger, geek, entrepreneur, horror fanatic, and runs a few websites including Horror Tree!